Creating High-Performance Building Facades
New materials, products, and systems create better results that enhance designs
Sponsored by Azon, HOFMANN FACADES, Inpro, Neolith®, and Vitro Architectural Glass
Sintered Stone Facades
Sintered stone is a proven material that has been used on facades both in the United States and in Europe for some time. Sintering refers to the atomic diffusion of particles, which occurs most quickly at higher temperatures. Applying this to sintered stone produces a thin, lightweight, and very strong material with properties similar to, but better than, porcelain ceramic tile. The primary difference is that sintered stone products are made from selected natural minerals and only the atmospheric humidity that they contain. The manufacturing process relies on the use of natural raw materials that are reduced to fine powders. The powders are then arranged by color and pattern and subjected to pressures on the order of 15,000 psi. The resulting thin slabs are then fired in a kiln producing large-format panels that can be 4 feet by 12 feet or 5 feet by 10 feet, among others. Thicknesses are generally available in 1⁄8 inch, 1⁄4 inch, and 1⁄2 inch.
Visually, sintered stone panels can be created that look like natural stone, a solid surface, textured surfaces, or custom looks in a wide range of colors. As a very dense, lightweight, and sustainably produced material (at least one manufacturer is carbon neutral as of 2019), sintered stone has been regarded by many architects worldwide as a facade material of choice suitable for the most demanding exterior building projects, whether commercial or residential. Its physical properties make it a high-performing, low-maintenance, easy-to-clean product that resists scratches, abrasion, graffiti, and ultraviolet light. It has been tested as a noncombustible product that does not propagate fire, heat, or smoke. It also exhibits a very low porosity (less than 0.08 percent), making it virtually waterproof without the need for additional coatings or sealers. As such, it can contribute directly to the longevity and resilience of the building facade.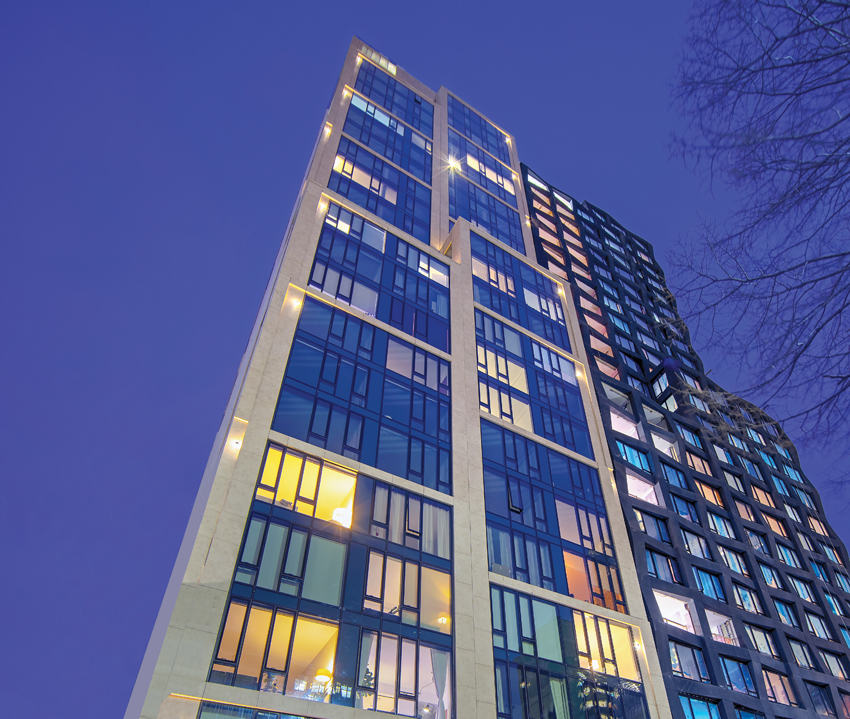 Photo courtesy of Neolith®
Sintered stone panels provide a lightweight, durable, easy-to-work-with facade material that is available in a wide range of colors, textures, and finish treatments.
From a construction standpoint, sintered stone panels are lightweight and easy to work with. They can be securely applied relatively quickly, creating efficiencies in the construction process compared to other materials. Specifically, for facade systems, there are three common methods of attachment:
Exposed mechanical cleating: Recognizing the common desire for providing ventilated rainscreen style facades, sintered stone panel manufacturers have worked to provide systems to suit these situations. Comprised of a self-supporting metal structure originally designed to support ceramic tiling in different formats and thicknesses, it has been refined to suit sintered stone panels too. This approach is based on a visible mechanical fixing system comprised of supports made from vertical T- or L- shaped profiles and safety clamps to which the sintered stone panels are attached.
Hidden chemical fixation: In cases where concealed fastening is preferred, hidden support systems are available that use a longitudinal elastic chemical adhesive with vertical aluminum supports. Those supports can be in either T- or L-shaped profiles depending on whether they are used to coincide with the joints between the sintered stone panels or to reinforce the center of them.
Hidden mechanical (hybrid) fastening: At least one manufacturer has created a mixed (chemical and mechanical) hidden profile system that works due to the pressure created by the system in the rear of a sintered stone panel. This is achieved with a double groove at opposing 45-degree angles (like a dovetail in carpentry terms), where two aluminum profiles are inserted and fixed with structural adhesive to secure the channels to the panels. The connected channels are then secured to the aluminum support system holding up the whole facade. The panels can hang and be levelled either to align with adjacent panels or be staggered without needing to increase the number of vertical supports. In all cases, this method of attachment allows the support system to become invisible due to the concealed fastening and aluminum members. It also allows for easy removal and replacement of panels if ever necessary.
In addition to the above, there are other aspects of sintered stone that make it an exceptional choice for facades in urban environments. A significant new coating process (supplied by a third party) is now available to reduce outdoor air pollution. This coating uses an additive with titanium dioxide in a nanoparticle-based treatment that can be specified and baked-in during the manufacture of the sintered stone slabs. The treatment uses the process of photocatalysis in an ongoing chemical reaction between the added titanium dioxide and sunlight falling onto the facade. When sunlight (or some LED lights) shine on the surface, the titanium dioxide particles are activated using the light energy to transform moisture in the air into oxidizing agents. This destroys nitrogen dioxide particles and other contaminant compounds, and chemically transforms them into harmless water vapor and salt. This photocatalysis process is repeated millions of times per second until all contaminants are destroyed, meaning the surface as well as the surrounding air are constantly being self-treated and cleaned.
Tahir Demircioglu, principal architect of the firm Builtd, chose treated sintered stone panels for a facade in a recently completed New York skyscraper. He explains, "The initial selection of the sintered stone panels was for their lightness and aesthetic qualities, but once we found out that they came with this air-cleaning element, we said, 'Of course!' It is a huge plus that these treated panels also limit the amount of maintenance required. Instead of using chemicals and power-washing the facade, the material is hydrophilic, so it cleans itself."
Originally published in December 2020
Notice