Creating High-Performance Building Facades
New materials, products, and systems create better results that enhance designs
Sponsored by Azon, HOFMANN FACADES, Inpro, Neolith®, and Vitro Architectural Glass
Learning Objectives:
Identify and recognize the structural, aesthetic, and performance aspects of opaque, insulated portions of building facades.
Assess the energy performance and wellness aspects of glazing systems and glass as they relate to sustainability and code compliance.
Explain the importance of specifying and installing the appropriate seals to use in facade joints and expansion joints.
Determine ways to incorporate the principles presented in this course into specific building facades as shown in case studies.
Credits:
This course can be self-reported to the AIBC, as per their CE Guidelines.
This course is approved as a Structured Course
This course can be self-reported to the AANB, as per their CE Guidelines
Approved for structured learning
Approved for Core Learning
This course can be self-reported to the NLAA
Course may qualify for Learning Hours with NWTAA
Course eligible for OAA Learning Hours
This course is approved as a core course
This course can be self-reported for Learning Units to the Architectural Institute of British Columbia
This test is no longer available for credit
Building facades continue to command a great deal of design attention. Some of that is driven by the ability to use advanced computer programs that allow for the analysis and development of shapes, surfaces, and geometries that were previously unthinkable using prior drafting and design techniques. Other activity is derived from the development and advancement of new or updated materials, systems, and products that provide better performance, better aesthetics, and smoother construction installation than ever before. Yet in all of this newness and creativity, there is still the need to pay attention to the basics of making facades weather-tight, allowing for appropriate expansion and contraction, complying with building and energy codes, and remaining budget friendly. In this context, this course looks at several current facade products and systems. First, we look at some innovative materials that are being used for opaque portions of facades that offer new looks, innovative mounting techniques, and better performance overall. Next, we focus on the transparent portions of a facade by looking at glass and glazing systems that use advanced product development to achieve higher levels of energy performance. Finally, we address the need to pay attention to the joints and seams of a facade, particularly where expansion joints are involved for overall longevity and durability. Collectively, all of these features combine to allow architects to create 21st century building facades meeting a variety of design goals and performance needs.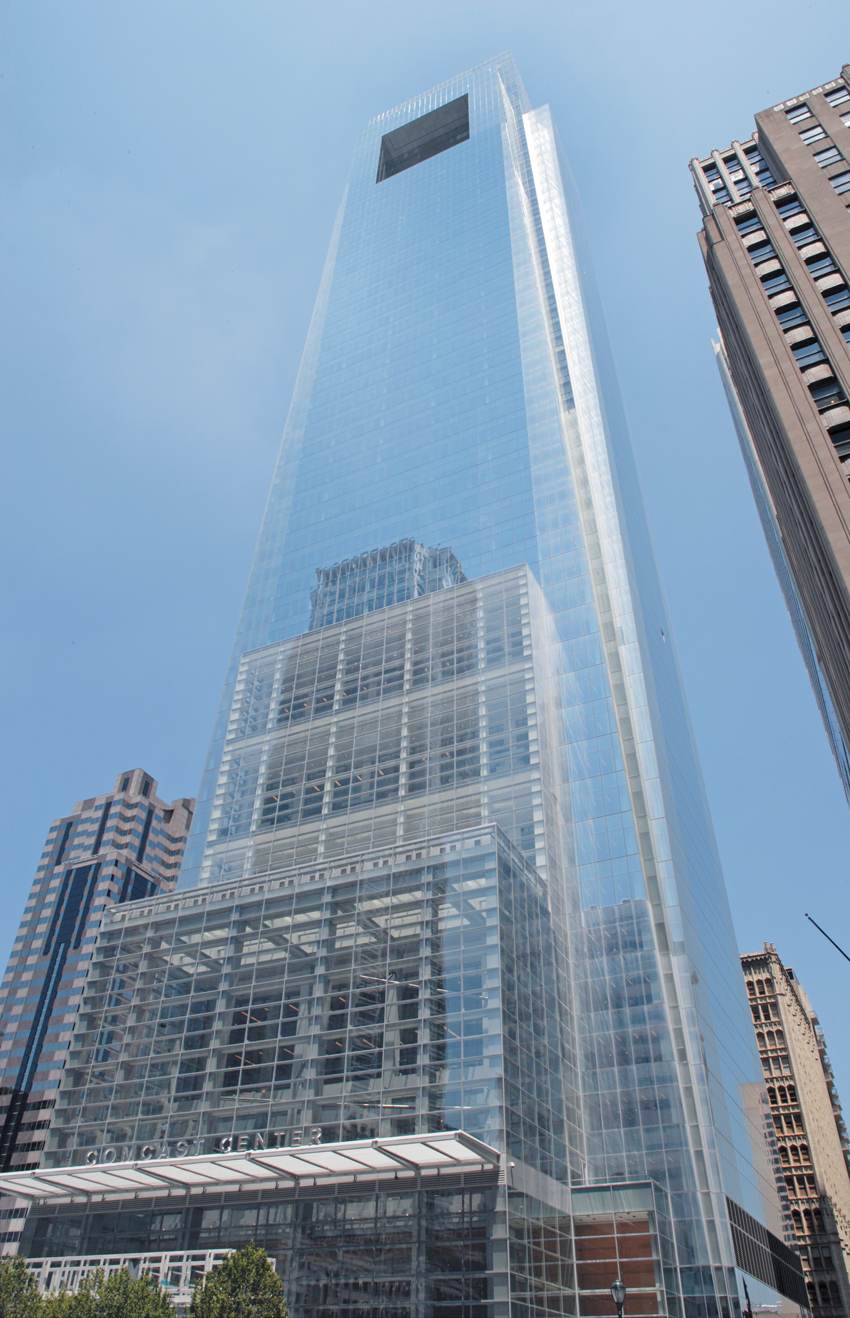 Photo courtesy of Vitro Architectural Glass
Advances in design, fabrication, and materials allow for greater creativity in building facades while still meeting or exceeding performance requirements.
Opaque Facade Areas
The design of many commercial building facades looks for the best balance of opaque and transparent areas. Historically, heavy, opaque structural stone and concrete made up the majority of a facade, with windows set in prescribed openings. The advent of structural steel and reinforced concrete framing systems allowed the facade to be separated from the main structure. This produced design freedom to incorporate more glass and experiment with more creative forms. The contemporary means to develop a facade has grown out of this approach by using a cladding system or a curtain wall system hung to a structural frame. This retains the nonstructural aspect of the facade while allowing a wider variety of materials to be incorporated. Quite often, these materials include some type of natural stone, terra cotta, masonry, or concrete that can emulate a historic style or provide a certain aesthetic that is durable and long-lasting.
Without the need to provide structural support to the building, only to itself, cladding and curtain wall systems are often designed and installed as comparatively lightweight, customized, modular sections. There are several aspects that come together to make this a successful undertaking.
Coordination
The first thing to address is that during the design or shop drawing stage, there is a great deal of coordination between the design architect, engineers, and facade contractor. There may also be a specialized consultant involved who focuses on curtain wall and cladding systems. In some cases, the fabricator of the curtain wall or cladding system may offer extensive design and engineering services for their products. They may also serve as a one-stop source for both cladding materials and support systems. The key is to engage everyone in the process early on so that design options can be reviewed, construction capabilities or limitations confirmed, installation processes reviewed, and costs controlled.

Photos courtesy of HOFMANN FACADES
Ultra-high-performance concrete (UHPC) is being used to create building facade panels that are visually striking, custom designed, lighter weight, and easier to install. An example is the case shown above, where UHPC was combined with a beige limestone veneer.
Material Selections
Exterior architectural cladding can be made from a variety of natural and man-made products. Quarried natural stone cladding is popular because it is a proven product that is highly versatile with many finish options. Varieties can include granite, limestone, sandstone, or others, each of which will have different visual and performance characteristics. As a natural material, it has a very low carbon footprint and requires comparatively low amounts of energy to produce. It is also typically very durable, requiring very little maintenance.
An emerging facade material is ultra-high-performance concrete (UHPC) formed into a panel and hung as part of a curtain wall or similar system. Aesthetically, its appeal is found in the virtually endless finish options in the color and texture of the concrete. It is also readily possible to integrate thin layers of other materials onto the outer surface, such as terrazzo, brick, terra cotta, wood, ceramic tile, or thin natural stone veneers. This is intriguing on flat surfaces but enhanced by the ability to readily form concrete into three-dimensional sections or panels that can add visual interest and depth to a facade.
In addition to the visual aspects of UHPC panels on a facade, its physical properties are notable too. The cast panels are typically thinner, lighter, and longer spanning than some stone or masonry materials. This equates to a reduction of the dead load weight on concrete or steel frame superstructures and foundations. Depending on the design, thinner systems mean more space for insulation and fireproofing, or it can mean a gain of usable (or rentable) interior floor space. Using less material helps to improve the overall carbon footprint of the building too.
Installation Techniques
The choice of materials and the type of system selected will directly influence the means for installing the facade. Heavier, thicker, and larger facade panels will likely require a crane for their installation. Smaller, lighter panels such as those made with UHPC can often be floor set and brought into place without the need for tower cranes or even scaffolding in some cases. The lighter weight also means that there may be fewer anchor points and penetrations of structural elements. All of this adds up to shorter installation cycles on-site and improved construction time schedules.
Philipp Hofmann, managing partner of Hofmann Facades, saw the advantages of UHPC facade panels play out very well at a recent hospital project in Germany. He notes, "This project led to the idea of a thin limestone facade, entirely unitized on UHPC instead of hand-setting it into place. This meant the project could be installed without any scaffolding, thus reducing cost and construction time."
Originally published in December 2020
Notice