125 Years of Product Innovation and Evolution
Key product and system innovations that have driven the building industry forward over the past 125 years and continue to do so
Sponsored by Armstrong® Ceiling Solutions, Excel Dryer, Inc., Guardian Glass North America, NanaWall Systems, and National Terrazzo & Mosaic Association
This test is no longer available for credit
Hand Dryers Today: High Performance, Customizable, and Environmentally Responsible
Today's high-speed, energy-efficient hand dryers have shrunk drying time from the 1 minute or more it used to take first-generation machines to dry hands to a mere 8 seconds today. And the new technology that makes this speed possible also allows these machines to use 80 percent less energy than conventional dryers, translating into significant cost savings relative to both conventional electric dryers and to paper towels. In fact, one leading manufacturer estimates that high-speed, energy-efficient electric hand dryers deliver a 95 percent cost savings when compared to paper towels if you take into account the full cost of the towels: requisitions and purchase orders; receiving, storing, and servicing towel dispensers; and collecting and disposing of used towels. And this doesn't factor in the added expense to clear clogged toilets when paper towels are improperly disposed of.
The same manufacturer also sponsored a peer-reviewed life-cycle assessment of its product, conducted by a third-party and in conformance with ISO 14040 standards. The assessment confirmed that the product reduces the carbon footprint of hand drying by 50 percent to 75 percent when compared to both traditional hand dryers and even 100-percent-recycled paper towels.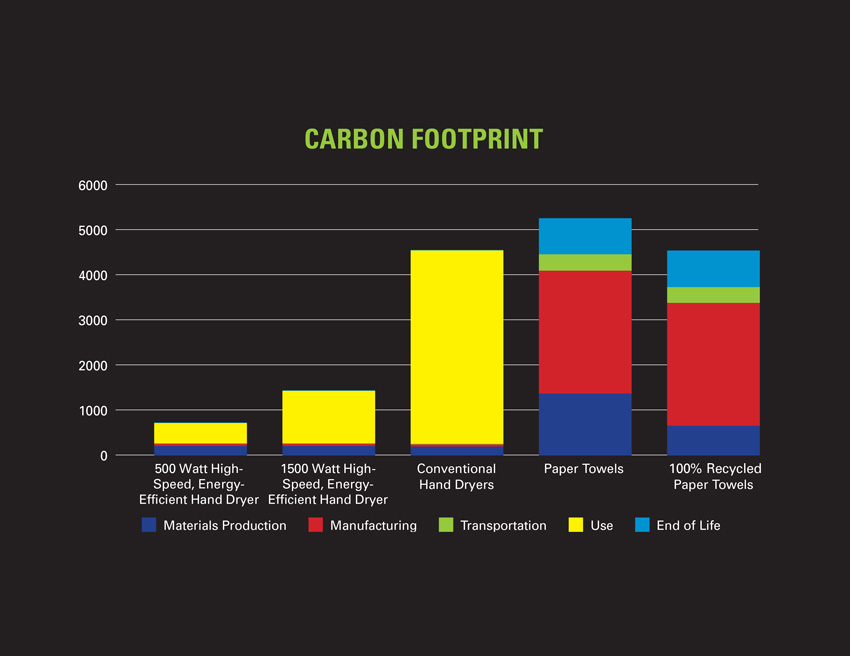 Image courtesy of Excel Dryer, Inc.
An LCA study conducted to ISO 14040 Standards by Quantis, an international life-cycle assessment research firm, determined that when compared to traditional electric hand dryers and paper towels (virgin and 100-pecent-recycled content), high-speed, energy-efficient hand dryers reduce climate changing score (carbon footprint) of hand drying by 50 percent to 75 percent.
As confirmation of their status as a sustainable, environmentally responsible technology, high-speed, energy-efficient hand dryers were specified for the USGBC's headquarters building in Washington, D.C. The 75,000-square-foot space was designed to showcase the latest green products and technology in the real-world setting of a functional office within a relatively conventional 1970s commercial building. High-speed, energy-efficient hand dryers were selected for their environmental attributes and their ability to meet the aggressive energy- and waste-reduction requirements for the project. Every year, thousands of visitors to USGBC headquarters see this and other green technologies in action, both in the restrooms and on the Material Wall that is part of the USGBC's Learning Pathway, a corridor dedicated to showcasing each material or product used in the facility, its origin, and its utility.
Sensor-activated, touchless machines were introduced in 1988 to replace manual switches, and they have become the norm across the industry, even though manual switch machines are still being manufactured. Since then, hand dryers have also become quieter. Some manufacturers provide controls that can adjust both the speed and the sound of their products, allowing a dryer to be fine-tuned for a specific application. And instead of the one-temperature-suits-all approach of earlier machines, variable heat settings are now available, ranging from high, medium, and low to completely off. Custom covers are yet another way in which current systems can be tailored to meet the specific needs of a specific setting. Offered in a variety of paint colors, with PVD coatings to achieve gold, brass, or bronze finishes; custom, digital-images depicting school or company logos; patterns to match decor; or messages about sustainability, options for custom covers are virtually limitless. Multi-voltage configurations further expand the number and types of conditions where high-performance units can be installed, and a series of constantly evolving accessories—including HEPA filtration systems, noise-reduction nozzles, antimicrobial wall guards, and ADA-compliant recess kits—can be mixed and matched to create highly customized packages that match the needs of specific environments.
Offered as a consolidated unit that combines on one sink deck all of the green elements of high-speed, energy-efficient dryers and touch-free soap dispensers with the water-saving capacity of sensor-activated, low-flow faucets, fully integrated sink systems truly are the next generation of green restroom design. The units build upon advancements in noise reduction, water dispersion, and aesthetic improvements introduced to the market in recent years. One leading manufacturer's system allows you to adjust the speed on the unit to control sound and, because the main components are located below the sink deck with the air flowing through a sound-suppression system, decibel levels are significantly reduced. Advancements in the system's air outlet nozzle further optimizes performance by having the air blow down and away from the user, helping to keep the air in the basin and the water down the drain. This significantly improves the user experience and the hygiene of the restroom, particularly when paired with other touch-free fixtures. The integrated sink systems offer contemporary finishes for today's modern restrooms, including a variety of solid surfaces like Corian®, Quartz, and even natural stone such as granite and marble, making them a suitable choice for architects, interior designers, and specifiers seeking an elevated, customizable restroom solution.
So it's clear that the current generation of high-speed, energy-efficient hand dryers excel in performance, saving both energy and cost and, in the process, shrinking the carbon footprint of the hand-drying process. At the same time, these new high-performance machines are also extremely customizable, offering a variety of features well beyond the simple fan, motor, heating element, and manual switch configurations of the past.
Environmental Responsibility: An Industry-Wide Commitment
As part of the ongoing innovation revolution occurring in the hand-dryer marketplace, the industry itself has taken the global lead on introducing accountability, verifiability, and transparency into the product performance and environmental impact evaluation process. Working collectively and internationally with UL Environment (a business division of Underwriters' Laboratories), the major manufacturers of electric hand-dryer products have created the first global PCR for the hand-dryer industry through consensus. Initiated and chaired by the same American manufacturer who created the high-speed, energy-efficient hand-dryer category, the PCR follows internationally established guidelines to codify and standardize the rules and requirements—and specifically, testing methods. This groundbreaking development now allows product specifiers and purchasers to evaluate impacts of hand dryers from an apples-to-apples comparison in terms of dry time, energy use, and environmental impact using a common set of transparent criteria. PCRs are the first step toward the development of EPDs, type III, independently verified ecolabels that govern one or more product categories. It is hoped that the PCR and forthcoming EPDs will revolutionize how hand-dryer purchasing and specifying decisions are made in the market, challenging product manufacturers to be transparent and provide environmental product claims based on the same set of rules and reporting guidelines, and galvanizing other sectors of the building industry to generate effective, consensus-based PCRs for their own products and materials. The creation of the PCR for the hand-dryer industry supports a new age of transparency and the push toward sustainability in the next generation of green restroom design.
Originally published in Architectural Record
Notice