Shifts in Healthcare Design Create Demand for New Products
Innovative and energy-efficient cleaning systems reduce costs and address hospital-associated infections (HAIs)
Sponsored by Miele Professional
Learning Objectives:
Describe the trends in healthcare that are impacting facility design and the specification of energy-efficient products.
Explain how surface contaminants contribute to hospital-associated infections (HAIs).
Identify cleaning systems for healthcare facilities that are code compliant, address HAIs, lower utility expenses, and reduce use of environmentally harmful chemicals.
Discuss how cleaning systems may contribute to sustainability and LEED®-HC credits.
Credits:
This test is no longer available for credit
Major shifts are under way in the healthcare sector. Driven by changing demographics and the Patient Protection and Affordable Care Act, institutions are getting leaner as they look for greater efficiencies. New construction is shifting from the mega hospital to flexible satellite outpatient facilities that serve changing community needs, while small specialty surgical centers continue to grow to meet consumer demand for personal service and convenience. As baby boomers age, long-term care providers increasingly recognize that facilities which look and feel like home rather than a high-rise institution are proving to be effective, feasible, and sustainable. Even more significant is the continuing demand for sustainable construction, which, matched with stringent budgets, is a perfect combination of green and lean.
But healthcare facilities also have the critical requirement of supporting best practices in healthcare processes in order to combat hospital-associated infections (HAIs). As Florence Nightingale wrote in "Notes on Hospitals" (1863): "It may seem a strange principle to enunciate as the very first requirement in a hospital that it should do the sick no harm. It is quite necessary, nevertheless, to lay down such a principle."
In a special issue of HERD (Health Environments Research & Design),1 Kendall K. Hall, MD, MS and Douglas B. Kamerow, MD, MPH, note that HAIs are a serious and costly threat to public health in the U.S., afflict an estimated one in 20 hospitalized patients at any given time, and that hospital-acquired infections alone were responsible for between $28 billion and $33 billion in excess healthcare costs in 2002 (U.S. Department of Health & Human Services, 2012). In the same HERD publication, James P. Steinberg et al report that many pathogens causing HAIs can survive for weeks to months on dry surfaces. Organisms such as Clostridium difficile (C. difficile) can form spores that allow for prolonged survival and are relatively resistant to disinfection. Common causes of HAIs, notably Staphylococcus aureus (S. aureus) and Enterococcus (VRE), and their antibiotic-resistant strains also frequently contaminate the environment.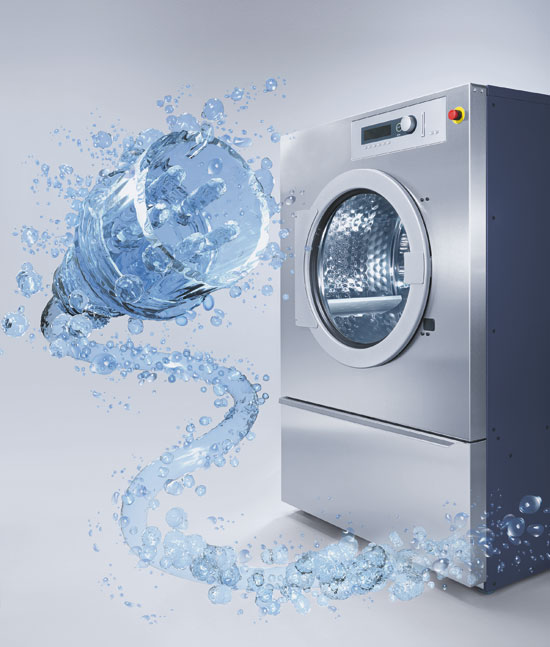 Photo courtesy of Miele Professional
Energy-efficient H2O dryer uses energy from hot water for drying.
Originally published in Architectural Record
Originally published in May 2014
Notice