Using insulated metal panels to future-proof buildings
Sponsored by Metal Construction Association, IMP Funders Group
This test is no longer available for credit
Fire
Tilt-up and precast concrete panels require no modifications for fire resistance. IMPs are suitable for all construction types when used in accordance with the IBC. Of note, however, is the performance of IMPs in high-wind-load areas and seismic areas. Here, IMPs offer superior reliability and disaster resistance.
Installation and Initial Cost Comparisons
Fabrication and installation time combined is fairly comparable between IMPs and tilt-up. Precast project completion is generally faster but more expensive. IMPs are slightly less subject to weather delays than tilt-up.
Average labor and material unit costs for precast are $23; tilt-up runs between $16 and $18. IMPs total from $10 to $30.
As a retrofit solution, IMPs excel given their light weight and design flexibility.
Decision Points for Single Skin and IMPs
After World War II, the excess capacity of the sheet metal sector met a pent-up demand for construction. The product, single skin, facilitated rapid and low-cost construction for factories and other buildings. Today, an increase in available profiles and durable paint finishes have lead to more sophisticated products and applications.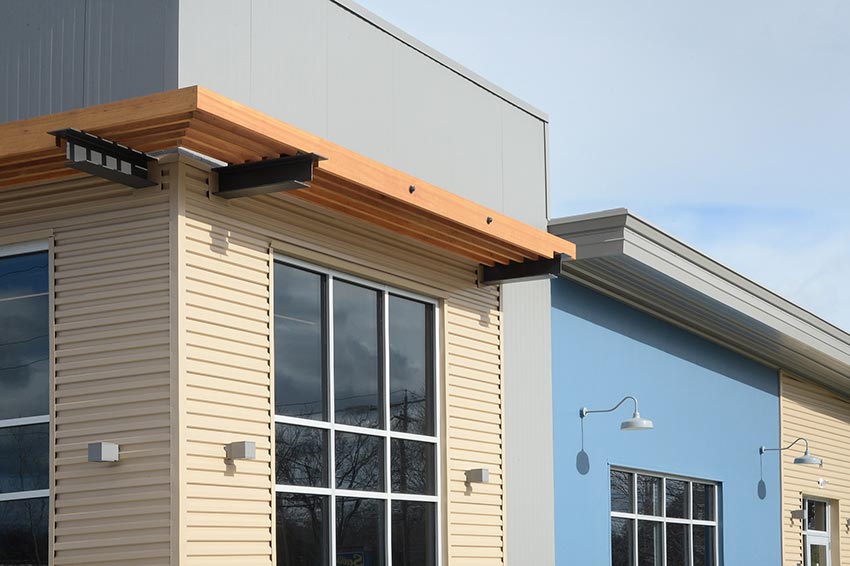 Photo courtesy of Metl-Span
Metal offers a broad and durable range of finish colors as well as the ability to combine distinctive profiles, as shown here at the Land Remediation Building in Waterford, New York.
Aesthetics
Both IMPs and single-skin walls use identical paint systems, offering long-lasting, durable finishes. Single skin offers a greater diversity of profile choices; certain IMP systems can combine with single skins and will accept their profiles. Single skin is also available in more alternative metals, like copper and zinc. IMPs are more difficult to produce with alternative metals due to composite construction, foam adhesion, and fire-related code issues.
IMPs provide better aesthetics for flat panels. Single-skin metal is easier and less expensive to curve than IMPs.
Envelope Performance
IMPs and rainscreen assemblies using single skin both provide excellent water management. The wider, concealed, and fastened IMP structure features less joints than a single-skin facade, meaning less chance for leaks. IMP steel facings provide an ideal drainage plane while exterior and interior joints provide duplicate protection against water intrusion.
IMPs create the ultimate insulating system, straight out of the box. IMPs are impervious to water and have an in-place R-value of up to 45. Their structure further eliminates almost entirely thermal bridging while meeting code requirements for continuous insulation.
Single-skin facades rely on cavity systems added in the field for insulation; the insulation amounts are limited by cavity depth. The added batts or blankets require full expansion to reach their rated R-values and have to contend with the thermal shorts at all structural supports. The taped or foamed seams lose integrity over time. In-place R-values are lower than those offered by IMPs.
Airtightness is critical to envelope performance and a major source of heat loss or gain. Single-skin barrier walls have limited effectiveness due to discontinuities in the air barrier, material transitions, and a lack of redundancy. An IMP panel assembly is tested for air infiltration to ASTM E283 and exceeds code requirement for air barriers. The rigidity of panels and joints provide positive sealing conditions and optional exterior joint caulking provides redundancy. IMPs, therefore, provide superior air infiltration performance. Both IMPs and single-skin barrier walls do provide excellent vapor diffusion.
Installation and Initial Cost Comparisons
Installation times are fairly comparable between IMPs and single-skin walls. Both have similar production rates and are unaffected by weather. High winds can hamper the installation of both systems. While single-skin walls are lighter and easier to maneuver, more components and attachment points occur in the field than IMPs. IMPs offer superior spanning ability versus similarly profiled single skins.
Among the product options available today, IMPs uniquely provide all of the following performance attributes in one easy-to-install package: air-infiltration control, vapor management, water management, thermal performance, paint-finish longevity, structural performance (long spans, wind, snow, and seismic loads), building security, and fire performance (combustible and noncombustible construction).
Creating the Perfect Wall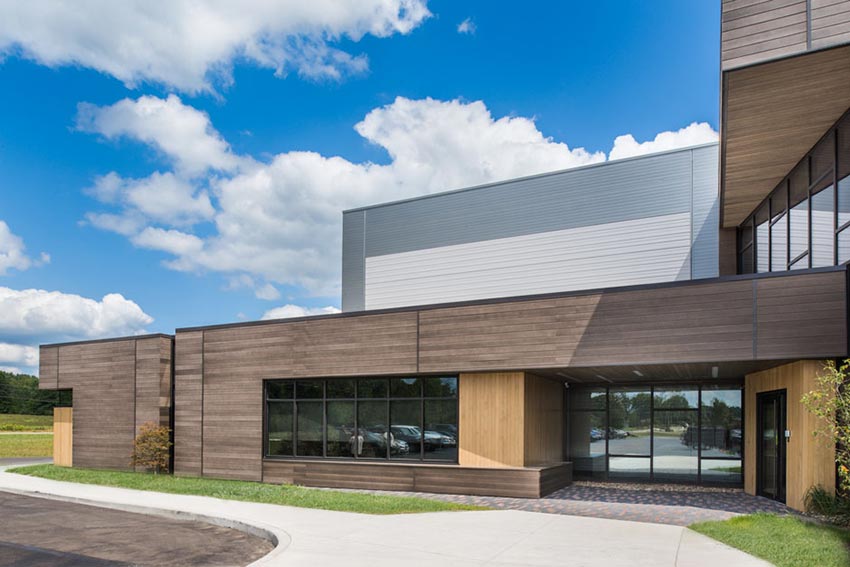 Photo courtesy of Metl-Span
Among the product options available today, IMPs uniquely provide all of the performance attributes in one easy-to-install, aesthetically flexible package.
Future-proofing means designing a building to meet today's code criteria as well as one that will perform with resiliency into the future. The innovation of IMPs allows architects to design and send a building into the future with confidence. IMPs are a fit for all climate zones and interior conditions, with the ability to provide all necessary building control layers as a single component without the use of supplemental systems. IMPs are also easily integrated with other wall and roof systems by connecting control layers. Their aesthetic range means design flexibility; ease of installation both helps initial costs and guarantees preservation of a building enclosure's performance.
Future-oriented buildings require future-oriented products. The portfolio provided by IMPs answers the call of the future.
Amanda Voss, MPP, is an author, editor, and policy analyst. Writing for multiple publications, she also currently serves as the managing editor for Energy Design Update.
| | |
| --- | --- |
| | The Metal Construction Association brings together a diverse industry for the purpose of expanding the use of metal in construction through marketing, research, technology, and education. MCA member companies gain tremendous benefit from association activities that focus on research, codes and standards, market development, and technical programs. www.metalconstruction.org |
Originally published in Architectural Record
Originally published in July 2019
Notice