Using insulated metal panels to future-proof buildings
Sponsored by Metal Construction Association, IMP Funders Group
This test is no longer available for credit
Aesthetics
Brick is available in a large range of solid or variegated colors and offers good color stability with a typically matte finish. It can be painted or stained after installation.
IMPs offer long-lasting, durable finishes with warranties of up to 35 years or more and can use PVDF (Kynar), FEVE (fluoropolymer based), SMP (silicone modified polyester), polyester, and plastisol finishes. Standard 1-mil and high-build systems offer different finishes, including mica, metallic, weathered metal, wood grain, and prismatic. Long-lasting, low-maintenance paint finishes in a multitude of colors provide design flexibility.
While brick offsets can create depth, there is no practical means of creating exterior profiles. IMP profiles are more easily available due to their roll forming manufacturing process. Easy-to-vary modules, reveal sizes, and thickness add architectural interest.
Envelope Performance
IMPs and brick veneer walls constructed with drained and back-ventilated rainscreens (DBVRs) provide excellent liquid water management. While brick veneers absorb some water, in most circumstances, this dries out through evaporation.
IMPs resist water infiltration through their construction, using gravity to shed water and sealed, protected joints to resist wind-driven rain. As a complete perfect wall system, with designed-in rain, air, vapor, and thermal barriers, IMPs are designed and built to prevent intrusion and dry appropriately, keeping a building healthy and durable. IMPs additionally offer the best protection against air-transported moisture.
IMPs typically have a higher R-value per-inch rating than brick veneer systems. Brick veneer systems rely on the installation of insulation in the field for their thermal performance. This insulation may be instantly degraded based upon site conditions and damage or improper installation. IMPs also demonstrate increased insulating values as the mean temperature decreases, a critical feature in cold climates.
When using brick veneer assemblies as the envelope, particular attention must be paid to areas of discontinuity. Air leaks as a result of the multiple, field-installed components can lead to moisture buildup in the cavity and the possibility of condensation and mold growth.
Each IMP panel assembly is tested for air infiltration to ASTM E283, exceeding the code requirement for air barriers. Panels are factory built and of consistent quality, and panel joints provide consistent sealing conditions. Optional exterior joint caulking provides redundancy where needed.
IMPs provide a simpler solution for delivering envelope performance. With all barriers included from the factory, the possibility of installation mistakes and damage is minimized.
Fire
A brick veneer wall assembly can be considered fire resistive, with a 1-hour fire-resistance rating. Two- and 3-hour ratings are available with the use of additional stud framing with gypsum sheathing.
IMPs are suitable for all construction types when used in accordance with Chapter 26 of the International Building Code (IBC). IMPs do require the use of other materials, such as gypsum, to create fire resistive walls. Certain IMP manufacturers do offer IMP systems with a fire rating.
Installation and Initial Cost Comparisons
IMPs allow for a 5 to 15 times faster installation rate per installer than brick. With a typical brick installation rate per person of 80 square feet per day, IMPs boost that to between 375 to 1,250 square feet per day per person. With their factory-included barriers and larger module size, there are fewer components and trades necessary. IMPs are also less subject to weather delays, like rain, snow, or cold temperatures, than brick. Average labor and material unit costs for brick veneer (cladding, insulation, air, vapor, and water barriers, and exterior gypsum) fall between $16 and $22; IMPs average between $10 and $30.
IMPs offer a clear advantage aesthetically and from a performance perspective. Given their low weight, ease of installation, and thermal performance, IMPs are also an ideal retrofit system.
Decision Points for Concrete Tilt-Up and Precast and IMPs
Concrete tilt-up and precast products are a popular solution in today's commercial building sector, driven forward by their rapid construction rate, general availability, durability, and fire resistance. Panelmet Consulting offers a comparison between these products.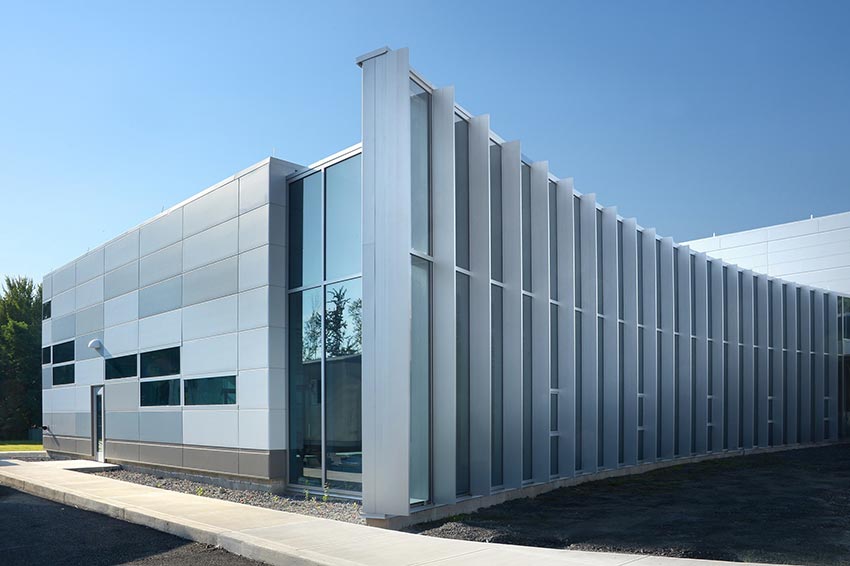 Photo courtesy of Metl-Span
Not only do IMPs offer flexibility in finish, but they can also create exceptional geometries on the facade, as shown here at SORAA Lighting in East Syracuse, New York.
Aesthetics
For concrete tilt-up applications, options are limited to solid colors, which are field applied. The paint has low to medium durability, with no long-term warranties.
As discussed earlier, IMPs offer a large variety of durable and resilient finishes.
Precast and tilt-up concrete offer a range of textured finishes, with tilt-up boasting the greatest variety. Aesthetic options range from smooth to exposed aggregate to plank finishes.
IMPs offer both smooth and stucco finishes.
Tilt-up wall profiles are more difficult to create in the field. Precast offers greater flexibility, but IMPs are a natural fit where a profile is desired. The roll-forming manufacturing process allows for greater creative expression, making IMPs the most practical solution to profile.
Both IMPs and tilt-ups are capable of ornamentation and additional product integration. They can also both accommodate curved wall construction.
Envelope Performance
IMPs and tilt-ups with cavity insulation both provide excellent liquid water management. The use of concrete also provides some thermal mass for a building. However, IMPs provide superior thermal resistance, with an in-place R-value of up to 45, and are also impervious to water. There is no loss of performance due to sagging or compression and virtual elimination of thermal bridging.
IMPs, tilt-ups, and precast with sandwich and cavity systems all provide superior air infiltration performance and vapor diffusion management.
Originally published in Architectural Record
Originally published in July 2019
Notice