Designing with metal brings durability, energy savings, and cost efficiency together
This course is no longer active
Sponsored by Metal Construction Association
Learning Objectives:
Apply principles of building-related costs and life-cycle cost analysis (LCCA) to make the best material selections for durability and cost effectiveness.
Discuss the versatility of metal as a building material and how its attributes contribute to sustainability and resilience.
Compare and contrast advantages of building materials, both during initial construction and through a building's life cycle.
Describe the impact that metal's disaster resistance has for the building's durability.
Credits:
This course can be self-reported to the AIBC, as per their CE Guidelines.
Approved for Core Learning
This course can be self-reported to the NLAA
Course may qualify for Learning Hours with NWTAA
Course eligible for OAA Learning Hours
This course is approved as a core course
This course can be self-reported for Learning Units to the Architectural Institute of British Columbia
This course is part of the Metal Architecture Academy
In October 2018, The New York Times published a haunting photo and article chronicling the devastation left in Florida's Panhandle in the wake of Hurricane Michael. Alone among the destruction stood an elevated house built out of reinforced concrete walls with a metal roof. When interviewed, Dr. Lackey, one of the owners of the surviving structure, told The Times, "We were thinking that we need to build a house that would survive for generations." Such forethought led to the construction of a home that persisted through the storm's ferocity, when none of its neighbors did.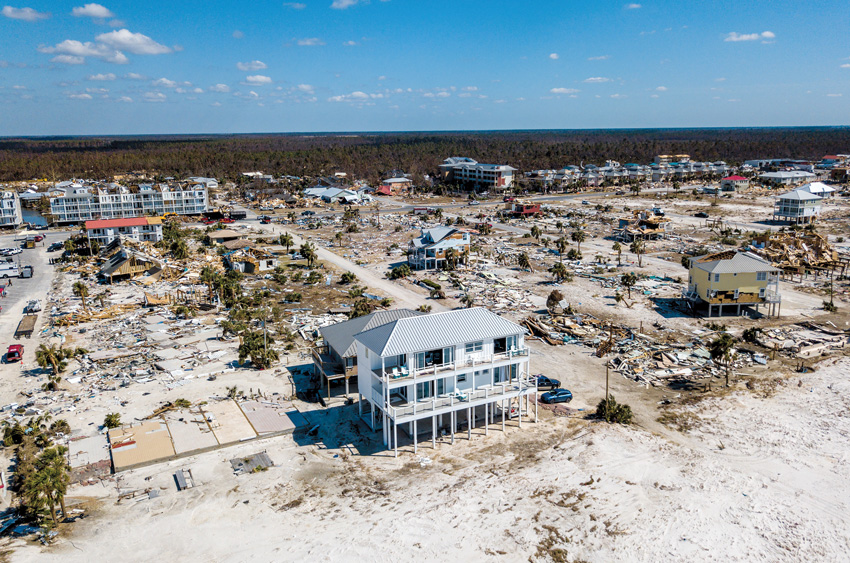 Photo: Johnny Milano/The New York Times/Redux
Protected with a metal roof, this elevated house in Mexico Beach, Florida, came out of Hurricane Michael almost unscathed.
What type of analysis is entailed to allow a building to stand the tests of time? Obviously, before embarking on any construction project, it is vital to count costs to create an accurate budget. But that begs the question, "Are we counting the right costs?" Initial costs account only for product price tags: a comprehensive accounting must also weigh product life, environmental impacts, resilience, and durability.
"When we build, let us think that we build forever," advised John Ruskin in The Seven Lamps of Architecture, 1849.
Calculating Building Costs with the Big Picture in Mind
When calculating the true cost of any potential building material, accounting for the price of the materials and labor for installation are obvious pieces of the equation. However, other more subtle parameters radically impact material math. Attributes like lifespan and resilience should also play a major role in decision-making.
According to Sieglinde Fuller of the National Institute of Standards and Technology (NIST), building-related costs usually fall into the following categories:
Initial costs: purchase, acquisition, and construction costs;
Fuel costs;
Operation, maintenance, and repair costs;
Replacement costs;
Residual values: resale or salvage values, or disposal costs;
Finance charges: loan interest payments; and
Nonmonetary benefits or costs.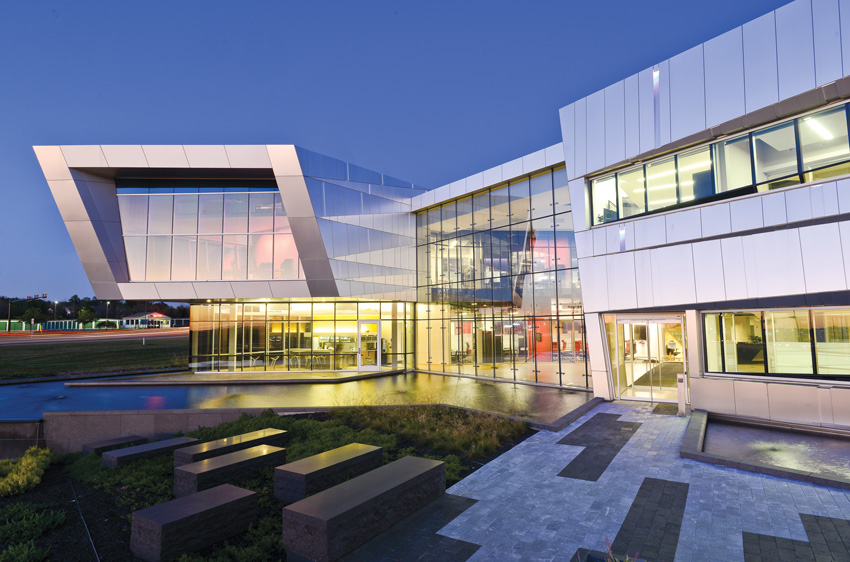 Photo courtesy of 3A Composites USA
THE CONNOR GROUP HEADQUARTERS, MIAMISBURG, OHIO
Planning a building means searching for the best material combination to support performance, durability, and budget goals.
Lowest life-cycle cost (LCC) is the most straightforward and easy-to-interpret measure of economic evaluation. Other commonly used measures are net savings (or net benefits), savings-to-investment ratio (or savings benefit-to-cost ratio), internal rate of return, and payback period. Building economists, certified value specialists, cost engineers, architects, quantity surveyors, operations researchers, and others might use any or several of these techniques to evaluate a project. The approach to making cost-effective choices for building-related projects can be quite similar whether it is called cost estimating, value engineering, or economic analysis.1
Life-cycle cost analysis (LCCA) is a method for assessing the total cost of facility ownership. It takes into account all costs of acquiring, owning, and disposing of a building or building system. LCCA is especially useful when comparing project alternatives that fulfill the same performance requirements but differ with respect to initial costs and operating costs. For example, applying LCCA determines whether the incorporation of a high-performance HVAC or glazing system, which may increase initial cost but result in dramatically reduced operating and maintenance costs, is cost-effective or not.
Environmental product declarations (EPDs) are another tool for the design professional weighing material decisions. EPDs allow for confidence when selecting building materials and designing to develop more energy-efficient and environmentally responsible buildings. EPDs are third-party verified documents that report environmental data of products based on life-cycle assessment (LCA), in accordance with the international standard ISO 14025 (Type III Environmental Declarations). EPDs are structured like executive summaries and display the environmental impact of products in a number of categories.
Applying LCCA and EPDs offers a vital path to discovering true costs.
Examining Full Costs: Metal as a Commercial Design Material
Throughout history, metal has been used on buildings to shelter inhabitants and protect the structure from the elements. Today, metal's inherent qualities of strength, lighter weight, and durability are complemented by the visual beauty of modern architectural aesthetics.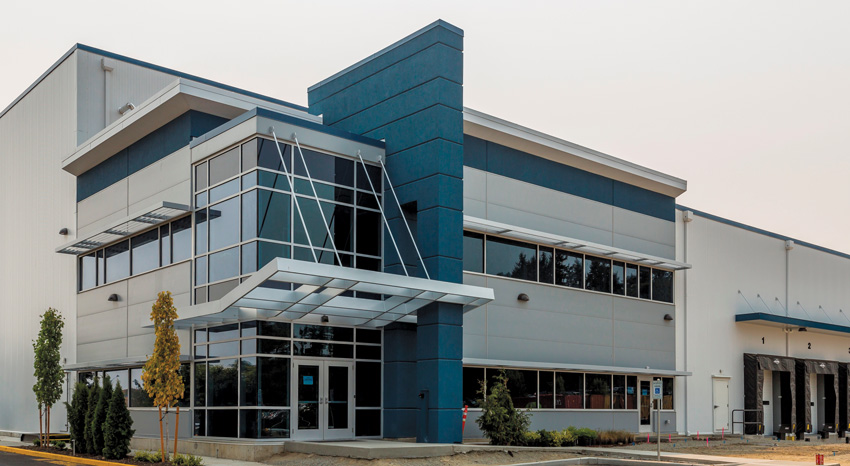 Photo courtesy of All Weather Insulated Panels
WESTERN DISTRIBUTION SERVICES, SEATTLE
Though metal is a historical building material, its qualities and aesthetic are a perfect match for contemporary design.
Metal can be found across the entire modern enclosure, from roof to walls. Types of metal roof and wall systems include:
Low-slope roofs: Used on roof pitches from 1⁄4:12 to 3:12, a low-slope roof consists of interlocking panels across the roof and is applied directly over bar joists or purlins. It is generally made from steel or possibly aluminum.
Steep-slope roofs: Used on roof pitches of 3:12 or greater, structural steep-slope roofs are generally applied over open framing but can also be installed over a solid deck. Architectural steel-slope roofs typically require a solid deck. This roof can be made from steel, aluminum, copper, or zinc.
Pre-formed wall panels: Combining economy, service, and design benefits, profiles are roll-formed at the plant in various shapes and shipped ready to install. These panels are made from steel, aluminum, copper, or zinc.
Insulated metal panels: Insulated metal panels (IMPs) combine thermal performance and aesthetics. IMPs are made by injecting foam insulating material between two metal face sheets, typically steel or aluminum. The injected foam expands to fill the cavity and then solidifies to create a solid, monolithic panel. IMPs offer the highest insulating value per inch of all wall-insulating products. In commercial applications, a 2-inch-thick panel meets most buildings' insulating requirements.
Metal composite wall panels: Combining panel flatness and beauty, composite panels are formed by bonding two metal skins to a plastic core that has been placed between them, creating a thin "sandwich" sheet. Composite walls are made from aluminum, zinc, copper, stainless steel, and titanium.
Natural metal: Highly malleable metals like copper, zinc, or aluminum are easily formed into shapes. Extremely durable with exceptionally long service lives, natural metal panels are often installed uncoated to capitalize on their natural beauty.
Metal is a versatile building material, boasting both historical credentials and modern aesthetics. To earn the right to rise to the top as the material of choice, however, metal must also demonstrate cost efficiency, durability, and minimal environmental impact.
Originally published in Architectural Record
Originally published in September 2019
Notice