Insulated Metal Panels: An All-In-One Air and Water Barrier
Ideal for both retrofits and new construction as an all-in-one air and water barrier with continuous insulation, roof and wall insulated metal panels deliver a plethora of performance, erection, durability, and aesthetic benefits
Sponsored by Metal Construction Association, Insulated Metal Panel Funders Group
This test is no longer available for credit
Selecting IMPs
When selecting and specifying IMPs, architects take a number of factors into account, such as span capacity, panel layouts, water tightness, material quantities, attachment points, exterior metal surface appearance, and, of course, cost.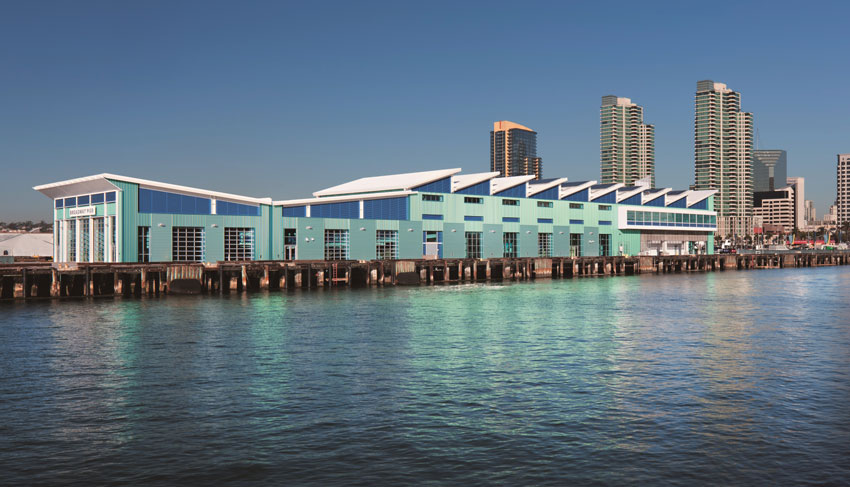 Photo courtesy of Kingspan Panels
Port Pavilion on Broadway Pier in San Diego is an example of an award-winning municipal project that incorporates insulated metal panels, metal roofing, and metal wall panels.
"Typically, we will write a performance specification around a 'basis of design' for a product and manufacturer that meet our requirements. Then the manufacturer/subcontractor marketplace actually determines which product is most affordable at the time of bidding," explains Kevin Krumdieck, AIA, LEED AP BD+C, principal, architect, Carrier Johnson + CULTURE, San Diego.
Essentially, it's always a matter of cost, performance, and aesthetics on every project, but in different ratios, Keil explains. "For the projects that are especially cost conscious, we've become adept at pushing the budget-friendly cladding systems as far as we can to create something new and unexpected," he says. "We seek out manufacturers who are willing to work with us to explore ideas."
Similarly, EwingCole looks for manufacturers that provide the most versatile product in terms of design and customization, in addition to meeting high levels of insulation and airtightness.
For Bailey Edward, the architects typically review literature and test reports from a number of manufacturers, in addition to samples of each product. "We will also visit local installations of products similar to the system we anticipate utilizing, if available," Whitehurst reports. "Once we have identified candidates, we will compare standard system details provided by the manufacturers with our exterior wall designs for compatibility and their ability to achieve our design goals."
Whitehurst also recommends selecting the IMP system based upon the building type and required materials.
In terms of verified performance levels, specifiers should make sure that the IMP product has passed certain standard tests. As delineated in MCA's Selection Guide for Insulated Metal Panels, IMPs carry ratings for fire, structural, thermal transmittance, water leakage, air pressure differential, and foam core properties.
For example, the foam core should be measured for density, shear strength, tensile strength, compressive strength, humidity aging, heat and cold aging, and flash and ignition properties. ASTM C 1363 tests the insulated metal panel R-values in 1-inch intervals. IMP wall panel systems range from 2 inches to 6 inches thick.
Incidentally, according to MCA's Guide, IMPs require a thickness of just 3 to 33/4 inches to achieve an R-value of 20, as compared to glass fiber with a separate liner, sub girt, and fascia, which must be approximately 7.5 inches thick to reach the same R-value.
Essentially, by choosing IMPs, building owners are then afforded a significant increase in useable floor space.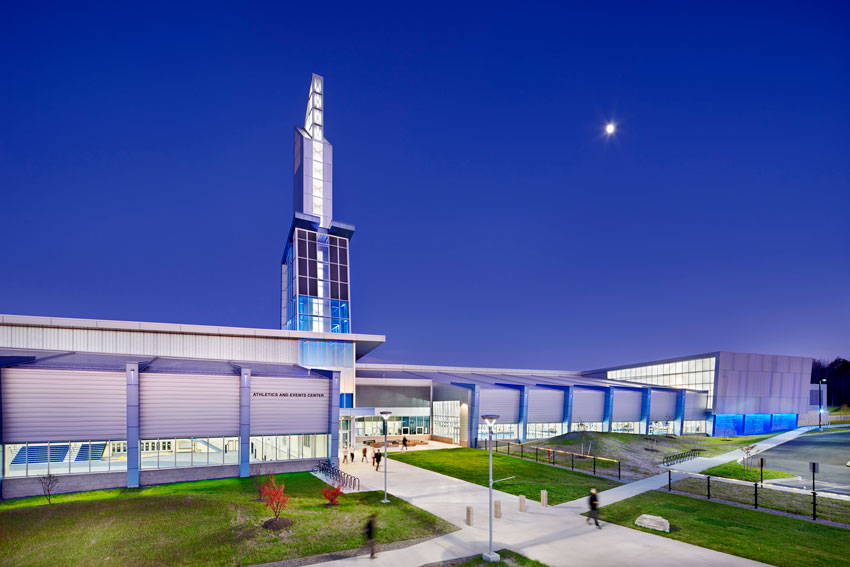 Photo courtesy of 3A Composites USA Inc./CENTRIA
The Ithaca College New Athletics and Events Center in Ithaca, New York, is clad in insulated metal panels, metal wall panels, and metal composite panels.
Furthermore, the composite action between the flat skins and the foam core produces a very structurally strong product, enabling a typical 2-inch panel to meet most 20 to 30 psf wind load requirements with 7-foot to 10-foot span conditions.
Offering some key installation instructions, the Guide emphasizes that penetrations be kept to a minimum. For small penetrations, "boots" or stack flashings are recommended for sealing, while a factory-welded curb with additional structural support is best for larger roof penetrations.
Maintaining proper back seal or liner-side seal continuity requires proper panel support alignment, and this alignment also helps avoid stress-induced panel face distortions. Ultimately, the support alignment should not deviate more than ¼ inch in any 20-foot length in any direction.
In order to ensure water infiltration performance levels, a proper seal system is imperative. Most commonly, a non-skinning butyl sealant is applied on the structural steel at panel ends, which are connected to either shop- or field-applied sealant located in the panel side joint. "The result is that each panel has a complete perimeter of butyl sealant on the liner or warm side, which in turn creates an excellent vapor barrier," instructs the Guide.
Another key point is ensuring that the fasteners are compatible with the IMP substrate. Otherwise, corrosion between dissimilar metal types can occur, thereby potentially damaging the integrity, performance, and aesthetics of the IMP system. To best prevent this, the Guide advises that fasteners be made of the same material as the wall system whenever possible, or minimally, that the fastener offers equivalent corrosion resistance to the material it is fastened to.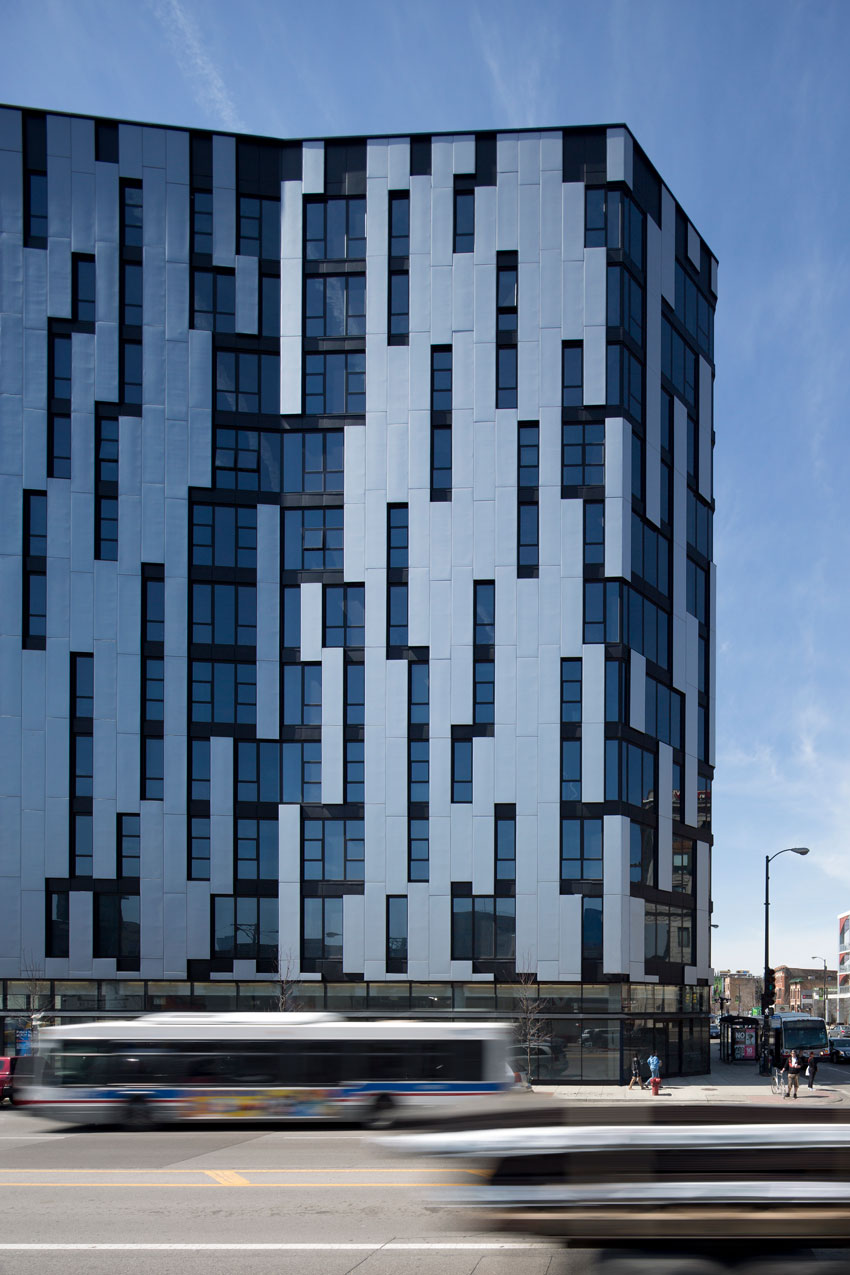 Photo courtesy of Kingspan Panels
A Metal Construction Association Chairman Award in the residential category, insulated metal panels create a striking facade at the 1611 West Division Apartments in Chicago.
Originally published in Architectural Record
Originally published in May 2017
Notice