Insulated Metal Panels: An All-In-One Air and Water Barrier
Ideal for both retrofits and new construction as an all-in-one air and water barrier with continuous insulation, roof and wall insulated metal panels deliver a plethora of performance, erection, durability, and aesthetic benefits
Sponsored by Metal Construction Association, Insulated Metal Panel Funders Group
This test is no longer available for credit
How IMPs are Manufactured
How do IMPs achieve a high level of thermal insulation performance, durability, and dimensional stability? It all starts with a sophisticated manufacturing process where polyisocyanurate foam is injected, as a liquid or froth, in between two sheets of coated steel or aluminum. Responding to a chemical reaction, the foam then expands to fill out the cavity, ultimately producing a panel capable of delivering a stable thermal value and resisting moisture and insect/rodent infiltration.
Finally, the panels are cut to length, with some manufacturers treating the panels' cut ends as well.
In terms of dimensions, wall panel thickness ranges from 2 inches to 6 inches, width runs from 24 inches to 42 inches, and IMP wall panel length starts at 1 foot and extends to 53 feet. Facings are made from aluminum, galvalume/zincalume, G-90 HDG steel, stucco-embossed steel, aluminum, and zinc. Gauge ranges from 22 to 24 for gauge steel and 22, 24, and 26 for gauge-coated steel.
For roof panels, thickness is also between 2 and 6 inches, with a standard width of 36 to 42 inches. IMP length is available from 8 feet to 52 feet; panel facings include galvalume, zincalume, and prepainted steel; and gauges come in 24 to 22 for the exterior and 22, 24, or 26 for the interior.
But the real secret of IMP's outstanding thermal performance levels is the polyisocyanurate foam.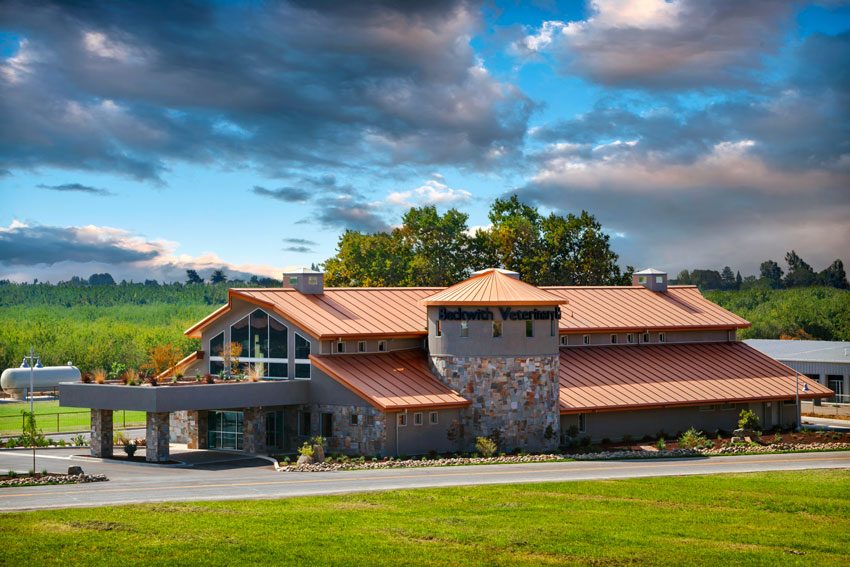 Photo courtesy of Kingspan Panels
Utilizing state-of-the-art technology, IMP roofs bind interior and exterior steel facings to a polyisocyanurate insulating foam core.
According to the Polyisocyanurate Insulation Manufacturers Association (PIMA), the foam offers the following attributes:
Thermally efficient rigid board insulation with highest, long-term R-value per inch of thickness
Moisture-resistant foam core
Compatibility with most solvents used in construction adhesives
Excellent dimensional stability
Superior performance in fire tests
Wide range of service temperatures
CFC- and HCFC-free with zero ozone-depletion potential
Recycled content in most products
All insulated metal panel producers are either making panels with negligible global warming potential or transitioning to that technology in the next few years.
The Building Enclosure
Not only do high levels of thermal performance contribute to continuous insulation requirements, but IMPs are well tailored for supporting high-performance building enclosures as well.
As John Straube, Ph.D., PE, principal, RDH Building Science, Toronto, explains in his white paper Controlling Air and Rainwater Using Insulated Metal Panel Enclosure Systems, IMPs are one of only a few types of building products that can provide an entire building enclosure in one prefabricated product.
"An insulated metal panel system can be used on its own to provide a complete enclosure, added over a lightweight structure and interior finish in new construction, or added over an existing enclosure to provide a new level of enclosure performance," he states.
To better understand the role of the enclosure, Straube describes its role as the "skin" separating the interior environment from the exterior, thereby serving as an environmental separator. He further defines the enclosure as providing the following three functions:
Support: Resisting, transferring, and accommodating all structural loading imposed by the interior and exterior environments, by the enclosure and by the building itself
Control: Blocking, regulating, and/or moderating all loadings created by the separation of the interior and exterior environments, i.e., the flow of mass (rain, air, water vapor, pollutants, etc.) and energy (heat, sound, fire, light, etc.)
Finish: Surface finish at the interface of the interior and exterior, meeting visual, aesthetic, durability, and other performance requirements
"Unlike the superstructure or the service systems of buildings, the enclosure is always visible and therefore of critical importance to owners, occupants, and the public," Straube says. "The appearance and operation of the enclosure has a major influence on the interior environment and on factors such as comfort, energy efficiency, durability, and occupant productivity, satisfaction, and health."
Killing several birds with one stone, the composite panels within the IMPs provide both the support and control functions, and, in many cases, the interior and/exterior finish as well.
In terms of water penetration, Straube explains that while the exterior location of the water barrier exposes it to weather, it simultaneously provides a number of advantages. In addition to the fact that coated steel—frequently used in IMPs—is quite durable, the barrier prevents water from entering the enclosure and can easily be inspected.
Fortunately, William McCrory, AIA, LEED AP, architect, SmithGroupJJR, Phoenix, points out that IMPs' panel-to-panel connection with their built-in gaskets or sealants allows for a seamless and airtight nesting. That said, special care must be taken in the detailing of transitions to different kinds of wall systems. To assist with this, proprietary window systems—offered by some IMP manufacturers—allow for seamless integration of panels with punched openings.
To best ensure proper performance of water-resistive, vapor, and air infiltration barriers, Antal instructs, "It is critical that the system is properly sealed with the use of non-skinning butyl sealants. This is achieved by applying non-skinning butyl sealant to all perimeter areas of the support steel at panel ends and at all panel interlocks."
Offering a couple design tips, Jabbawy recommends detailing the transitions to other materials and openings, and verifying continuity of thermal, air, and moisture barriers. In addition, site visits should help ensure the installation meets the design intent and reflects the shop drawings.
IMP systems must also be fastened back to a primary structure, typically with fasteners and clips, in order to safely and effectively transfer the collected loads, says Straube. "The design of these details and the construction of the IMP enclosure must account for these special penetrations, or leaks of air and rainwater may occur."
"While the panels are manufactured with internal gaskets/seals to prevent the intrusion of water, care must be taken with the vertical joints, especially at the heads of openings, at the base of the wall, and at the intersection between a wall and roof," Olsen adds. "With the proper use of counter flashings and sealants, water infiltration is not a problem."
While mechanically clamped gaskets and membranes perform exceptionally well for joints between an IMP and another building component, they are often practically difficult or too labor intensive to effectively install between panels.
In general, "When designing joint details, it is recommended that the outer metal sheet be considered the water control layer and the inner sheet liner be designed as the air-control layer," Olsen says.
Originally published in Architectural Record
Originally published in May 2017
Notice