Using Metal Building Systems to Meet and Exceed the Energy Code
High-performance results include insulation options and improved air-infiltration sealing
Sponsored by Metal Building Manufacturers Association (MBMA)
This test is no longer available for credit
Opaque Insulated Roofs
In many low-slope roofing installations (typically those using membrane roofing), rigid continuous insulation is installed entirely above the roof deck and the roofing membrane applied over that. This may be done in metal buildings too, but it is not very common. Instead, the more economical approach of insulating with one or more layers of fiberglass insulation between and above the metal structural members is typically used.
The energy efficiency required as well as the finished look dictates the selection of an insulation system for a metal building. A liner system is made from unfaced fiberglass insulation that is covered with a finish liner material. Filled cavity systems that use a combination of unfaced and faced insulation are also used, while adding continuous insulation to the bottom of the structural members may be appropriate in some cases. The most common system, where it satisfies the energy code requirement, is fiberglass insulation with a vapor barrier facing. All of this is customizable to achieve the desired insulation level in a roof system along with the desired finished look.
Roof Fenestration
Metal buildings can incorporate skylights, clerestories, or other fenestration as may be called for in a particular design. The structure simply needs to be designed to accommodate them, as with any building, and the appropriate product selected to be installed. Since metal buildings are used primarily for low-rise commercial buildings, such roof fenestration can be quite effective in providing daylight and enhancing energy performance. Note that some metal building manufacturers offer roof glazing as part of their product offerings. In many cases, it is a translucent panel that is designed to be substituted for a metal roofing panel. These are popular particularly in large semi-heated buildings like warehouses as a means to provide natural daylight instead of using electrical lights.
Cool Roofs
When solar energy strikes a surface, it can get absorbed and radiate back out as heat. To address this, cool metal roof coatings have been developed that reflect radiant heat, reduce the urban heat island effect, and increase solar reflectivity all to decrease a building's energy consumption. As such, metal roofing can easily and readily comply with the energy-code requirements that call for cool roofing. Note that there are requirements in the IECC and ASHRAE 90.1, but there are also a number of jurisdictions, particularly in warmer climates, that have imposed higher performance requirements. Information about a particular metal roof's solar reflectance and thermal emittance can be found through the metal building manufacturer's product data or on the Cool Roof Rating Council's (CRRC's)roof product directory at www.coolroofs.org. Metal roofing is often the best choice to meet and exceed all of these requirements.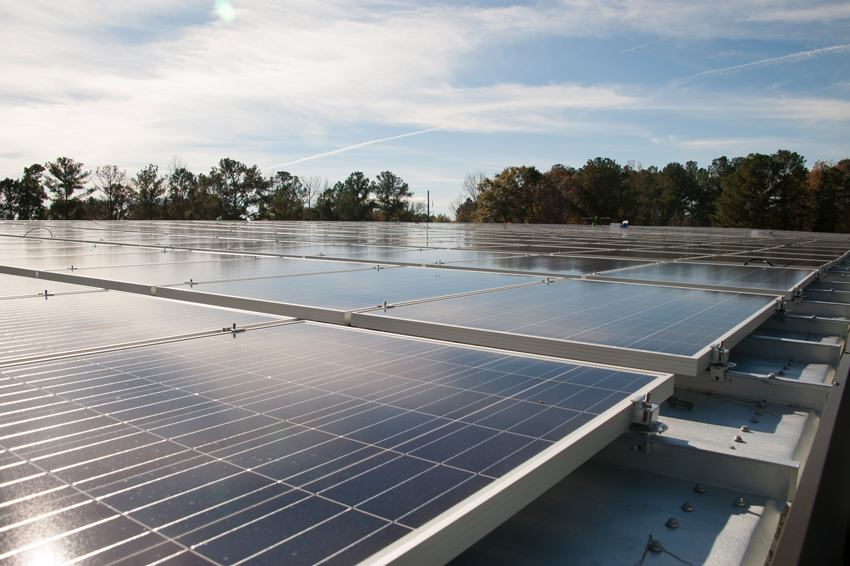 Solar panels can be installed readily onto standing-seam metal roofing, offering a long-lasting, durable solution for generating renewable energy.
Solar Installations
The installation of solar photovoltaic (PV) and solar water systems is not mandated by the codes, but many local jurisdictions have adopted what is referred to as "above-code" or "stretch-code" requirements that mandate solar energy usage. One such initiative is requiring that new buildings be constructed to be "solar ready," meaning that the building is to be designed and constructed to accept a solar PV or hot water system by virtue of its basic design, orientation, solar access, and detailing. Another initiative is to move toward "net-zero" energy requirements, meaning that the building produces as much energy as it consumes, but using non-polluting renewable energy to do so. Solar PV energy systems are currently the most affordable and practical means to meet these emerging requirements.
Metal building systems are ideally suited to have solar PV systems attached to them. Solar panels are easily installed on standing-seam metal roofing with fasteners that lock directly onto the standing seams and are hidden from view. The clips are especially beneficial because they do not require any penetration of the roof itself, thus avoiding possible water penetration. They also provide an installation advantage since on most other roofing types, a separate racking system is needed that is anchored to the roof by drilling into its surface. Mounting to a standing-seam metal roof is a better option since it eliminates the need for the racking and associated penetrations. Life expectancy is another reason why metal roofs are best suited for solar arrays. The expected service life of a metal roof—recently shown to be 60 years or more—is a better match for the service life of solar panels. The current warranted life of solar panels is 20–25 years, and many of them prove to remain functional well after this time frame. Few commercial roofs, other than metal, will last as long as the solar panels. Hence, if metal roofing is not used, all solar panels will need to be removed and reinstalled each time a roof is replaced, adding time and cost plus potentially causing damage to the system.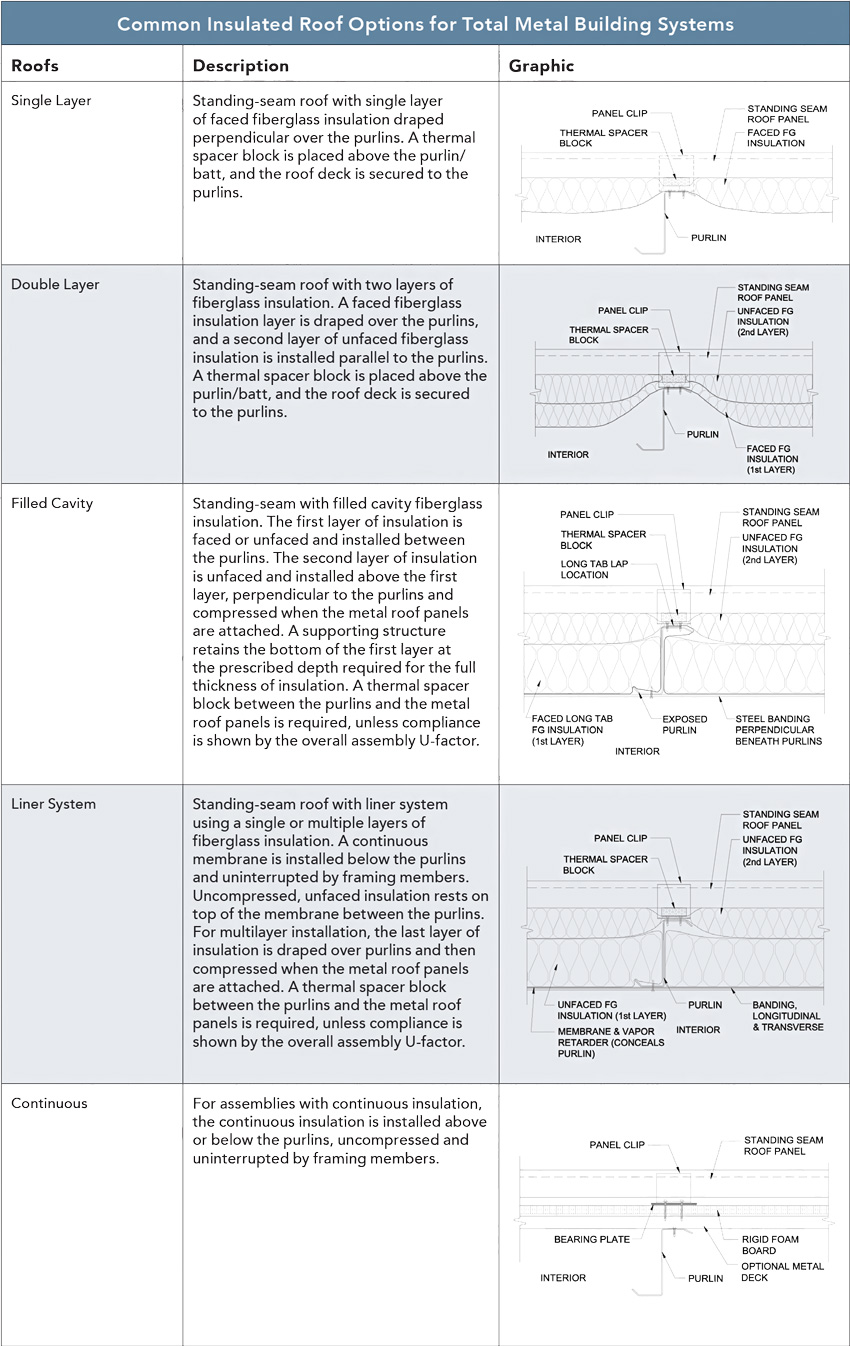 Insulating a metal building roof system can take different forms using a single or multiple layers of insulation to suit energy-code requirements for different climate zones.
Conclusion
Metal building systems have been successfully used for decades by providing a single-source, efficient, economical solution for providing low-rise commercial buildings. Energy codes have been developed that require the design and construction of buildings to be carried out in a manner that addresses energy conservation. Metal buildings have been shown to be very well suited to not only meet the requirements of energy codes but also exceed them. Design professionals can rely on the performance of metal wall and roof systems in particular in regards to energy performance. Additional resources for the design of energy-conscious metal buildings are available from the not-for-profit organization MBMA at www.mbma.com.
Peter J. Arsenault, FAIA, NCARB, LEED AP, is a nationally known architect and prolific author of more than 230 continuing education courses advancing higher building performance through better design. www.pjaarch.com, www.linkedin.com/in/pjaarch
| | |
| --- | --- |
| | The Metal Building Manufacturers Association (MBMA) serves to promote the metal building systems industry. Its membership represents more than $2.4 billion in annual sales and accounts for approximately 35% of the total non-residential low-rise construction market in the United States. Follow MBMA on LinkedIn or Twitter @LearnAboutMBMA. |
Originally published in Architectural Record
Originally published in December 2020
Notice