Sustainable Metal Buildings
Inherent efficiencies and whole building life-cycle assessments produce very positive results
Sponsored by Metal Building Manufacturers Association (MBMA)
This test is no longer available for credit
Solar Systems
Solar photovoltaic (PV) electric and solar water-heating systems are more economical than ever before and offer a ready opportunity to generate on-site renewable energy. Hence, they are showing up on all types of buildings, commonly on the roof. Metal buildings that use standing-seam metal roofing are an ideal opportunity for installing such systems due to the simplified methods of mounting the PV array and the longevity of the standing-seam metal roofing system, both of which translate to further significant cost savings. The metal roof generally provides a service life in excess of 40 years, which means it can outlast the PV array, thus avoiding costly roof replacements during the life of most PV arrays.
From an installation and weatherability standpoint, PV systems can be mounted on a standing-seam metal roof by means of non-penetrating seam clamps which are not invasive to the roof. Therefore, depending upon wire management techniques and other details, it is not only possible but common practice to mount PV arrays on metal rooftops with no penetrations of the roofing. By correctly mounting to a metal roof in this fashion, weather integrity and roof warranties remain intact, which is not generally the case with other types of roofing systems. When the usable life of metal roofing and PV is expired, virtually all roof and PV materials are recyclable—thus having environmental advantages over competitive roof types. It is also worth noting that the solar panel mounting costs are significantly lower for standing-seam metal roofs because the standing seams provide a grid to mount directly upon. That means there is no extra framing or other materials so hardware costs, construction time, and labor can be less. Once installed, the space between the solar panels and the roofing provides a desirable air flow. This air flow helps to cool the panels and has been found to lead to higher efficiency of operation.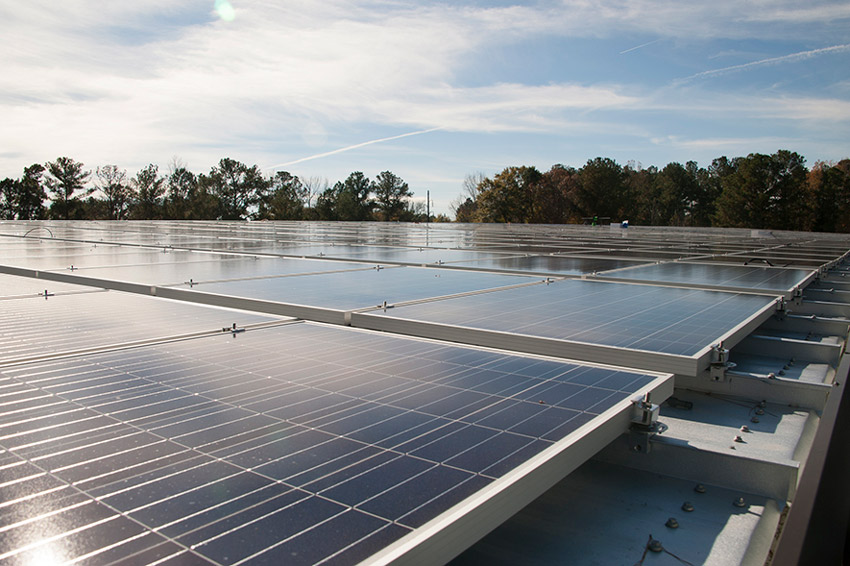 Mounting solar electric photovoltaic (PV) panels on a standing-seam metal roof is quicker and more economical than on other roofing systems.
Conclusion
Metal building systems have come a long way over the past century. With a proven track record of engineered, economical solutions, they have also proven their ability to provide great design flexibility. In particular, their efficient construction techniques, comparatively low environmental impact materials, and design opportunities for improved building envelopes, healthy spaces, and renewable energy use all contribute to high levels of sustainability. As such, metal building systems can be considered for any type of green and sustainable commercial, industrial, institutional low-rise building.
Originally published in Architectural Record
Originally published in December 2018
Notice