Specifying the Latest in Metal Buildings
Properly specify a high-performance building system to meet design vision and exceed owner expectations
Sponsored by Metal Building Manufacturers Association (MBMA)
This test is no longer available for credit
Part 3: Execution
As with any specified product or system, the installation requires multiple steps that need to be clearly articulated in the specification in order to receive the best results. The MBMA Metal Building Systems Manual's Common Industry Practices chapter should be referenced and referred to in all of the following conditions.
Examination and Preparation
Require that all conditions exist for the satisfactory installation of the metal building, and correct any that are not acceptable.
Field Quality Control
Field personnel qualifications, including IAS AC478 accreditation, should be stated. Further, erection tolerances should be identified in accordance with the MBMA Manual unless engineering or contractual requirements state otherwise.
Framing Erection
The MBMA Manual should be followed for setting base plates with templates, installing primary and secondary framing members, structural fastening using bolts, field welding, and temporary guys and bracing. No field cutting or modification of structural members should be allowed without the expressed approval of the metal building manufacturer. Any damaged or exposed primer shall be touched up following erection.
Roof and Wall Panel Installation
The installation of all roof and wall panel systems shall be performed in accordance with the manufacturer's instructions and recommendations and industry standards for a full, weathertight, and sealed end result.
Insulation Installation
If provided, insulation must be carefully installed per manufacturer's instructions, energy-code requirements, and industry standards for a fully and continuously insulated installation.
Doors and Glazing
All door and glazing products shall be installed consistent with the recommendations of the manufacturer of the specific products and in accordance with the metal building manufacturer instructions and guidelines.
Gutters and Downspouts
In addition to being properly installed on the building, gutters and downspouts need to be appropriately directed to surface or underground drainage areas as determined by site conditions and contract documents.
Flashings, Trim, and Accessories
All remaining items need to be installed appropriate to their location and details shown on the drawings.
Completion
Once the metal building package is completely assembled, then final cleanup and spot repairs, etc. may be needed and should be called for as needed.
In the end, a properly specified metal building package should be complete and coordinated with other building products, systems, and materials, all with the goal of minimizing any surprises or delays in the field.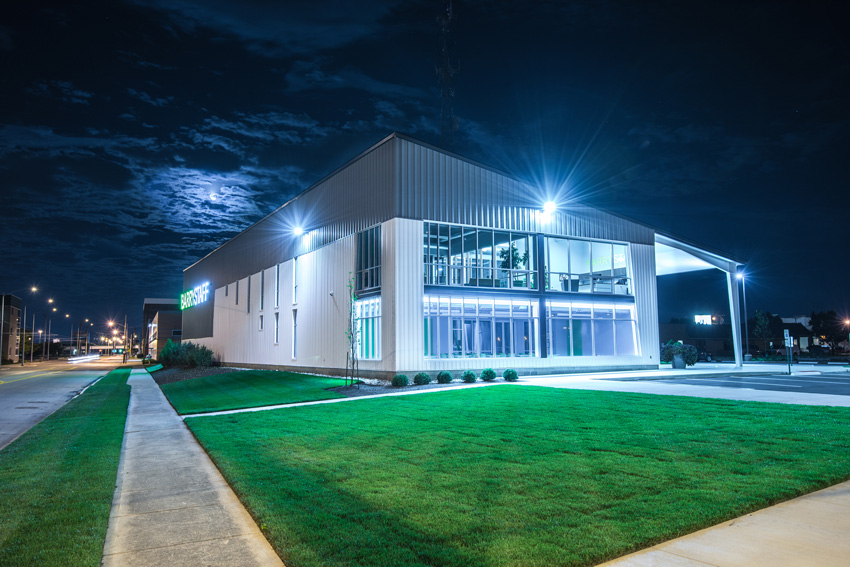 Photo courtesy of the MBMA
Properly designed and specified, metal buildings provide an appropriate solution for many different building types.
Conclusion
Architects have a choice in how low-rise, nonresidential buildings of all types are designed and constructed. While buildings that are designed, bid, and entirely field constructed by multiple subcontractors under the auspices of a general contractor or construction manager have been common, a more streamlined approach of integrated project delivery is taking hold. Metal building systems that come from a single-source supplier for structure and building enclosure provide an appealing alternative for successful project delivery incorporating a collaborative approach. Design professionals of all disciplines who recognize and embrace the design opportunities, construction efficiencies, and overall project-delivery improvements possible with metal building systems can take advantage of these realities to realize tangible benefits for themselves and for the building owners that they serve.
For additional videos showing more about this building type or to further view the range of possibilities, visit www.mbma.com. For answers to general questions about metal buildings, visit www.mbma.com/Learn_FAQ.html.
Peter J. Arsenault, FAIA, NCARB, LEED AP, is a nationally known architect, consultant, continuing education presenter, and prolific author advancing building performance through better design. www.pjaarch.com, www.linkedin.com/in/pjaarch
The Metal Building Manufacturers Association (MBMA) serves to promote the metal building systems industry. Its membership represents more than $2.4 billion in annual sales and accounts for approximately 50 percent of the total non-residential low-rise construction market in the United States. Follow MBMA on LinkedIn or Twitter @LearnAboutMBMA.

Today, the MBMA represents more than 40 building systems member companies who are all IAS AC472 accredited and operate 65 full-scale manufacturing plants worldwide that employ more than 12,000 people. Collectively, they represent the vast majority of the capacity to provide metal buildings in the United States. In addition, more than 70 associate members act as ancillary manufacturers or suppliers of components and services in support of the primary manufacturing suppliers. Over the years, and with the support of all of these members, extensive research and testing has helped the industry produce advanced engineering and innovative systems that are able to perform better and at a lower cost than more traditional building approaches in the low-rise market. www.mbma.com
Originally published in July 2018
Notice