Metal Panel Claddings: Varied Expression, Consistent Performance
Insulated metal claddings offer a range of aesthetic choices with a consistent path to high performance
Sponsored by MBCI
Learning Objectives:
Describe the wide product variety, aesthetic options, and sustainable design attributes available in panelized metal cladding systems, including fastener and joint types, panel orientation, finishes, and insulation options.
List the key attributes of engineering metal panel cladding systems, including exposed vs. concealed hardware, structural considerations, and relevant codes and standards that contribute to green building.
Discuss the benefits for energy efficiency of panelized metal construction, including contributions to sustainable design.
Explain how air barriers are important to selecting and detailing an insulated metal panel enclosure, in particular to ensure total building energy efficiency and sustainable design.
Credits:
This test is no longer available for credit
Metal claddings and insulated metal panels (IMPs) offer a number of advantages for architects and their clients. One of the most important is also the most evident to the naked eye: They offer a wide range of aesthetic possibilities for buildings of all kinds—yet all with consistent performance in terms of constructability, cost effectiveness, and energy efficiency. As the U.K.-based Metal Cladding and Roofing Manufacturers Association (MCRMA) put it recently, "Once the designer is committed to this route, then the creative opportunities are virtually unlimited while, at no time, compromising the fundamental construction benefits of the system."1
In fact, the British group—and its U.S.-based cousin the Metal Construction Association (MCA)—point out that the benefits accrue whether or not the chosen systems are insulated rainscreens, backup walls, metal profiles, or any other panel assemblies and regardless of finish selection or attachment and joinery method. In addition, they have been shown to work well over any steel or concrete structural systems and as overcladding on a range of substrates. They can provide an effective barrier to the elements, including continuous insulation (CI) across the clad areas. Through a review of industry literature and best practices, these benefits come into full view.
In this article, attention is given to four core considerations about metal panel claddings: the wide variety of products available and their integration into envelope designs; the proper engineering and application of typical exterior systems; techniques for improving building energy efficiency and performance using IMPs and other metal claddings; and special considerations about air barriers, which are increasingly mandated for today's buildings.
A Little History
Metal has been used on building exteriors for thousands of years, and some of those original installations are still performing today. The white paper Metal Roofing from (A) Aluminum to (Z) Zinc confirms, "The oldest copper roof in the United States was installed on the Olde Christ Church in Philadelphia in 1742," according to author Rob Haddock, president and owner of the consultancy Metal Roof Advisory Group and a frequent industry educator. "In Europe, the copper cornice around the dome at the Pantheon in Rome lasted more than 1,800 years," he adds.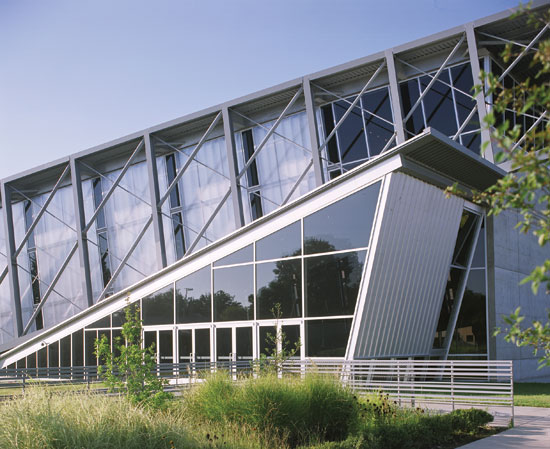 Photo courtesy of MBCI
The metal enclosure system for the Bridges Center in Memphis was designed to be environmentally friendly, neighborly, and conducive to youth development, education, and team building.
Originally published in Architectural Record
Originally published in June 2014
Notice