Reimagining Residential Design: Solutions for Modern Custom Homes
A look at innovative and timeless design, highlighting the very best of recent residential architecture.
Sponsored by Marvin

1 AIA LU/Elective; 1 IDCEC CEU; 0.1 IACET CEU*; 1 AIBD P-CE; AAA 1 Structured Learning Hour; This course can be self-reported to the AANB, as per their CE Guidelines; AAPEI 1 Structured Learning Hour; This course can be self-reported to the AIBC, as per their CE Guidelines.; MAA 1 Structured Learning Hour; This course can be self-reported to the NLAA.; This course can be self-reported to the NSAA; NWTAA 1 Structured Learning Hour; OAA 1 Learning Hour; SAA 1 Hour of Core Learning
Learning Objectives:
Describe several approaches used to mitigate any negative effects of weather conditions in the areas where these custom homes were constructed.
Compare and contrast the design approaches taken on the two beachfront properties presented.
Explain how specific material specifications were used in the presented projects to elevate the sensory experience of occupants.
Identify a range of environmental challenges that underscored the specific design criteria used in the noted projects.
This course is part of the Custom Home Academy
This course is part of the The Custom Home Academy
Below are a set of links to building type studies from Architectural Record, which are in-depth analyses of particular kinds of buildings, with photos, drawings, specifications, detailed descriptions, and design solutions. Click on each link below, read the article then complete the quiz to earn your credit and certificate of completion.
This course will look at several Architectural Record Residential/Custom Home Building Type Studies highlighted as 2021 "Record Houses," all featuring innovative approaches toward reframing the residential home typology with custom flair and modern design appeal. The studies offer in-depth analyses of exciting residential architecture, complete with photos, drawings, specifications, detailed descriptions, and wide-ranging design solutions.
Each of these six stand-out projects—from locations across the United States and as far away as Mexico, Peru, Tokyo and New Zealand—puts a distinctive spin on the residential mindset within the context of community, location, cultural resonance, performance, and wide-ranging aesthetic sensibilities.
Awana Beach House by Herbst Architects
On Great Barrier Island, Herbst Architects reimagines the classic New Zealand beach shack with movable layers that can be deployed to let in the breeze or protect against harsh weather.
John Walsh
Casa en El Torón by IUA Ignacio Urquiza Arquitectos
Architect Ignacio Urquiza responds to a rugged site in Oaxaca by designing a residence as three open pavilions.
Clifford A. Pearson
Oregon Coast Beach House by Cutler Anderson Architects
On a blustery Oregon beachfront, architect James Cutler creates a dwelling that offers both a sheltered courtyard and dramatic views.
Randy Gragg
Bay Window Tower House by Takaaki Fuji + Yuko Fuji Architecture
Partners in design and life, Takaaki and Yuko Fuji tailor their own home for living on a tight Tokyo site. Read the article and watch a video tour.
Naomi Pollock, FAIA
Casa A4 by Barclay & Crousse
Barclay & Crousse juxtaposes plein air living spaces with cell-like sleeping quarters in Peru.
Josephine Minutillo
Stony Hill House by Bates + Masi Architects
Bates Masi + Architects' Long Island house astutely combines the modern and the traditional, incorporating unexpected materials, from weathering steel to terra-cotta to thatch.
Suzanne Stephens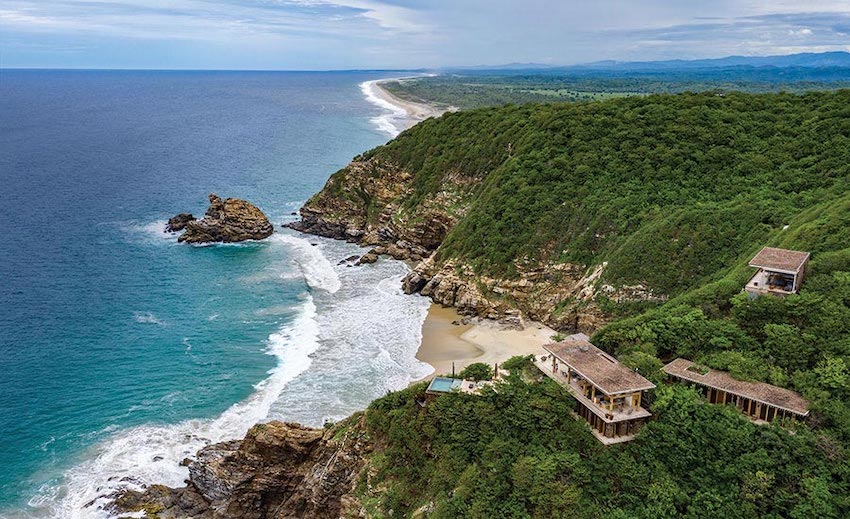 Photo © Onnis Luque
Casa en El Torón's three pavilions take advantage of the steep topography to capture views of the coast and maintain a comfortable distance among them. No cars are allowed on the private reserve, so all construction material had to be taken to the site on carts and motorcycles.
| | |
| --- | --- |
| | Marvin is a fourth-generation family-owned and led business, headquartered in Warroad, Minn., with more than 7,000 employees across 16 cities in North America. The Marvin portfolio of products for builders, architects and homeowners is designed to provide exceptional solutions for any project with a focus on creating better ways of living. Marvin products are distributed nationally through a network of independent dealers. Visit Marvin.com to learn more. |
Originally published in April 2022
Notice