Green Building with Automated Shading Systems
A closer look at satisfying sustainable criteria in the four leading green building programs
Sponsored by Lutron Electronics
A Closer Look at Automated Shading and Sustainable Design Criteria
Today, there are several green building rating systems and standards being used to help designers create sustainable buildings, including LEED v4, WELL, the Living Building Challenge, and Standard 189.1. While the criteria vary from program to program, automated shades offer impressive contributions in achieving project certifications from each of the identified systems.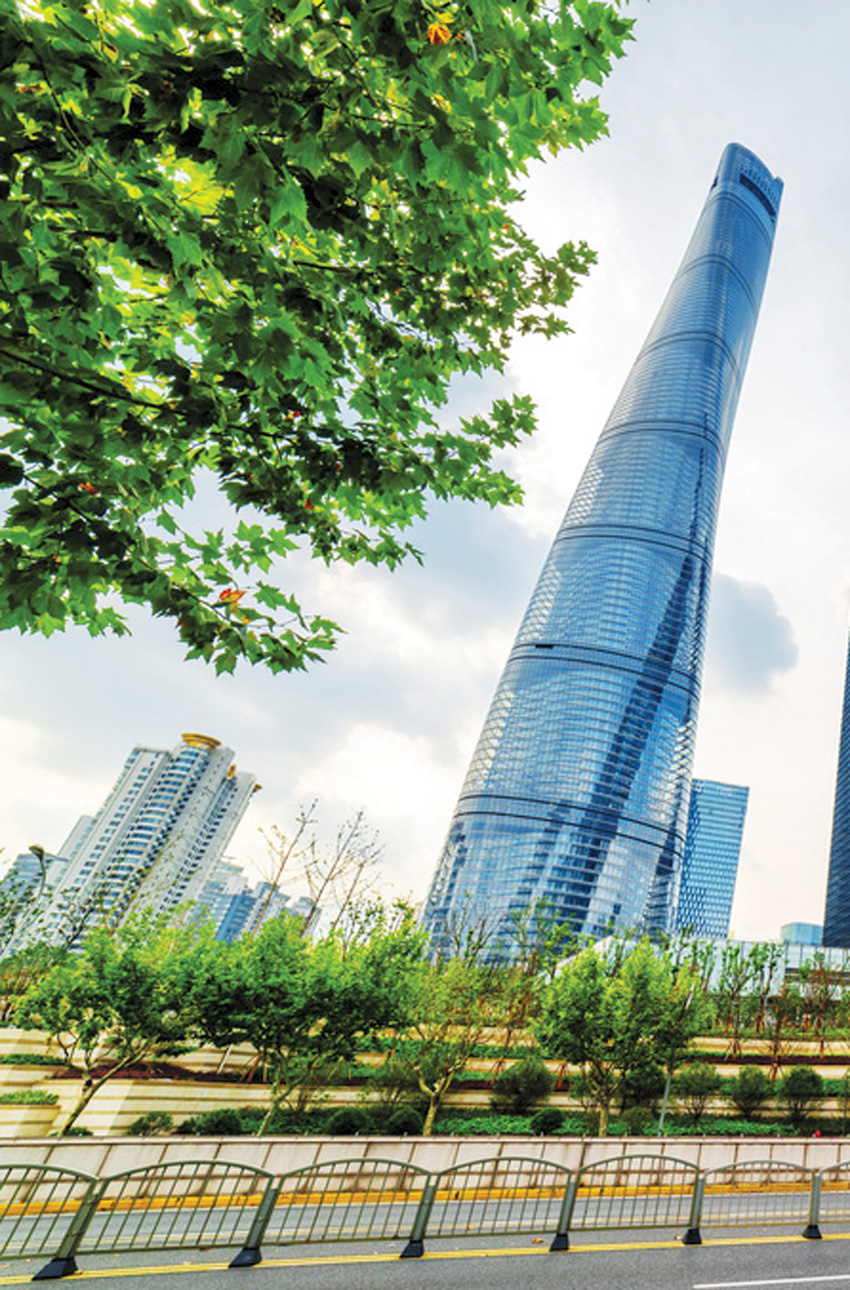 Image courtesy of Lutron Electronics
The Shanghai Tower, the world's second-tallest skyscraper, also featured an automated shading system and achieved a LEED Platinum rating for Core and Shell.
LEED v4
LEED v4 is the newest version of the LEED dynasty, touted as the most widely used green building rating system in the world. It offers a green building rating system for all types of buildings, anywhere on the globe, in any stage of their life cycle. Over 2.2 million square feet is LEED certified every day, with more than 90,000 LEED-certified projects found worldwide.
The LEED green building rating system is organized into eight categories: Location and Transportation (LT), Sustainable Sites (SS), Water Efficiency (WE), Energy and Atmosphere (EA), Materials and Resources (MR), Indoor Environmental Quality (EQ), Innovation (IN), and Regional Priority (RP). Each category contains various prerequisites that must be satisfied for a project to even be considered for a LEED certification and available credits, each assigned a point value. Projects earn points based on the credits they successfully complete.
There are four levels of LEED certification that can be achieved based upon the number of points earned by the project. LEED-Certified projects earned 40–49 points. LEED Silver projects earned 50–59 LEED points. LEED Gold projects earned 60–79 points. The ultimate LEED award is LEED Platinum. LEED Platinum projects earn 80+ points.
While LEED is a voluntary green building program, many state and local governments are adopting LEED requirements into their building codes, which makes satisfying the sustainable criteria mandatory in certain jurisdictions. Federal buildings have been required to comply with LEED practices for some time. The GSA requires that the new construction and substantial renovation of any federally owned facilities meet or exceed the standards for LEED Gold certification.
Automated shading systems can serve as a powerful tool in satisfying sustainable criteria across several of the LEED categories. Many of those potential LEED credits are explored here. Please note that the credit number (example: EA credit 2) may be different depending upon the specific LEED v4 rating system under consideration. The credits referenced in this course correspond to the LEED v4 for Building Design and Construction (BD+C) rating system.
EA Credit 2: Optimize Energy Performance (Up to 20 Points)
The intent of this credit is to encourage projects to achieve increasing levels of energy performance above the baseline compliance with ASHRAE 90.1-2010, required as a LEED prerequisite. Automated shading systems may be included in the whole building project simulation to demonstrate the energy savings achieved by reducing the HVAC load through the mitigation of solar heat gain and reducing the electrical lighting load by maximizing the presence of usable daylight in the interior space, and then reducing electric light levels when daylight is available.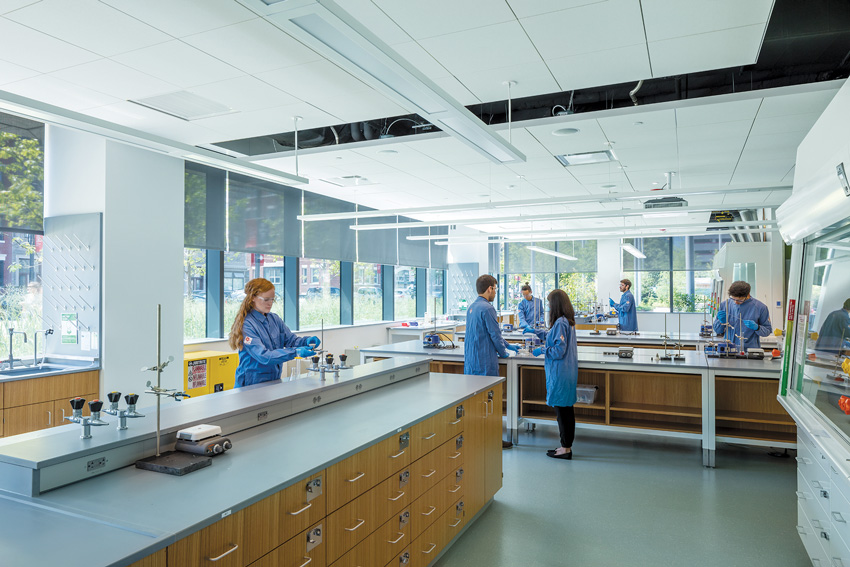 Photo © Warren Jagger Photography
In the Northeastern University Interdisciplinary Science and Engineering Complex (ISEC), designed by Payette, exposure to useful daylight levels helps to regulate circadian rhythms, improve mood and satisfaction, and create interior spaces where people learn and heal faster.
MR Credit 3: Building Product Disclosure and Optimization—Sourcing Raw Materials (2 Points)
The intent of this credit is to encourage the use of products and materials for which life-cycle information is available and that have environmentally, economically, and socially preferable life-cycle impacts. It also rewards project teams for selecting products verified to have been extracted or sourced in a responsible manner. One point is available for Raw Material Source and Extraction Reporting. Another point is available for Leadership Extraction Practices.
Projects earn one point for demonstrating leadership in responsible extraction practices by selecting products that meet at least one of the responsible extraction criteria for at least 25 percent, by cost, of the total value of permanently installed building products on the project. The responsible extraction criteria include, but are not limited to, choosing bio-based products that meet the Sustainable Agriculture Network's Sustainable Agriculture Standard, wood products certified by the Forest Stewardship Council, or a USGBC-approved equivalent, products that have been salvaged, refurbished or reused, and products that contain recycled content.
When selecting an automated shading system, certain solar shade fabrics will contribute toward the threshold for satisfying this credit, but the potential contribution here is not limited to shade fabric. Many elements of the system can be produced with aluminum that contains pre- and post-industry recycled content, including shade tubes, the metal housing that conceals the tube, and the hembars. All of these products can contribute toward achieving the Leadership Extraction Practices point.
MR Credit 4: Building Product Disclosure and Optimization—Material Ingredients (2 Points)
This credit was designed to encourage the use of products for which the chemical ingredients in the product are disclosed using an accepted methodology. In order to satisfy this credit, projects must feature at least 20 different permanently installed products from at least five different manufacturers that use an approved program to demonstrate the chemical inventory of the product to at least 0.1 percent (1,000 ppm). Approved disclosure methods include, but are not limited to, suitable manufacturer inventory, health product declaration (HPD), and Cradle-to-Cradle certification. Selecting solar shade fabrics that have an HPD or are Cradle-to-Cradle certified will help to meet the minimum threshold for satisfying this credit.
EQ Credit 2: Low-emitting Materials (3 Points)
This LEED v4 credit is intended to reduce concentrations of chemical contaminants that can damage air quality, human health, productivity, and the environment. Building products must be tested and determined compliant in accordance with California Department of Public Health (CDPH) Standard Method v1.1-2010. Fabrics which have earned a GREENGUARD Gold certification are recognized as a compliant option for this credit, as the GREENGUARD Gold requirements are more stringent than those in the CDPH Standard Method v1.1. Specifying window shade fabric that is GREENGUARD Gold certified will contribute toward earning this credit.
EQ Credit 7: Daylight (1–3 Points)
The intent of this credit is to connect building occupants with the outdoors, reinforce circadian rhythms, and reduce the use of electrical lighting by introducing daylight into the space. Earning this credit requires the inclusion of manual or automatic glare-control devices in all regularly occupied spaces. In addition to the glare-control devices, supporting simulations or measurements must be completed to prove that the design achieves certain daylighting objectives.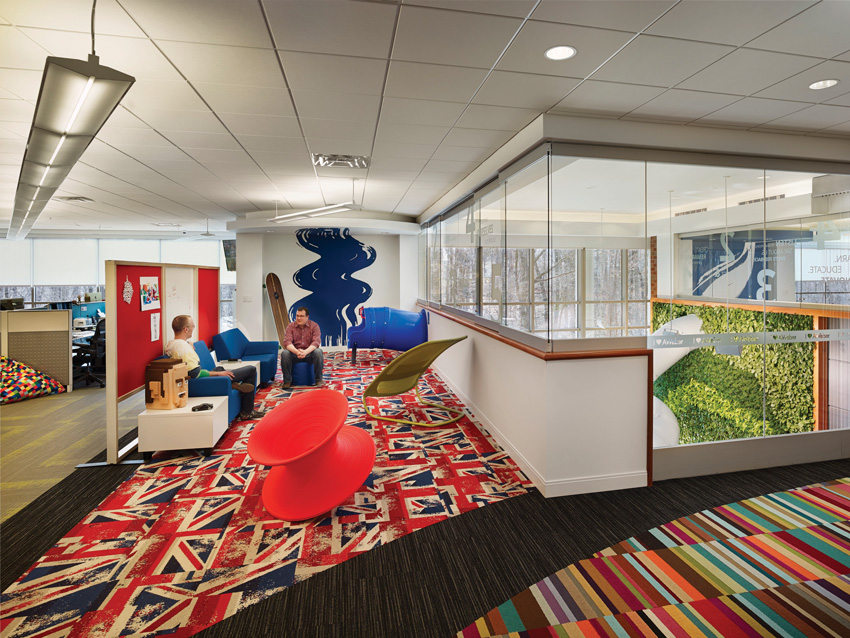 Photo © Halkin-Mason Photography
The use of automated shades over manual shades will make it easier to meet the specific daylighting goals of the LEED v4 Daylight credit, including spatial daylight autonomy (sDA) goals, because the shade fabric is retracted whenever glare-free daylight is available.
Automated shades are recognized as an automatic glare-control device. The selection of automated shades over manual shades will also make it easier to meet some of the daylighting goals, such as spatial daylight autonomy (sDA). The sDA metric describes the percentage of the area in a room or building where a given daylight autonomy value is achieved. For example, Option One in the LEED v4 Daylight credit requires a demonstration of the percentage of the building that receives at least 300 lux for at least 50 percent of the workday. The computer simulation must show that the design achieves an sDA of at least 55 percent. Automated shades dramatically increase the sDA of a space, because they maximize the amount of useful daylight allowed into the building.
It should be noted that a ruling issued on January 27, 2017 determined that projects with an automated interior window shade system are exempt from the requirement to simulate the annual sunlight exposure (ASE) value of the space.
Originally published in Architectural Record
Notice