Specifying useful daylight deeper into the interior
Sponsored by Lutron Electronics Co., Inc.
Compare and Contrast the Performance of Manual and Automated Shading Systems
These shading systems can deliver significantly different results in terms of the amount of interior space that can be exclusively lit throughout the work day by daylight and the energy savings that can be generated.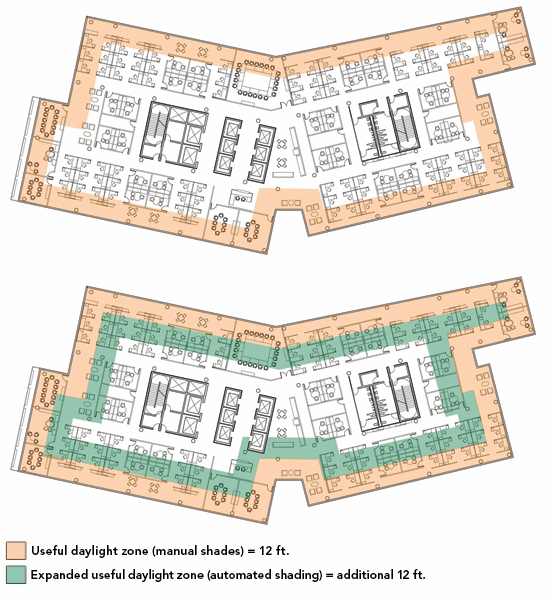 The simulations run on the Vista Center floorplan concluded that automated shades would create a significantly larger useful daylight zone than manual shades.
Images by Coscia Moos Architecture, courtesy of Lutron Electronics
Compare useful daylight zones. The useful daylight zone refers to the area of a building that achieves its useful daylight illuminance level at least 90 percent of the working day. It identifies the square footage of a space that could be almost extensively illuminated by daylight throughout the work day.
For example, Coscia Moos Architecture worked with an outside team to complete the analysis that compared the different useful daylight zones created by manual and automated shading systems. The proposed 700,000-square-foot Vista Center would have 25 floors, each measuring 28,500 square feet. For the analysis, 9-foot-tall windows with visual transmittance values of 0.65 were paired with shades that offered a 10 percent transmittance value.
The DA simulation of the 14th floor identified that dramatically different useful daylight zones were created by manual and automated shading systems. The manual shading system generated a useful daylight zone that was 12 feet deep around the perimeter of the building. The automated shading system created a useful daylight zone that was twice as large, measuring 24 feet deep around the entire perimeter of the building.
Compare energy savings. With daylight harvesting products now being required in skylit or daylit areas, the increased presence of daylight in a space can immediately generate energy savings. As automated shades are able to more reliably allow greater amounts of usable daylight into a space, the systems can also deliver greater energy savings when compared to manual shades.
A recent study, completed in collaboration with Lutron Electronics and Purdue University, compared the energy savings that could result from both shading systems. An energy simulation of a perimeter private office with a lighting power density of 0.9W/square feet, standard, clear, double-pane glass, and a shade fabric with 5 percent transmittance was conducted. The study averaged the results of spaces with 20 percent, 40 percent and 60 percent window-to-wall ratios. Manual shades were defined as closed shades for the study. The team concluded that an automated shading system was able to reduce the electric light use in the private office by 83 percent, when compared to the amount of electric light used if the windows were fitted with manual shades.
In projects of any scale or application type, the effective incorporation of daylight is steadily becoming a more and more common design goal. Armed with more advanced technology and daylighting design know-how, designers today are able to adequately illuminate a space using daylight exclusively. Achieving daylight autonomy saves energy and creates a more satisfying and productive atmosphere for building occupants, which are just two examples of how a daylit workspace works harder. And with automated shading systems, no one has to lift a finger.

Lutron Electronics, headquartered in Coopersburg, Pennsylvania, designs and manufactures energy-saving light controls, automated window treatments, and appliance modules for both residential and commercial applications. Its innovative, intuitive products can be used to control everything from a single light, to every light and shade in a home or commercial building. www.lutron.com
Originally published in Architectural Record
Notice