The Evolution of North American Playgrounds From 1900 to the Present and Beyond
How architects, landscape architects, child-development experts, and equipment designers have revolutionized outdoor play
Sponsored by Little Tikes Commercial
This test is no longer available for credit
The Future of Playgrounds
As we have seen, the evolution of playgrounds from the early 1900s to today has been extraordinary. We've seen the gradual shift from simple swings and slides to sophisticated equipment designed to impact and influence the development of children of all abilities. Just as the past decades have seen many changes in playgrounds, the next decades will surely be filled with innovations. Here are some trends to be aware of.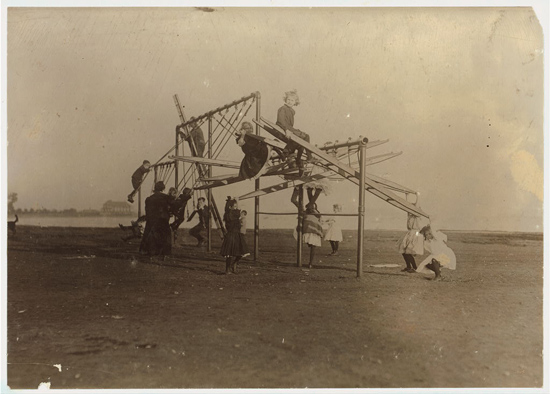 Source: Library of Congress
The evolution of playgrounds over the past century has been significant.
Innovative New Play Equipment
Designers, manufacturers, physical therapists, and child-development specialists continue the quest for new equipment that can inspire and excite children and promote their robust development.
Some new types of equipment may include:
Cable rides: Zip lines that seem to be increasingly popular in society inspire this piece of equipment. A playground cable ride provides a controlled yet thrilling ride for children who want to soar. This type of equipment helps develop balance and strength, and allows children to practice risk taking, perhaps with the support and cheering on of peers, which develops teamwork.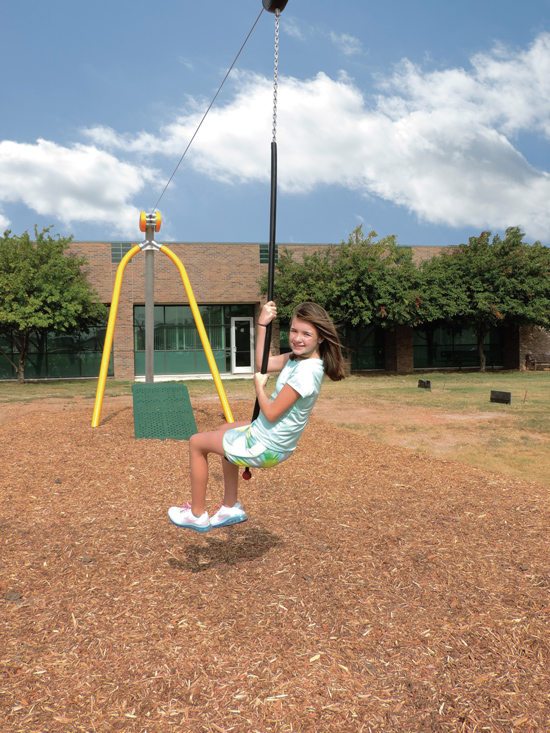 Photo courtesy of Little Tikes Commercial
This piece of equipment helps develop the user's balance and strength, as well as encourages risk-taking.
Tire-like equipment: New types of play equipment might well evoke the junk playgrounds of the past. Tire-like equipment is fun to climb over, climb through, and balance on. Whereas actual tires might not be chemically safe for children to touch and play upon, playground equipment designed to look like tires will be.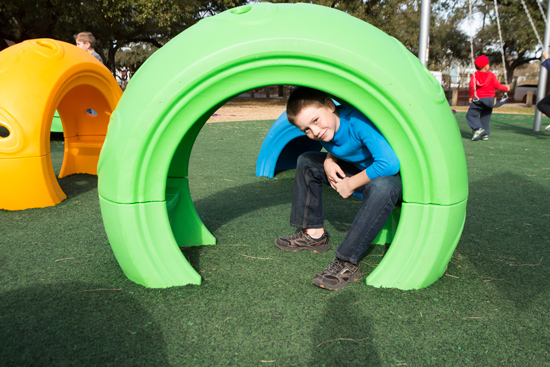 Photo courtesy of Little Tikes Commercial
This equipment functions like an old tire, but is safer.
Custom-themed Playgrounds
Custom-themed playgrounds are becoming more popular. While playgrounds in the 1960s reflected the space program, for instance, those in the future may reflect societal trends in the future, or even reflect the distant past.
Playgrounds That Reflect the Local Community and Its Heritage
Increasingly, playground equipment companies offer ways for playground designers to create environments that reflect the local community and local customs, colors, shapes, and mindsets.
Architects should take note that playgrounds are not always pre-packaged, off-the-shelf items. Rather, the architect or designer will play a major role in where the playground is placed, what natural assets are left in place, the layout, and choice of equipment depending on the needs of the community.
Growing Emphasis on Shade
Health risks to children from sun exposure are real and increasing. Many organizations promote providing shade for children playing outside. More playground designers will specify shade structures over playground equipment. This allows the space set aside for a playground to be used even on hot and sunny days, rather than laying fallow on summer days due to lack of sun protection.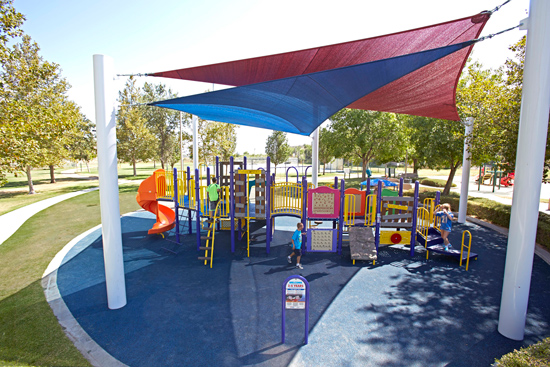 Photo courtesy of Little Tikes Commercial
Shade structures are becoming more common in playground design to protect both the children and the equipment, and make the area more comfortable to visit during hot weather.
Shade structures also protect the equipment and surfacing from premature degradation caused by harmful ultraviolet rays. This is especially prevalent in the western and southern parts of the country, where high heat index records are being broken year after year. Examples include Charlotte and Raleigh, North Carolina, where records were broken in July 2015 with temperatures of 100 degrees Fahrenheit; and in Columbia, South Carolina, where a temperature of 101 degrees Fahrenheit broke a record in the same month. xiii Science has long predicted more intense, more frequent, and longer-lasting heat waves in the 21st century. xiv
Shade structures can be mounted directly into playground posts or used as independent shade equipment. Sun shades help to keep children cool and help reduce exposure to harmful UV radiation, while providing an aesthetically appealing design element. Shade solutions are available in numerous design options and colors. Shade structures can be integrated into the playground equipment, independent structures, or of custom design.
For a quality installation, seek out fabrics with the highest fire resistance rating, and that will tolerate exposure to harsh and extreme outdoor elements. Such fabrics likely conform to and exceed California's State Fire Marshal flame-retardancy test criteria and the National Fire Protection Association's NFPA701 Standard Methods of Fire Tests for Flame Propagation of Textiles and Films are ideal. xv
Conclusion
The benefits of outdoor play are undeniable. According to clinical pediatric physician Wendy Pomerantz: "Play helps children develop motor skills. It facilitates interaction between children and others, including parents and caregivers. It helps them learn creative thinking skills and how to solve problems. Children use their imagination during play to engage in the world around them, learning how to solve conflicts, share, and practice grown-up roles. Also, it helps promote happiness." xvi
Professionals have had a positive influence on the evolution of playgrounds as they have designed and advocated for play spaces designed in the best interest of children. Professionals have brought improvements in safety, design for creative and imaginative play, and made possible accessibility and inclusion of children of all abilities.
There is no doubt that playgrounds are an important part of child development. Outdoor play is essential to the development of all children. On playgrounds, children learn fundamental skills through play that help prepare them to be successful adults, which benefits all of society. Playgrounds have evolved over the past century to become safer, accessible, and more inclusive. Future playgrounds will likely be even more inventive, sustainable, protected by shade structures, and healthier for those children to come.
Endnotes
Kathy Price-Robinson is a longtime construction and design journalist and a continuing education developer. www.kathyprice.com
| | |
| --- | --- |
| | At Little Tikes Commercial, we believe in the developmental value of play. We know play is necessary for healthy child development, so our play structures are designed to encourage the physical, social, emotional, cognitive and sensory development of children of all abilities. http://www.littletikescommercial.com/. |
Originally published in May 2015
Notice