The Evolution of North American Playgrounds From 1900 to the Present and Beyond
How architects, landscape architects, child-development experts, and equipment designers have revolutionized outdoor play
Sponsored by Little Tikes Commercial
This test is no longer available for credit
Modern Playground Equipment and Its Impact on the Development of All Children
Modern playground equipment provides a much richer, developmentally advanced play environment than the original swings, slides and merry-go-rounds that comprised playgrounds in the past century. There are many factors that advanced the developmental impact of play equipment on children. Studies into childhood development have increased in number and sophistication. Because of the increasing incidents of sensory processing disorders, researchers have been focusing on how to help children with these challenges develop and cope in the world.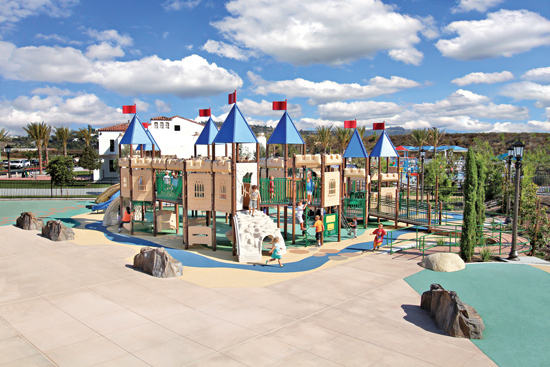 Photo courtesy of Little Tikes Commercial
A modern playground in San Clemente, California, has a castle theme and provides places for play on upper and ground levels.
Playground interaction can have profound impacts on the development of children. This ranges from physical to cognitive to social impacts. Modern playground equipment promotes cognitive development in the form of roleplaying, discovery, and critical thinking. Social skills are developed with interaction, sharing, and participation.
Unlike formal school studies or hours at a desk, play on outdoor equipment whose design has been influenced by doctors, therapists, architects and designers helps children develop their sense of balance, self-awareness, and even social skills, giving them a better chance for success in adulthood.
Inclusive Playground Equipment
Inclusive playgrounds bring benefits on several levels. Most importantly, children with limited abilities are able to join in play activities with all children, rather than being segregated into special areas. In addition, children with full abilities learn acceptance of differences as their limited-ability peers play alongside.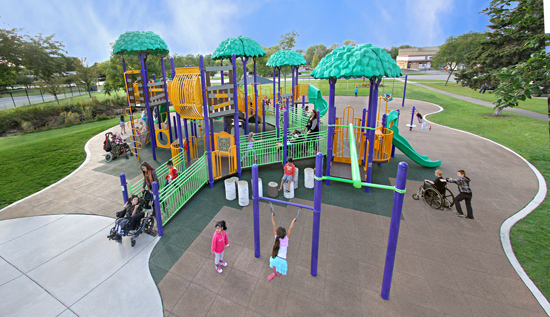 Photo courtesy of Little Tikes Commercial
This playground provides fun outdoor activity for all children no matter their physical or sensory abilities. The playground provides shade for hot days and places for children to sit when needed within the play environment.
It is important to understand the difference between ADA-accessible playgrounds and inclusive playgrounds. The former comply with the American Disabilities Act, which states that all public playgrounds should be accessible to children with limited physical abilities, such as those who use wheelchairs to move around. However, inclusive playgrounds expand on that to actively include children with challenges such as autism and other sensory processing disorders (SPDs).
Examples of playground equipment that is both accessible and inclusive include:
Activity panels: These allow children to express themselves through music, mental exercises, and exploration. Whether learning about rhythm, sound, and pitch or moving steering wheels or colorful balls across the panel to promote hand coordination in a playful way, accessible-height activities encourage range-of-motion exercise and imaginative play.
Talking tubes: These allow for downtime when children need to get away from the noise of the playground while still engaging in one-on-one play from a distance.
Ramps with double rails: These allow for continuous gripping support, wheelchair-turning areas, and transfer stations.
Wheelchair-accessible gliders: These feature a gentle swaying motion and large deck surface for wheelchairs.
Therapeutic rings: These provide upper-body exercise and stretching, and improve both strength and mobility, helping children do more for themselves on and off the playground.
Sustainable Playground Design
To document sustainability and adherence to standards, some playground equipment manufacturers have earned ISO 9001, 14001, and 18001 certifications. Increasingly, a number of companies have made commitments to environmentally friendly manufacturing, improving their green business practices and reducing their carbon footprint. These ISO certifications ensure that companies from whom a landscape designer or architect might specify equipment meet standards for quality, environmental responsibility, health, and safety in the manufacturing processes.
A sustainable playground can also contribute points to achieve a rating for the LEED (Leadership in Energy and Environmental Design) program of the U.S. Green Building Council. While categories, credits and points can change from one version of LEED to the next, here are some broad guidelines to consider:
Alternative transportation: Provide secure parking for bicycle users, including bike racks. This decreases the impacts to land development by promoting an alternative mode of transportation to automobiles.
Site master plan: Ask the manufacturer to provide site layouts with the playgrounds integrated into landscape architects. These plans should include parking, paving, and surface covering under the playground area.
Storage and collection of recyclables: Use litter receptacles made of recycled materials. For example, one manufacturer's receptacles are made from redwood and 100 percent recyclable aluminum waste cans. These provide users the opportunity to use marked waste receptacles for recyclable materials, reducing waste generated for landfills.
Construction waste management: Look for an installation team that is fully trained to recycle all packing materials and crates per each city's regulations, which eliminates the use of landfills and incinerators for disposal of construction materials. Consider manufacturers who use cardboard, wood, polyethylene and polypropylene banding, and PVC film, all of which are recyclable in many markets.
Materials reuse: Seek out manufacturers offering recycled materials. Some playground equipment material, including surfacing, is made from 100 percent recycled materials.
Regional materials: Investigate plant locations of manufacturers to assess transportation issues.
Innovation and design: Many manufacturers offer programs that help teachers or others enhance the value of play for children while using their equipment.
Originally published in May 2015
Notice