Barrier vs. Rainscreen Exteriors
Choosing a design approach to create a rain-proof façade
Sponsored by Laminators Incorporated
Learning Objectives:
Differentiate between a rainscreen and a barrier façade.
Choose a panel installation system appropriate for the application, budget, and local climate.
Describe the benefits of using a composite metal panel system.
Explain how pressure equalization reduces water penetration.
Credits:
This test is no longer available for credit
A building's exterior façade is, as the name implies, its face, and great design effort goes into the arrangement, color, and texture of this outermost skin. In large part, the exterior layer defines what the building will be, but its function goes way beyond aesthetics. "The façade is of paramount importance in terms of building performance," says Dr. Mikkel Kragh, an associate at Arup and chairman of the Society of Façade Engineering. "The façade is the number one filter between the climate outside and the conditioned space inside…and its performance relies on appropriate specification, design, and delivery of a multitude of components and systems."
In the complex world of integrated building design, the term façade has taken on a larger role than just the front-facing side of a building. More apt these days is the term "skin." For façade designers, this includes the whole wall assembly—the entire envelope that separates indoors from outdoors. This article zeroes in on one critical aspect of the façade's performance—moisture control—looking primarily at composite architectural panels. Composite metal panel systems can provide an effective "first defense" against wind-driven rain—the most unruly and damaging class of moisture that buildings must repel—provided the system is appropriately detailed and is installed precisely as detailed.
The Dynamics of Rain
Over the life span of a building, no other force acting on the building proves more insidious, more destructive over time, than wind-driven rain. It comes at a building with erratic force. It is predictable but irregular, and this variability lowers the tolerance for error.
Rain does not simply fall straight down. If it did, and all one had to contend with was gravity to keep water out of walls, creating a moisture-resistant exterior would be much simpler. Not fool-proof exactly; there are plenty of errors with flashing and weep systems to be made that can always make gravity-driven water a concern on any building project. But from a design perspective, drip moldings, through-flashings, and weep channels are straightforward, easily managed solutions.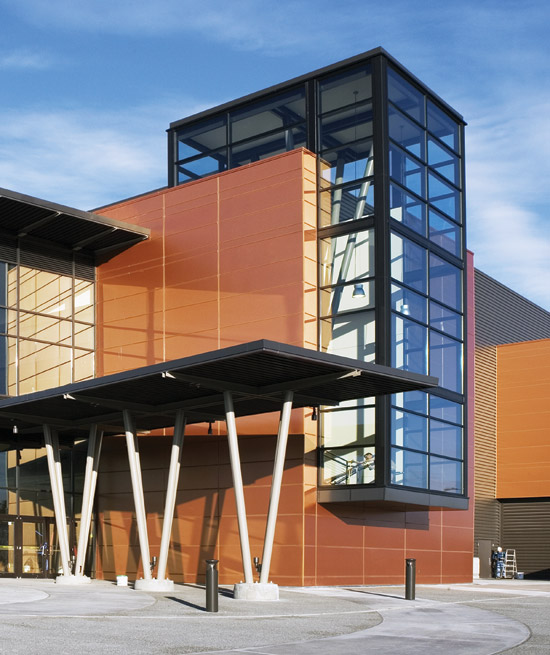 A warm metallic finish and resistance to wind-driven rain are two essential ingredients for the exterior of the Lynnwood Convention Center, located on Puget Sound near Seattle.
Photo courtesy of Laminators Inc.
Originally published in Architectural Record
Originally published in June 2013
Notice