Rainscreen Systems Utilizing Laminated Engineered Bamboo
Sponsored by Lamboo Technologies, LLC
Cavity
The cavity is the well-ventilated area between the outer cladding and the wall behind it. The cavity is essential to the integrity of the rainscreen, as it helps to vent vapors to the outside and wicks away moisture from the sheathing's surface. The ventilation in the cavity helps keep it dry, thus keeping the inner wall protected from water damage. The cavity must be a minimum of 3⁄8 inch (1 centimeter) deep, but ideally will be closer to 2 inches (5 centimeters) to properly allow the water to escape and the air to circulate. To further protect the cavity, it is important to install continuous roof flashing to prevent water and air from seeping into the cavity from the roof.
Air and Vapor Barrier
The air and vapor barrier is the final layer that protects the building walls from moisture. This final layer could be a variety of materials, including but not limited to cement, WRBs, or exterior sheathing. Regardless of the material type, it should be properly sealed.
Types of Rainscreens and How They Protect the Building Envelope
Essentially, there are three types of rainscreens available: vented systems, drained and vented systems, and pressure-equalized systems.
Vented
Vented systems are only open at the bottom and utilize a warm cavity that provides a dew point similar to the dew point outside, which in turn reduces the change of moisture entering the system. This system type is not recommended for buildings more than four stories high.
Drained and Vented Systems
Drained and vented systems are not watertight and require a cavity opening at both the top and bottom to provide drainage and promote convection ventilation. Typically, an overhang is used to protect the cavity from the elements. This system is also not recommended for use in buildings more than four stories high to prevent a buildup of condensation.
Pressure-Equalized Systems
Pressure-equalized systems allow for ventilation openings large enough to equalize pressure on both sides of the cladding. A lot of attention must be taken to design the system so that there is a balance between the amount of air flowing into and out from behind the rainscreen panels.
The American Architectural Manufacturers Association (AAMA) recognizes two basic types of rainscreen systems, grouping the vented and drained and vented systems into a single category (drained, back ventilated) and pressure equalized/pressure moderated into a second category.
The AAMA provides voluntary system tests for drained, back-ventilated systems (AAMA 509-09) and pressure-equalized/pressure-moderated systems (AAMA 508-07).
The Effectiveness of a Complete System
All of these systems are designed on the idea that water does not move on its own. Rain, snow, and sleet are moved downward by gravity or sideways by wind. The outer cladding breaks the force of the downward or sideways driven moisture, which means any water that makes its way through that barrier has lost its momentum. Any water that gets through that first layer of outer cladding is no longer driven by an exterior force of wind and is only seeping by the time it reaches the cavity. In the cavity, gravity takes over and water runs down the inner side of the cladding, not touching the rest of the wall. If any moisture does touch the inside of the wall, it will touch the air and vapor barrier that provides an added layer of protection against the inner wall.
It is important that there is a place at the bottom of the wall for water to exit or drain out of the cavity. Using proper sealants to provide a waterproof barrier around any potential penetrations, such as fasteners, is also key. Some rainscreen applications have an opening at the top and bottom of the cladding to allow for airflow and ventilation throughout the cavity to quickly dry out the space after a weather event.
Drained and back-ventilated systems that are well designed and tested can stop more than 90 percent of the water that could potentially reach the air and vapor barrier of the building. The combined action of gravity through the drainage and evaporation through air circulation will take care of the remaining 10 percent of water that makes it into the rainscreen system, thus protecting the building structure.
Add-ons for Additional Protection and Aesthetics
To ensure the rainscreen system works as efficiently as possible, additional features such as engineered corners, siding vents, and window/door trims can be included in the assembly.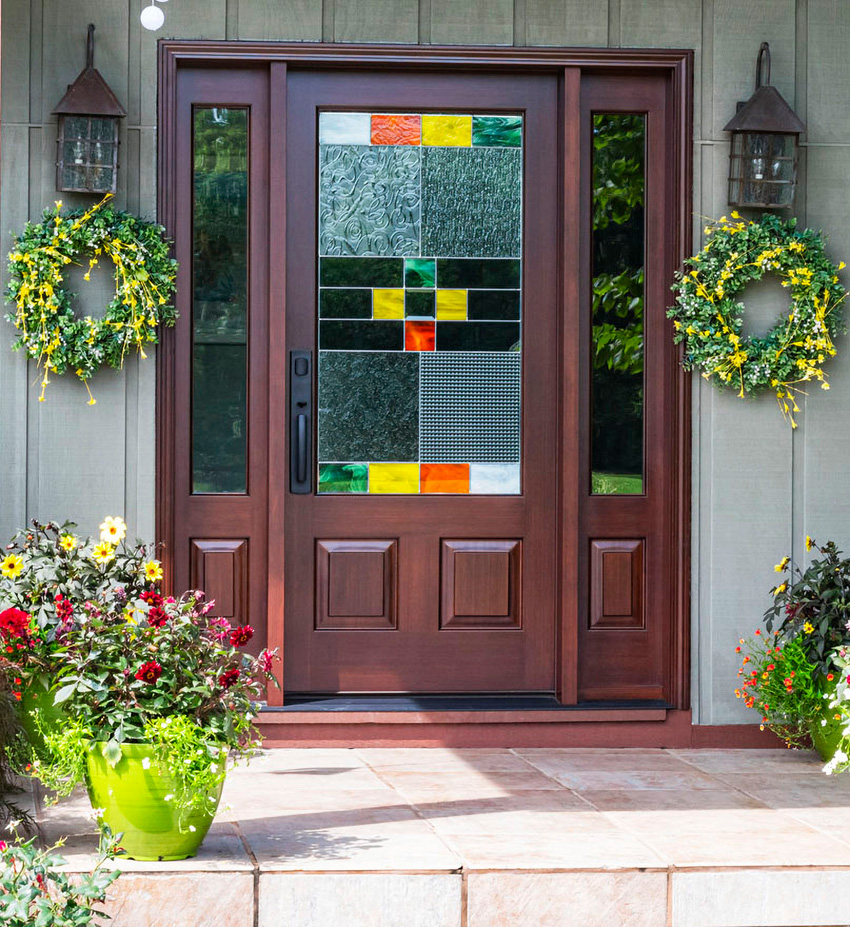 Laminated engineered bamboo window and door trims not only provide an aesthetically pleasing facade, but they can also protect these openings against moisture intrusion from driving rain and snow.
These add-ons not only provide additional protection for the building envelope, but they also enhance the aesthetics of the building. A variety of colors and finishes are available, allowing architects and designers to get the desired look and feel. Color and grain patterns are utilized to mimic real wood and will promote variations in finished color due to the various angles and impression depths left by embossing the materials. All add-ons can be finished to match the other panels.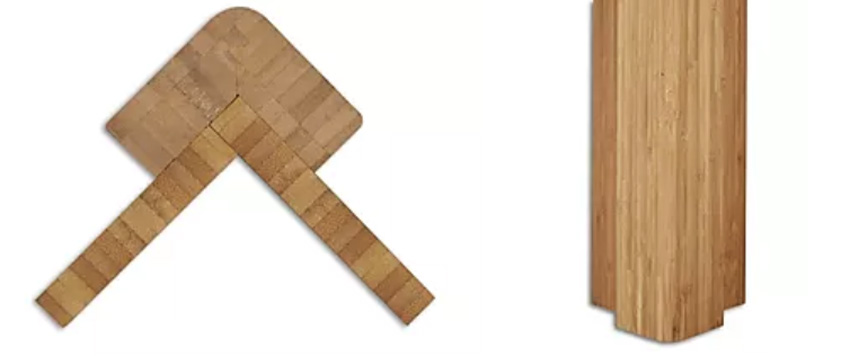 Laminated engineered bamboo outside corners, window, and door trim add-ons allow designers and architects to properly seal the building envelope without compromising aesthetics.
Understanding the Benefits of Bamboo Compared to Other Materials
When selecting building envelope materials, such as rainscreens, trim, and corner covers, the materials need to be appropriate to the climate. There are many material options available, including wood, steel, aluminum, and plastic.
While metal is largely resilient to water intrusion, areas where the panels meet can become vulnerable. Sealants placed at the junctions can deteriorate due to age, sun exposure, and drastic temperature changes. Wood panels must also be sealed to one another to provide a waterproof barrier and are prone to splitting and cracking due to age and weathering. Plastic can provide protection against water intrusion, but it is not a renewable resource.
In recent years, engineered bamboo has become a popular type of building material for many reasons. These new bamboo products are engineered for uniformity, consistency, and typical construction tolerances so they can be used just as readily as steel, aluminum, or plastic components in multiple applications, including interiors, exteriors, and structural applications. In some cases, as outlined in this course, there are advantages to using bio-based materials over metals and other structural systems.
When compared to plastics, aluminum, or steel, bamboo is a renewable and sustainable resource that does not create as much waste in the landfill as a majority of the waste produced is utilized within other engineered bamboo products. When compared to wood, bamboo provides added benefits in that it requires low maintenance and is more dimensionally stable. Maintenance of engineered bamboo is very similar to wood, but its ability to stay dimensionally stable in exterior applications aids with the overall performance of stains and coatings used on the bamboo. Engineered laminated bamboo's antimicrobial properties are also seen as a benefit since the resulting products limits moisture buildup, thus preventing mold and mildew from damaging the building or causing harm to occupants in wet or damp climates. Silica content within the material acts as a natural insect and termite deterrent as well.
Since engineered laminated bamboo can be used in a variety of applications, each material type will come with a manufacturer warranty. However, some materials will have better warranties than others due to their durability and tolerances. When selecting a material, be sure to compare warranties when weighing other factors such as initial cost. In most cases, engineered laminated bamboo warranties are equal or greater than competitive products, such as exotic hardwoods or other engineered building products.
Originally published in February 2020
Notice