Creating symmetry, sustainability, and enhancing indoor-outdoor living with multipanel folding and sliding door systems
Sponsored by LaCantina Doors
Multi-Panel Door System Material Options
Both folding and multi-slide multi-panel door systems are available in a variety of materials. The material selected for the door has implications for its efficiency and performance. Careful selection of each project's doorframe material should consider use, aesthetics, climate zone, and efficiency goals.
Aluminum
Aluminum systems have a clean, modern appeal, with some manufacturers offering a narrow 2¾-inch stile and rail profile, allowing for maximum glass and light. Aluminum is suitable for use in exterior applications or as interior space dividers. A 10-inch-tall bottom rail and ramp sill meet commercial Americans with Disabilities Act (ADA) code requirements. Aluminum frames are offered in several finish options. White, anodized clear, and dark bronze aluminum match most commercial aluminum window finishes. Selecting aluminum eliminates the need for finishing, and offers low maintenance. That said, aluminum typically has the highest U-factor and is best suited for use in moderate climates where heat loss is not a concern.
Aluminum Thermally Controlled
This system offers improved thermal performance suitable for climates in which it is desirable to prevent extreme weather from impacting the conditioned interior space. Featuring thermal breaks throughout, and narrow 215/16-inch stile and rail profiles, aluminum thermally controlled systems are designed for optimal energy efficiency and structural performance that minimizes condensation build up and heat-cold transfer. European thermal struts create a non-conductive bridge between the outside and the inside of the door. Thicker panels (2¼ inches) are suitable for high wind environments and can include impact-rated features. A proprietary panel design by a leading manufacturer allows for split-finish color options for the interior and exterior providing maximum design flexibility.
Aluminum Wood
Better suited to exterior environments than a solid wood door, an aluminum wood system features a low maintenance aluminum exterior with a natural wood interior and a narrow 35/8-inch stile and rail profile The hybrid panel construction typically consists of a 1¾-inch-thick extruded aluminum exterior and ½-inch solid wood interior. Typically, several wood species options are offered and commonly include vertical grain Douglas fir and mahogany. The exterior aluminum surface can be powder coated for a range of colors or finished for an all-wood look. An engineered aluminum panel construction creates strength and rigidity for larger openings and panels up to 12 feet tall.
Clad Systems
Made using heavy-gauge extruded aluminum cladding as an exterior in combination with a solid laminated wood core construction and a natural wood interior facing, clad systems offer greater durability, efficiency, and ability to withstand the elements than other materials. Clad systems typically have the best U-factor, offering maximum energy efficiency in colder climates. Certain manufacturers offer a newer, contemporary cladding design, which features consistent-width narrow 215/16-inch stile and rails, a square profile, and standard paint and anodized finishes combined with the warmth of a wood interior. Contemporary clad complements more contemporary architectural styles and window packages.
Wood
Best for interior space dividers, or exterior applications shielded from weather, all-wood systems lend a distinctive architectural style to a space. Wood surfaces will require ongoing sealing, staining, or painting. Standard wood systems incorporate a 35/8-inch stile and rail profile, with 7½-inch and 10-inch bottom rail options, and they can accommodate custom panels from 1¾ inches to 2¼ inches thick. Most manufacturers use a solid laminated veneer lumber (LVL) wood core construction to maintain the integrity of the frame. Wood can provide energy efficiency and good thermal performance, and, when FSC certified, earn the project green credits.
Vinyl
High-quality vinyl offers excellent performance in all environments, and is an ideal solution for renovations, offering a match with popular vinyl window packages. Certain manufacturer's feature a narrow 215/16-inch stile & rail profile and stainless hardware for more contemporary styling.
Establishing a Solid Footing: Thresholds and Components
Sills or thresholds need to be coordinated with the multi-panel door system and should support both the door system and number of door panels. Thresholds should be selected based on weather exposure and floor transition.
Thresholds are available in at least three different profiles and should be specified according to the project design needs. Flush sills are designed to be recessed into the floor, creating a level transition between the finished interior floor surface and the exterior. Flush sills can incorporate the same finish flooring between the sill tracks. Flush sills offer seamless transitions and are a preferred solution where there are covered openings. Raised sills, or weather-resistant sills, are the preferred solution for weather-exposed openings because of their greater ability to repel inclement weather. Raised sills are intended to have a raised profile and sit up above the exterior. Depending on the manufacturer, raised sills come in varying interior leg heights. Ramped sills are commercially compatible and offer ADA compliance when there is less than or equal to a ½-inch change in the sill height compared to the walking surface. Despite the threshold profile, all threshold styles are typically thermally broken. The grade of material for the threshold should be specified, as well as the bearings, hinges, and wheels of the door panels. Acetal and stainless steel are the most commonly seen materials.
To control air leakage and improve energy efficiency, multi-panel door systems also rely on a mix of perimeter seals applied to each door panel. Top seals can be brush type to allow for the smooth operation of the door while still restricting the transfer of air and weather. The bottom or sill seal may be composed of low-friction coated rubber applied to the bottom of the door, creating a full seal yet allowing for the smooth operation of the door panels. Continuous seals along the edges of each door panel may be compression rubber gaskets, fin brush seals, or both. Careful application of high-grade seals provides a tight seal when the doors are closed and helps to maintain pressure and weather resistance.
Not only do door components and thresholds play an important role in efficiency, they also impact health and safety. According to the California Commission on Disability Access (CCDA) Accessible Route and Entry: "Door Hardware - Thresholds, handles, pulls, latches, locks, or other operating devices are not accessible. Kick plates." ranked number 10 on the top 10 list of construction-related ADA violations between May and June 2017.
"There are lots of difficulties in regard to entrances and doors," says Ana Action, building access expert. The bottom 10 inches of a door on the push side must a have smooth, uninterrupted surface to allow door to be opened by a wheelchair footrest without causing a trap or hazardous condition. Thresholds must be no higher than ½ inch on either side of the door. Any style of door hardware must be able to operate with one hand, without tight grasping or pinching of the wrist. Hardware must be installed between 30 and 44 inches above the finished surface.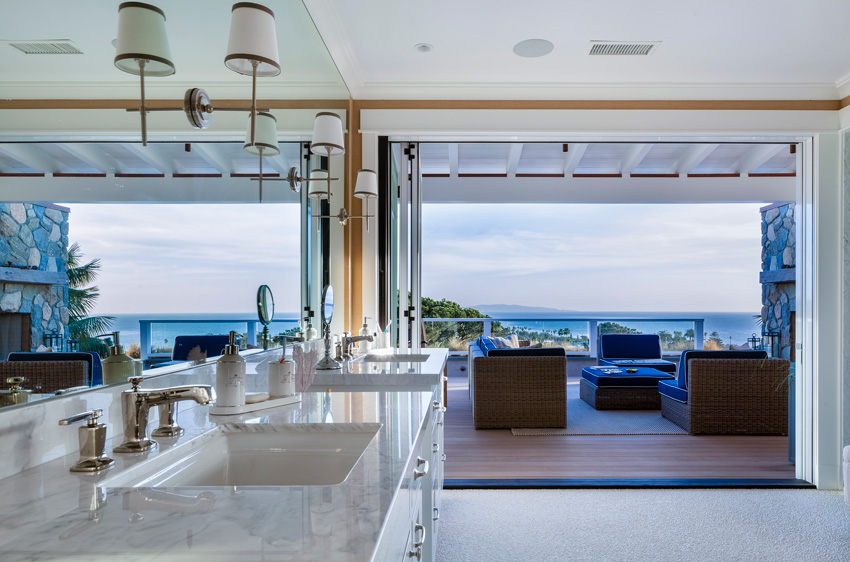 Photo courtesy of Pentraprism
Project by Materia/Trace Wilson Design Inc.
Originally published in Architectural Record
Originally published in November 2017
Notice