Capturing Timeless Values with Contemporary Design
Modern multi-panel door systems incorporate aesthetics, efficiency, and performance
Sponsored by LaCantina Doors
Product Innovation + Contemporary Design = Design, Performance, and Efficiency Benefits
Component improvements and innovations enable the successful relationship between aesthetic appeal, better performance, and greater product energy efficiency. The continued progression of enhancements to high-performance glass, hardware, and component upgrades and improvements to multi-panel door systems allow for design realization with sacrifice.
Advancements in Glass
Generally, across contemporary design styles, there is a higher glass-to-surface ratio. Most multi-panel door systems offer dual-paned tempered glass, creating an insulating barrier between the inside and out. Manufacturers may offer advanced low-e glass options to help reduce cooling costs in the summer and heating costs in the winter. Overall U-factors (insulating factors) in the door panels can be achieved at or near the common ENERGY STAR fenestration target of 0.30 and 0.32 for Title 24 or better depending on specific glazing selections made for low-e or other coatings.
As multi-panel door systems replace traditional walls, the pressure is great to preserve the thermal performance of the structure while gaining the aesthetic benefits of an open wall. With the demand for greater energy efficiency, the window and door industry and glass manufacturers have pushed innovation in performance coatings to secure performance. These advancements have been accelerated by U.S. Department of Energy and ENERGY STAR® programs, which have set out R-10 window performance as an accessible goal by 2020.
Today's triple low-emissivity, or low-e, glass coatings are designed to achieve more light transmission (VT) with lower solar heat gain (SHGC). Yet glass manufacturers are already moving beyond triple low-e coatings to triple-glazing static coatings and fourth surface coatings. Specialty coatings boost U-value, increase fade protection, reduce condensation, and significantly improve scratch resistance. The interior tangible surface of doors and windows, Surface 4, is now more commonly receiving a hard coat glazing option. While hard coats of the past were easily scratched and damaged, glass manufacturers have come out with new hard coat low-e technologies with much greater resistance and durability. The potential inclusion of hard coats at Surface 4 means optimizing performance for dual-glazed insulated glass units.
Other technological enhancements, such as advanced spacer systems, vacuum insulated glass (VIG), dynamic glass, and even glazing systems with integrated photovoltaic functionality, are also emerging in the market. These advances to glass allow doors and windows to become smarter and more energy efficient by adapting to changing environmental conditions or providing significantly better thermal barriers.
Spacer systems for insulated glass units (IGU) have improved as well to support the performance enhancements of glass. For conventional door and window insulating glass units, the glass layers are held together by a spacer and sealant system. The use of warm-edge spacers—low thermal conductance spacers that reduce heat transfer at the perimeter of an IGU–is beneficial particularly in cold climates, limiting heat loss from indoors during colder months. For all-aluminum products, the need to create a thermal break to avoid thermal conductivity has also opened the door to enhancing overall structural performance. Better door manufacturers use IGUs with struts rather than strips or poured polyurethane, which not only break the conductivity of an all-aluminum door but also enhance its structural performance.
Environmental Benefits
While glass does not have the exceptionally high thermal values of advanced solid walls, the use of glass does create many environmental benefits for an indoor space.
Principle among the benefits of glass is natural daylighting. Allowing for more glass and therefore natural light transmittance, multi-panel door systems play an important role in bringing natural light to the interior of a building, allowing for passive solar heat gain and minimizing the use of electricity for daytime lighting.
The innovative design of multi-panel systems connects both indoors and out, maximizing any space and defining a true outdoor living experience. By connecting the outdoors with the interior, multi-panel doors create an excellent pathway for fresh air ventilation. A critical aspect of green design evaluates the indoor air quality for healthy living environments. Indoor air quality (IAQ) refers to the air quality within and around buildings and structures, especially as it relates to the health and comfort of building occupants. Common pollutants can occur and build up indoors, creating the risk of indoor health concerns. Using multi-panel systems opens up areas typically blocked by walls, and aids in whole house air circulation, bringing clean and fresh air into any structure and replacing existing, stale air.
Component Innovations
With multi-panel door installations comes the need for solutions correctly sized to support their operation and life span.
Improvements in typical sliding door operation are needed to allow for larger, heavier panels. Certain manufacturers have upgraded wheel technology, utilizing stainless steel bearings and housing and creating high-performance wheels from an acetal material. Acetal wheels allow for the support of significant weight, while operating smoothly and quietly without the need for a significant pull force.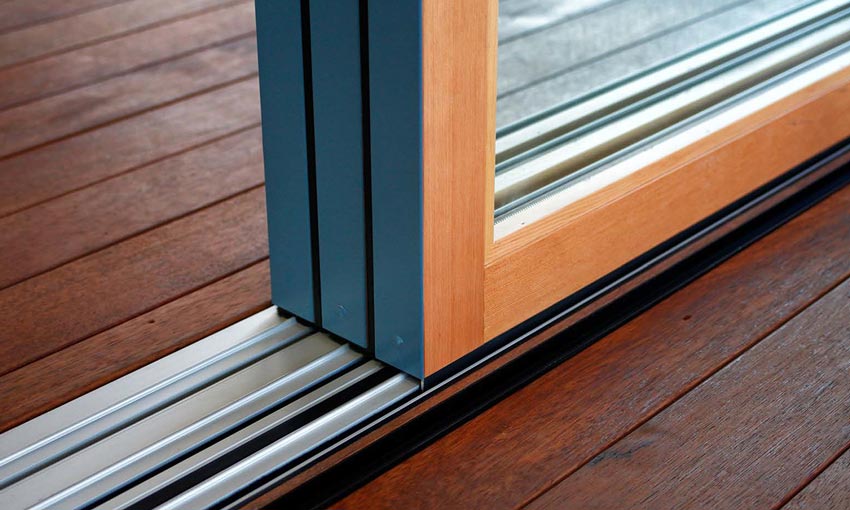 Photo courtesy of LaCantina Doors
Weather-resistant sill on a multi-slide system
Contemporary design seeks to dissolve the boundaries between rooms and even between indoors and out. To facilitate this, fully recessed thresholds are an ideal application. While recessed thresholds used to suffer from poor weather performance, new sills allow for full recession at or below the finish level. For areas with open weather exposure, weather-resistant weeping tracks allow for the recessed sub sill to capture and drain water away from the building via tubes. Three different leg heights allow for performance in moderate to extreme weather conditions.
Superior manufacturers will offer AAMA certification and cycle testing, demonstrating the sustainability of their hardware and components over time. This allows for greater confidence in design decisions.
Larger door openings also require larger screens where desired, designed specifically to complement large openings. Integrated pleated and non-pleated screening solutions help protect the interior from insects or debris and act as an added filter, when necessary, between occupants and the outdoors. Non-pleated screens provide excellent levels of transparency, allowing for uncompromised views. Multi-panel door systems with a blind option provide complete privacy and, in warm climates with direct solar exposure, improved energy efficiency by deflecting harmful UV rays and reducing heat transfer.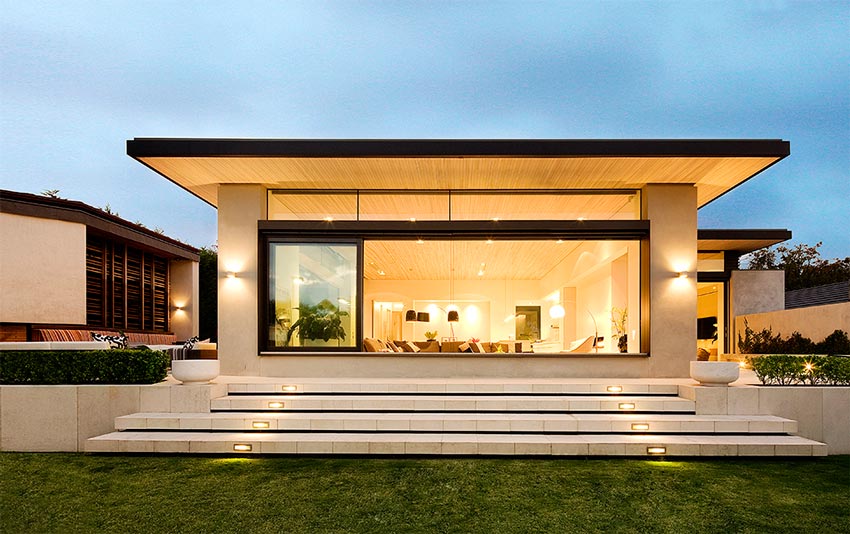 Photo courtesy of LaCantina Doors
A beautiful home, brought to realization with contemporary design, features an aluminum wood stacking multi-slide system in a bronze finish.
Multi-Panel Doors: Efficiency, Performance, and Modern Style
Multi-panel door system sizes and proportions are natural complements to contemporary design. Contemporary design embraces a simplified, clean, and undivided approach to space and style. When built with narrow stiles and rails, to maximize glass, multi-panel doors offer a unified and consistent design scheme for the fenestration package, allowing all windows and doors to present a seamlessly modern, beautiful profile. They are also the lynchpin to transcending interior and outdoor boundaries. Not only have advancements in multi-panel door systems achieved greater energy efficiency and performance, progress in component technology means greater service life and sustainability, creating a project that transcends trends.
Amanda Voss, MPP, is an author, editor, and policy analyst. Writing for multiple publications, she also serves as the managing editor for Energy Design Update.
| | |
| --- | --- |
| | LaCantina Doors is the leader in designing and manufacturing products that create large open spaces. Offering the most innovative and comprehensive range of folding, sliding, and swing systems available, LaCantina Doors utilizes the same signature narrow stile and rail profile across its product line for a complete and perfectly matching door package. Designed and made in California, LaCantina Doors has contributed to award-winning projects ranging from residential, retail, commercial, educational facilities, and resorts and is the preferred choice when it comes to products that open spaces. Backed by an industry-leading warranty, LaCantina Doors is available across the United States and internationally. www.lacantinadoors.com |
Originally published in Architectural Record
Notice