Capturing Timeless Values with Contemporary Design
Modern multi-panel door systems incorporate aesthetics, efficiency, and performance
Sponsored by LaCantina Doors
Products that augment a modern, clean feel and maximize daylight indoors are key. Emerging trends in windows and doors are driven by the demand to meld indoor and outdoor spaces together and facilitate design vision.
To accommodate indoor/outdoor blended living, modern fenestration packages incorporate much larger door systems. While a decade ago multi-panel door systems could be found in fine resorts and commercial applications, the rise of contemporary design finds a place for these systems in every home. The expansion of doors applies even to entry doors: traditional entry door panels are being supplanted by large—up to 8 feet wide—glass panels on pivot hardware to create a statement entry.
Contemporary design's emphasis on more glass, minimal sightlines, and open space creates a perfect fit for large sliding, pocketing, and folding door systems. Particularly, patio doors are much larger and create the ability to seamlessly open interior spaces to the outside. As contemporary design seeks to maximize nontraditional living spaces, it calls for door systems that enhance the ability to tie formerly divided spaces together.
An Introduction to Multi-Panel Door Systems
Multiple-panel door systems, or multi-panel doors, are composed of multiple panels, allowing a single installation to span a large width. These systems allow doors in a home to transcend the limits of a traditional 6- or 8-foot patio door. With their structural integrity and performance, multi-panel doors allow for replacement of entire walls with glass when closed and, when open, seamlessly blend indoors and out. The way in which these panels operate defines the type of system. The most common types of multi-panel door systems are folding and multi-slide. Multi-slide doors may be further separated into stacking multi-slide or pocketing multi-slide.
Operation Types
Multi-Slide Doors
In a multi-slide door, panels stack within the opening. They may stack to one side when fully open, divide and stack to either side of the frame, or be stacked and contained out of sight within a pocket framed into the building's wall.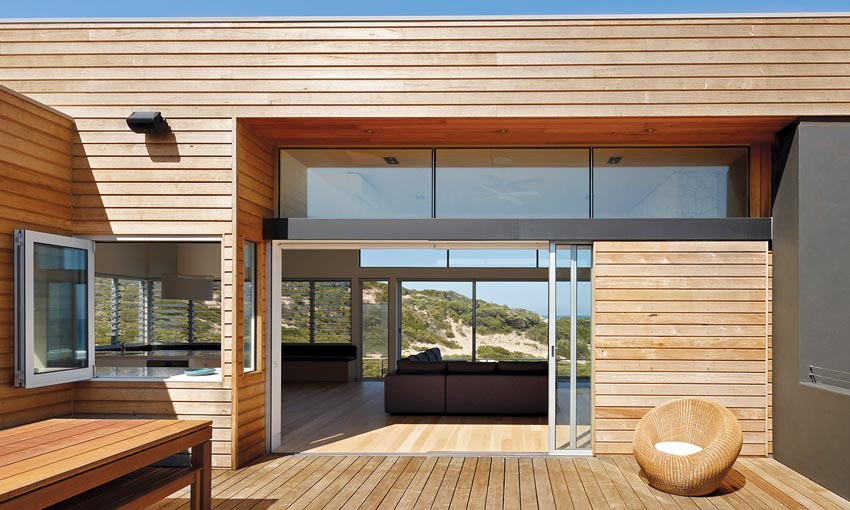 Photo courtesy of LaCantina Doors
Aluminum pocketing multi-slide system spanning a 15-foot-wide opening.
Multi-slide glass doors are generally used to create large openings in walls or to take the place of an exterior wall altogether. The size of the panels and the total door unit can vary and may be custom fabricated to suit a particular building project. Usually, it is the glass itself that imposes limits on the size of each individual multi-slide panel. Most single pieces of glass are limited to 60 square feet in size, or a typical maximum height, with frame, of 12 feet and a width of 8 feet. The number of individual panels can be varied to meet the desired opening dimensions.
The configuration of multi-slide door panels can be designed so that all panels stack behind each other on one side of the opening or so that panels are split to stack on both sides of the opening. There are two basic options for how the individual panels appear when stacked. The first option is to keep one glass panel fixed, or stationary, and to slide all adjacent panels to stack evenly behind this stationary panel. In using this option, when fully stacked, some manufactured designs appear as a single panel when viewed from the inside or outside. The second option is to conceal the sliding panels in a wall pocket when open. In this style, the sliding panels disappear altogether, giving the appearance of a full opening in an otherwise solid wall area.
Multi-slide doors do not need to be limited to a single wall plane. Manufacturers have developed methods to allow doors to meet at a corner location, eliminating the need for a post or frame element. When open, the corner virtually disappears, allowing a full visual and physical three-dimensional connection between outdoors and inside. When fully closed, the door panels come together to form the corner.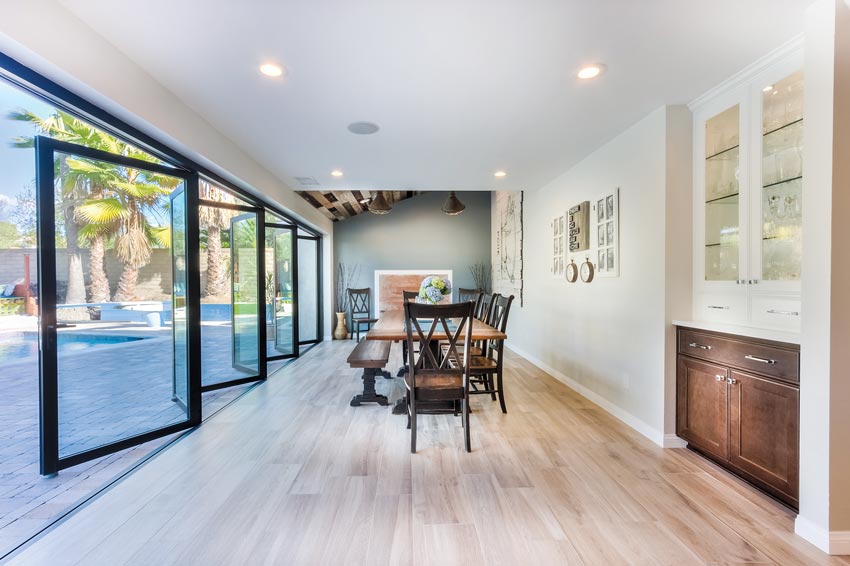 Photo courtesy of LaCantina Doors
An aluminum thermally controlled folding system in bronze anodized finish with a flush guide sill offer a seamless transition from inside to outside, creating an open-air dining area.
Folding Doors
In a folding multi-panel door system, panels stack perpendicular to the opening when fully opened. As with multi-slide systems, in folding systems, doors may stack to one side when open or can divide and stack to both sides of the opening. The folding action mimics the expansion and contraction of an accordion. The panels may be inswing or outswing, depending on design preference and use. Because of the weight of the system and the more complex operation, individual folding door panels are typically limited to 39 inches in width; standard heights may be 7 to 8 feet tall, but some manufactures offer folding panels up to 10 feet tall. Despite those limitations, openings for a full system of folding doors can reach up to a staggering 65 feet wide.
Folding glass doors may either be floor mounted or top hung, with top hung systems the predominant method. In a top-hung folding door system, the top track carries the weight of the doors and the floor track serves as a guide. Precision bearings and rolling hardware are used to operate the door. Top hung bifold door systems allow for effortless and smoother operation and longer lifespans. The frame must be secured to an adequate header that does not deflect downward when the doors are installed. The structural support required and header size depend both on the weight of the doors and the surrounding structural conditions.
The "Perfect Match" Concept
Visually, certain manufacturers' multi-panel door system sizes and proportions may be chosen to match the complement of single doors and windows in the building. Creating a unified design scheme for fenestration will help shape finish, operation, and profile options. Depending on the manufacturer, stile and rail sizes for multi-panel systems can be ordered to exactly match other doors and windows in the facade. This also allows for a perfect match across various door systems so that folding and multi-slide systems can be placed side by side with no visual disruption. For contemporary design, the ability to maintain narrow stiles and rails and to maximize glass is vital to preserving the heart of the project's style.
Materials and Options
Multi-panel door systems, both folding and multi-slide, are available in a variety of materials, including aluminum, wood, and vinyl. While contemporary design often favors metal for its doors and windows, certain applications, like contemporary craftsman, still prefer a wood interior to preserve a style theme.
Aluminum
Aluminum systems have a clean, modern appeal, with some manufacturers offering up to a 23/4 inch narrow stile and rail profile, allowing for maximum glass and light. Aluminum is suitable for use in exterior applications or as interior space dividers. The basic configuration is an extruded aluminum panel with an overall thickness of 13/4 inches and single panels up to 10 feet tall. A 10-inch-tall bottom rail and low-rise sill meet commercial Americans with Disabilities Act (ADA) requirements. Aluminum frames are offered in several finish options. White, clear, and dark bronze anodized aluminum stiles and rails match most commercial aluminum window finishes. Selecting aluminum eliminates the need for finishing and offers low maintenance. Aluminum typically has the highest U-factor and is best suited for use in moderate climates, where heat loss is not a concern.
Aluminum Thermally Controlled
This system offers improved thermal performance suitable for climates where it is desirable to prevent extreme weather from impacting the conditioned interior space, and where higher resistance to water and air infiltration is required. Featuring nonconducting thermal breaks throughout and narrow stile and rail profiles, aluminum thermally controlled systems are designed for optimal energy efficiency and structural performance that minimizes condensation build up and heat-cold transfer. European thermal struts create a nonconductive bridge between the outside and the inside of the door. Thicker panels (21/4 inches) are suitable for high-wind environments and can include impact-rated features. A proprietary panel design by a leading manufacturer allows for split finish color options for the interior and exterior, providing maximum design flexibility.
Originally published in Architectural Record
Notice