Collaborating with Contractors for Innovative Architecture
With construction more complex than ever, architecture firms are joining forces with construction experts to solve tough problems and innovate. The key is to understand the benefits and challenges.
This course is no longer active
Advertorial course provided by Kepco+ Structure Tone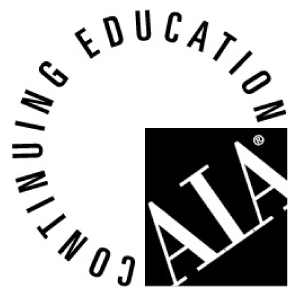 Continuing Education
Learning Objectives - After this course, you should be able to:
Explain the primary benefits of architecture firms collaborating with construction firms throughout the project life cycle.
Evaluate the pros and cons of collaborating with contractors, including insurance and legal issues.
Identify and describe at least four types of collaborative project delivery.
Describe anecdotal examples of how collaborative project delivery led to design innovations and/or client satisfaction.
Credits:
Since the dawn of the profession, the best architecture has been created in close association with construction professionals. That's no surprise. Today, however, alliances between designers and builders are getting tighter and more pervasive. Buildings are more complex than ever, and the knowledge needed to build them well is increasingly in the hands of specialized builders, fabricators and manufacturers. Closest to the source are construction managers and general and specialty contractors. By building on the constructor's experience-literally-savvy architects are producing innovative, best-in-breed architecture.
Trends and statistics bear out this tendency. A new generation of younger architects is embracing design-build, the formal and contractual union of the two fields. At the avant-garde end of the spectrum, architects like Frank Gehry and Thom Mayne have fashioned unique work models built on early and deep alliances with contractors. And "serial builders" like banks and franchise retailers have shown their preference for marriages of constructors and conceptualists to ensure both visual impact and bottom-line performance.
For technically demanding projects, designers and builders are practically joined at the hip. Under the direction of Robert Fraga, for example, the U.S. Postal Service dealt with such high-risk projects as the clean-up of its anthrax-tainted Brentwood facility in Washington, D.C., by employing novel partnerships of design firms and builders. Complex restoration projects bring specialty contractors into the mix during schematics, as at the Utah State Capitol's terra-cotta dome restoration; there, a stone-panel specialist was retained even before the architect was. Across the board, when building projects are large or complex, the most successful project teams boast of formal and informal collaboration structures.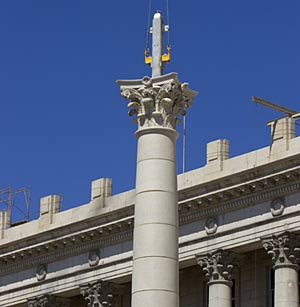 Terra cotta column capitals constructed with original terra cotta and placed on a trailer to be shipped to the jobsite for installation on the Utah State Capitol.
Photo courtesy of Kepco+
No surprise, then, that such teamwork is becoming standard in some circles. Building-information modeling (BIM) is increasingly used by project teams to maximize knowledge sharing; the recently opened Denver Art Museum by Daniel Libeskind stands as a prime example. Many state and federal agencies-including the General Services Administration (GSA)-have favored proposals that stipulate early contractor involvement. And it's not just in the public sector. In fact, the negotiated projects of the private sector are a hotbed of collaborative strategies, including projects delivered by traditional, hard-dollar bidding.
Industry groups recognize the trend, too: The AIA recently joined the Associated General Contractors of America (AGC) and the Construction Users Roundtable (CURT), an owner's group, to announce a new collaborative working group to spearhead industry transformation. "This undertaking represents an unprecedented level of collaboration between building owners, designers, and contractors," says Norman Strong, FAIA, an AIA Vice President and managing partner at The Miller Hull Partnership, Seattle.
The transformation has already begun. A desire to tame cost and schedule is driving the trend, but so is the possibility of breakthrough solutions. Architects realize that by working more closely with contractors earlier and throughout the project cycle, they stand to gain more-and lose less.
Notice