The Case for Certified Wood
Forest products deemed sustainable are a growing part of today's green buildings
This course is no longer active
Sponsored by JELD-WEN® Windows and Doors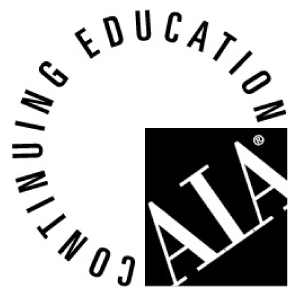 Continuing Education
Learning Objectives - After this course, you should be able to:
Discuss the attributes of wood as an environmentally sound building material
Compare the major forest certification agencies
Specify certified wood for green credit
Credits:
The demand in the United States for environmentally responsible building products continues to grow. Purchasing decisions are increasingly influenced by environmental platforms, and architects, builders, designers and consumers are looking to manufacturers for assistance. Soon, the sustainability and environmental responsibility of building products may be as important (or more so) to the building industry professional than colors, hardware or even price.
As a building material, wood has been used for centuries for its warmth, durability, longevity and natural beauty. Today, there is another reason for architects to specify wood: its contribution to a sustainable environment. This article will cover the environmental, energy and carbon-neutral attributes of wood, and explain the need for responsible forestry practices that keep wood building materials a truly green choice. Also discussed will be the various organizations that certify wood as sustainable and the ways in which points may be earned by specifying wood through the major green rating systems.
Benefits of Wood as a Building Material
In addition to the fact that wood is one of a handful of major renewable structural materials in existence, wood has a number of other attributes that make it an intelligent environmental choice as a building material.
Wood stores carbon. In the carbon cycle, carbon is dispersed through the air, ground, oceans, plants and animals. Carbon dioxide is the basic raw material that plants use to convert solar energy into food, fiber, and other forms of biomass. Trees remove, or sequester, this carbon dioxide from the atmosphere during photosynthesis, using carbon molecules to make sugars and starches that feed the growth of cell walls. Trees then release the oxygen part of the carbon dioxide molecule back into the air, but the carbon remains in the tree, even when it is made into furniture or other wood products. The carbon in these wood products is basically inert and stable, and is kept out of the atmosphere for the service life of the product - or even longer if the wood product is recycled. After decades or even centuries of use, wood buildings can be easily adapted or deconstructed and reused, which means they can continue to store carbon indefinitely. The carbon is released only when the wood rots or is burned.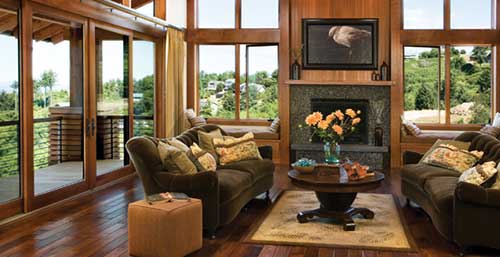 Products that incorporate certified wood add to a structure's sustainability.
Photo courtesy of JELD-WEN® Windows and Doors
 
Wood's ability to sequester carbon is an important attribute because carbon dioxide is a major contributor to global warming. Before the industrial revolution, the concentration of carbon dioxide was stable at some 280 parts per million - a figure that has risen to 380 parts per million, a 35 percent increase, in the last century. Today, close to eight billion tons of carbon dioxide are emitted every year, representing more than 75 per cent of total greenhouse gas emissions.
To recap, healthy forests absorb carbon dioxide and release pure oxygen, with the carbon incorporated into the trees, leaves and roots and soil, and then stored indefinitely in the wood products made from the trees. Not all trees store carbon at the same rate, however. Young, healthy trees have a higher rate of carbon dioxide conversion than older, more mature trees. In an unmanaged forest, old trees will stop capturing new carbon, though they will continue to store carbon until they start to decay.
Originally published in Architectural Record
Notice