Pedestrian Friendly: Planting Trees and Celebrating Stormwater in Urban Areas
When planning for vibrant urban spaces, tree grates and stormwater trench design can assure successful urban forestry and provide new tools for successful stormwater strategies.
This course is no longer active
Sponsored by IRONSMITH, INC.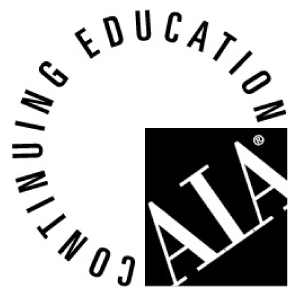 Continuing Education
Learning Objectives - After this course, you should be able to:
Discuss the elements for tree planting in sidewalks using tree grates.
Name the components of tree grates to avoid safety hazards and maintenance problems.
Explain some low impact stormwater (LID) practices and the installation of radial trench drains.
Credits:
Radiating, geometric, square, round and often emblazoned with a downtown logo, tree grates are just one of the many small elements which makes a downtown a great gathering place. Safe, appealing, tree - lined pedestrian street environments encourage people to walk and maintain their health through physical activity.  The DNA of a great city includes many elements that "allow us to work, live and have a relationship to nature."  These are the places which makes us happier, according to author Richard Florida.i The design of cities which incorporate nature, trees, and water along pedestrian friendly streets, requires planning and skills in urban planting practices. Providing street trees, planting beds and celebrating stormwater through design are elements that bring nature into and throughout the urban landscape.  
At a recent Creative Cities Summit in Michigan, architect Doug Farr, AIA, LEED AP, the chair of the U.S. Green Building Council's (USGBC) LEED for Neighborhood Development (LEED −ND ®) Core Committee, presented the components of pedestrian friendly design. 
Currently a pilot project, by 2009, LEED ND® will be the newest LEED® rating certification program.  This USGBC committee is working on the definition of what makes a superior pedestrian experience and currently are identifying those components as ½ human interactions and ½ environmental approaches.  The three major issues which should be addressed when designing urban spaces are connecting places, strengthening neighborhoods and developing a green infrastructure.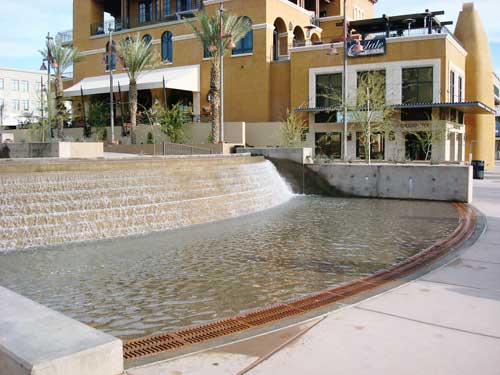 Trench grates can be placed along a fountain edge in a radial pattern.
Photo courtesy of IRONSMITH
 
Notice