Educational Buildings: Safety and Durability by Design
Attention to detail in multiple places is key to better performance
Sponsored by Inpro
Learning Objectives:
Identify the safety and performance aspects of providing aesthetic protection for walls, doors, elevator cabs, and other interior educational building surfaces.
Assess the visual as well as safety aspects of using commercial window treatments in school and higher education settings.
Explain the differences in architectural interior signage that can contribute to inclusivity, wayfinding, and safety in educational buildings.
Recognize the attributes of expansion joint systems that allow them to be durable over time, function as required, and meet fire code provisions where required.
Credits:
*1 ADA State Accessibility/Barrier-Free
This course can be self-reported to the AIBC, as per their CE Guidelines.
This course is approved as a Structured Course
This course can be self-reported to the AANB, as per their CE Guidelines
Approved for structured learning
Approved for Core Learning
This course can be self-reported to the NLAA
Course may qualify for Learning Hours with NWTAA
Course eligible for OAA Learning Hours
This course is approved as a core course
*State-certified members self-report 1 ADA State Accessibility/Barrier-Free
This course can be self-reported for Learning Units to the Architectural Institute of British Columbia
You are not currently logged in to your CE Center account.
Log in
to view and complete the quiz questions that are embedded in this article.
If you design schools, whether at the primary, secondary, or higher education level, you spend a lot of time looking at durability of materials for the safety of students, educators, and staff. The goal is usually to create a welcoming and inspiring place to learn and grow that is inherently durable to hold up over time. Concurrently, the resulting learning environment needs to use materials that help protect the building and the people inside it. This means incorporating features such as reliable durability, clear signage, and properly operating systems. There is also the recognition that many school and educational spaces fill a need for public gathering and events in their larger communities. Therefore, finding the balance between creating a nurturing and welcoming facility that also meets inherent public assembly safety requirements becomes a distinct design challenge. In this course, we review a variety of specific systems, products, and strategies that allow architects to address all these issues to create exceptional educational building designs for both new and renovation projects.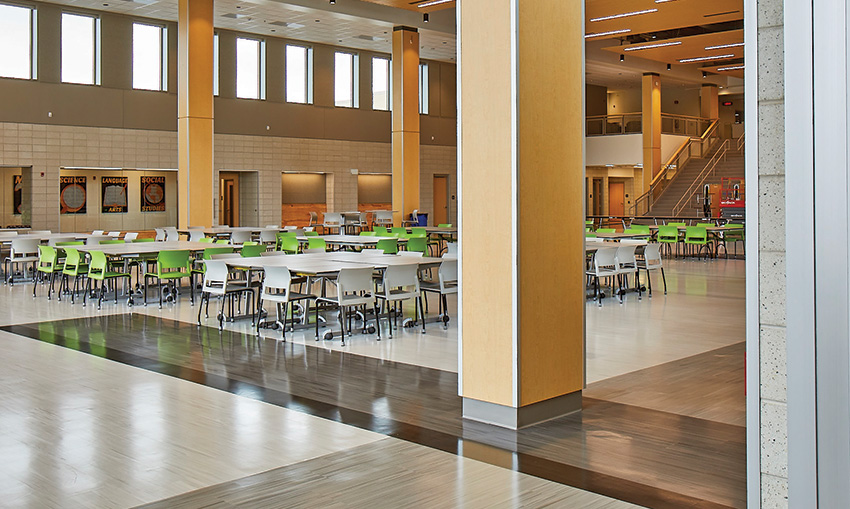 All photos courtesy of Inpro
Educational buildings, such as the Forest Park Middle School in Franklin, Wisconsin, shown here, need to have interiors that are functional, well-designed, and able to withstand high levels of activity and accommodate large numbers of people safely on nearly a daily basis.
INTERIOR WALL PROTECTION
Interior walls are at the forefront of the need for durability in schools and educational buildings. Things like wall corners, edges, and other aspects of an interior design are subject to wear and tear from moving people or equipment. Therefore, adding products specifically designed to protect these areas is common and makes sense for many educational situations. The best approach is referred to as targeted wall protection where a specific set of products is used that are designed to absorb impact and protect the underlying portion. By targeting the most vulnerable areas, protection can be added by using corner guard or wall guard products specifically where they are needed. These can include horizontal rails across specific sections of the walls as well as vertically installed corner guards. Since many of these products can be specified with materials that are not only durable but also easy to clean, they help protect the building as well as the people in them.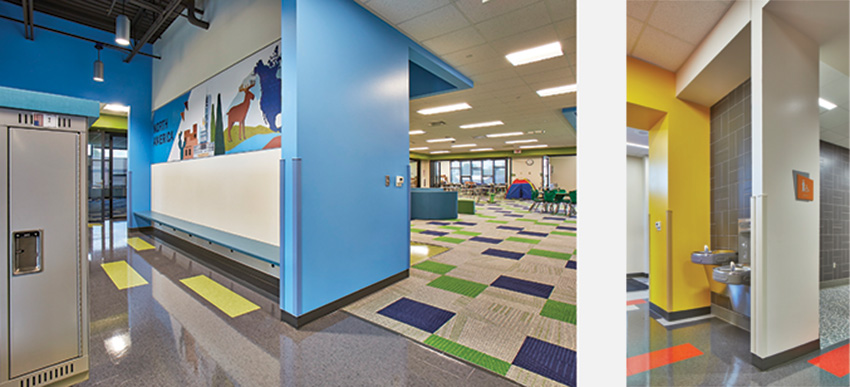 The Friendship Learning Center in North Fond Du Lac, Wisconsin, uses corner guards on wall corners and durable surfaces to provide long-lasting wall protection, particularly in high use areas.
Taking the concept of wall protection further, sheets of rigid wall covering have been used where large surfaces need to be made more durable and easier to clean. Usually produced in sheets or rolls, rigid vinyl extruded wall cladding comes in several standard thicknesses. For medium duty installations, .028 is used when flexibility is needed such as wrapping a column for example. A slightly heavier .040 can be used to eliminate re-painting where repeated scuffing wears through the top layer of drywall. For heavier duty locations, .060 is used to protect against gouging of the wall, while .080 is used for maximum protection, often installed on top of cement board or fire rated plywood. Most of these products offered in the U.S. are Class A fire rated, with many choices of product types, finishes, and colors to enhance, rather than detract from, an interior design scheme.
For wall areas that need specific types of protection, there are also some specialized choices. These include hygienic wall cladding which is ideally suited for kitchen or laboratory spaces. Coupled with stainless steel corner guards and wall base, this provides a very durable and cleanable surface that is designed to inhibit growth of organic substances. There are also solid surface wall claddings that are nonporous, long-lasting, easily repairable, and available in many different colors. By working with manufacturers of wall cladding and targeted protection systems, the best solutions can be determined for different locations within schools and higher-education facilities.
It is worth noting that if the surface materials used aren't easily cleaned, that is a problem, since they could become sites of virus or bacteria transfer. On the other hand, if the surfaces can be cleaned, but aren't durable enough to handle the repeated washing without fading, wearing, or otherwise degrading prematurely, that needs to be addressed as well. Of course, educational buildings are busy places with a lot of people and equipment moving daily. That means the interior finishes can readily get rubbed, bumped, banged, or even abused and can start to show signs of wear quickly. If these interior surfaces become physically damaged, then they can become problem spots that are not only difficult to clean and could be prime locations for germs and bacteria to collect and build up, ready to be transferred to the next person who touches or brushes by them.
Flexible Wall Protection
Protecting wall surfaces from damage while still meeting interior design needs can sometimes be a notable challenge. While rigid plastic protective wall cladding products can offer a particular choice of looks, they may not always match what is being sought for a design scheme. Other choices offer the more varied look of contract wallcovering with some protection characteristics but lack the ultra-durable performance of rigid plastics. This leaves architects and interior designers in a conundrum, especially since certain spaces need the added protection but do not lend themselves to the aesthetic of rigid wall cladding. However, a brand-new class of materials called Flexible Wall Protection is showing great potential to be a true game changer by combining the appealing look of contract wallcovering with the durability of rigid wall protection. As one manufacturer puts it, "Walls can now make an impact while being able to take the impact."
Flexible wall protection products are durable enough to handle the conditions of harsh environments yet are literally flexible enough to become the showpiece or the backdrop of an interior design scheme. With professional, seamless installation, they can become an uninterrupted finish with an intentional texture pattern to enhance the design. They also fend off stains and vandalism, simply by wiping with standard cleaning agents, although the amount of effort needed to remove the stain or mark will vary based on texture of course.
Flexible wall protection is quite appropriate for educational facilities, particularly since most have some areas that are prone to be constantly bashed and slammed. If this causes damage, particularly in a public space, management will not want to leave it disrepair, so someone on staff is usually assigned to repair these problem areas–repeatedly. There's a subtler form of damage, however, that often accumulates slowly but eventually leads to a shoddy appearance, namely scuffs and abrasions. For example, backpacks rubbing along a school corridor wall may not be enough to damage drywall, but creates enough contact to leave marks, scuffs, and rubs. When this happens dozens, if not hundreds, of times a month, the walls soon start looking quite different from the design intent. Flexible wall protection can provide a solution to this problem by remaining intact, masking any damage to drywall behind it, removing the urgency of a repair, and containing any gypsum dust from being released into the building. In all, it is a preferred surface protection solution for many interior wall surfaces compared to vinyl wall covering or rigid finish options.
Printed Interior Wall Surfaces
Wall surfaces in schools and higher education facilities are commonly used to convey information using artwork, graphics, or similar means. Just like any other wall surface, however, the images need to hold up against heavy use, or even abuse, plus be easy to keep clean. To meet these needs, many architects are turning to innovative wall protection systems that also offer large-scale images that can promote school spirit and morale or spread inspiration for learning.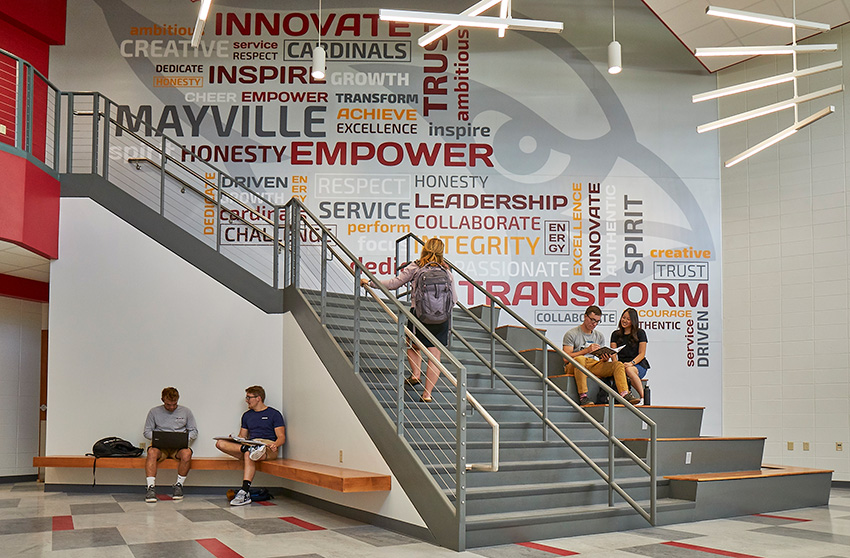 The Mayville High School in Mayville, Wisconsin, uses printed wall protection systems for education programs, for social distancing, wayfinding, and to promote school spirit, all while helping to keep walls clean and durable.
Originally published in Architectural Record
Originally published in March 2023
Notice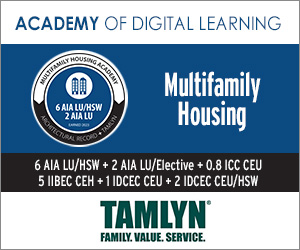 Educational Buildings: Safety and Durability by Design
Buyer's Guide
Aspex® Printed Wall Protection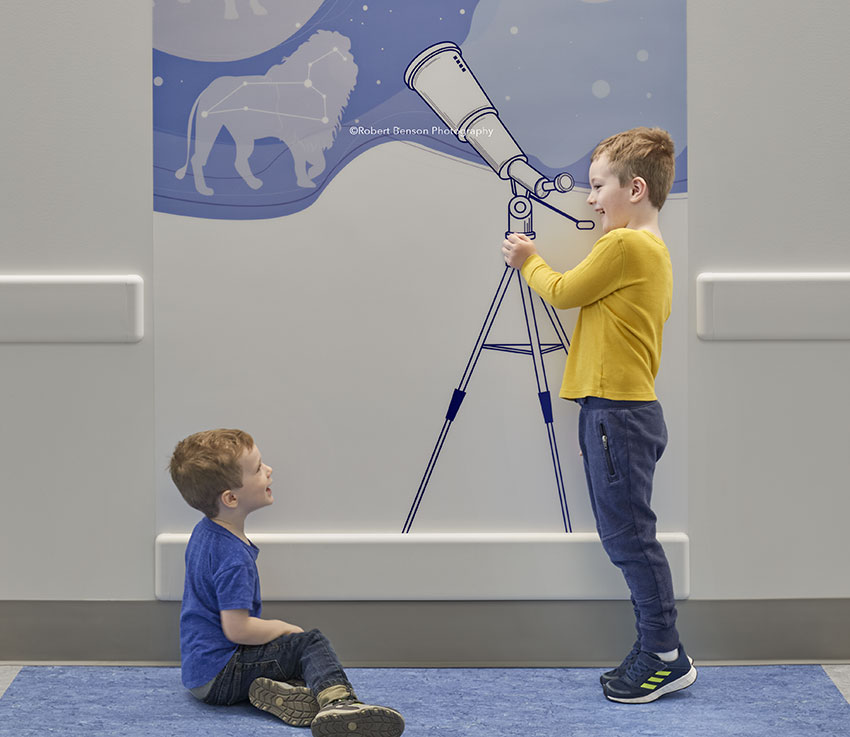 Durable. Custom. Vivid. Aspex Printed Wall Protection provides the high-impact durability of PETG paired with premiere printing capabilities—not sacrificing quality for performance. With the option to select a custom image or even have commissioned artwork backprinted onto our clear sheets, designers are able to protect their walls from damage while also having total design freedom.