Open Cell Spray Foam Insulation in Commercial Buildings
A high-performance affordable option for wall and roof assemblies
This course is no longer active
Sponsored by ICYNENE, Inc.
Learning Objectives:
Identify the characteristics of open cell spray foam that make it suitable for high-performance roof/attic assemblies and exterior wall assemblies.
Investigate the inherent energy performance and cost-saving effectiveness of low-density open cell insulation when insulation and air barrier are provided in one.
Recognize the ability of open cell spray foam insulation to combat moisture infiltration into construction assemblies and add to building durability.
Assess the various ways that open cell insulation contributes to environmentally sensitive and green buildings.
Credits:
When selecting insulation products to use in building designs, architects have a broad range of choices. Foam insulation products are often selected because they have typically and rather consistently been shown to provide superior overall thermal performance, thus contributing to greater energy and operating cost savings in buildings. In particular, open cell spray foam insulation can insulate and air seal wall and roof/attic assemblies in commercial buildings quite effectively, economically, and efficiently. Also known as ½-pound foam because of its relatively lighter weight and density, it has often been associated with residential construction. However, its air-sealing characteristics, ability to minimize moisture and temperature-related issues, and capacity to enhance the performance of a wide variety of building types make it ideal for commercial projects. In fact, it has been successfully used for over 25 years in commercial and light commercial projects throughout North America.
Overview of Open Cell Low-Density Spray Foam Insulation
Spray foam insulation of all types rely on using two distinct manufactured ingredients that are mixed and formed in the field by skilled applicators. Typically, these applicators will use equipment that is mounted in a trailer or truck. Flexible hoses carry the needed ingredients from there to a hand-held gun that both mixes and sprays the combined product onto the surfaces being insulated. As soon as the two parts are mixed, a chemical reaction begins causing the liquid mixture to foam, expand, and eventually take its final shape. This customized on-site application means that the sprayed insulation readily conforms to the shape and geometry of the surfaces it is being applied to while its chemical make-up provides the needed properties for it to adhere to those surfaces.
Within the industry, there are several common types of spray foam insulation that are distinguished from each other based on their relative density and manufacturing make-up. For purposes of this article, we are going to focus on low-density, open cell insulation. For context, low-density foam is commonly installed with a density of approximately ½ pound per cubic foot compared with medium-density foam that installs at a density of approximately 2 pounds per cubic foot. Some high-density foam is also available at approximately 3 pounds per cubic foot. The ingredients used in the mixing process determine the reaction that takes place to form the cells within the insulation. Those cells can be open to each other allowing some interaction or closed to each other forming distinct and separate closed cells.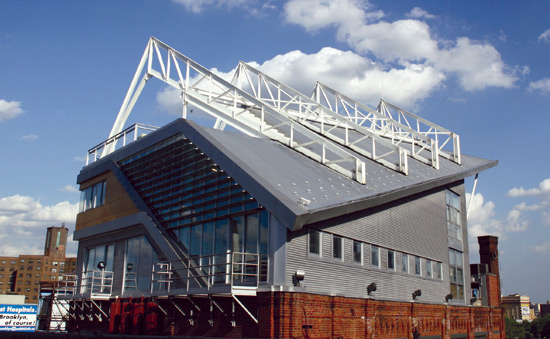 Photo courtesy of ICYNENE, Inc.
Commercial buildings can benefit from the thermal performance and environmentally positive attributes of open cell, low-density spray foam insulation.
Originally published in Architectural Record
Originally published in March 2014
Notice