Moisture Control with Spray Foam Insulation
How a single product can provide multiple barriers in one step
Sponsored by Icynene-Lapolla
This test is no longer available for credit
Indoor Environmental Quality
When looking at green building design, there are more categories than just energy efficiency. One significant criteria is the ability to create a positive and healthy indoor environment for people. That means not only providing appropriate levels of ventilation, light, and views, but it also means eliminating the exposure of people to materials or chemicals that could be detrimental to human health. In that regard, there has been some extensive work done to identify and eliminate unhealthy chemicals or compounds from building materials. There have also been some misperceptions and misunderstandings about some products and materials, including spray foam insulation. Some applications of spray foam in residences have been blamed for causing unhealthy reactions due to the chemical makeup of the blowing agents, although that is not a universal issue. Nonetheless, the manufacturers of these products have responded appropriately and changed the formulation of most spray foam to comply with indoor environmental quality standards.
Reducing VOCs
One of the main concerns with any building product is the presence of volatile organic compounds (VOCs). These have been prevalent in everything from plywood to furniture to paint, and manufacturers have been working hard for decades to find suitable replacements while still maintaining product quality. The same is true for spray foam insulation. While all are addressing this, at least one manufacturer has achieved the creation of some ultra-low-VOC-level products. This has been independently verified based on protocols and procedures developed by a task group of the American Chemistry Council's Center for the Polyurethane Industry (ACC CPI). Its conclusion, after extensive research, testing, and evaluation, is that the health concerns of these products are reduced dramatically such that the amount of time recommended for re-entry after a building has been insulated and appropriately ventilated is reduced to only an hour. For occupied residences, the re-occupancy time is reduced to 2 hours.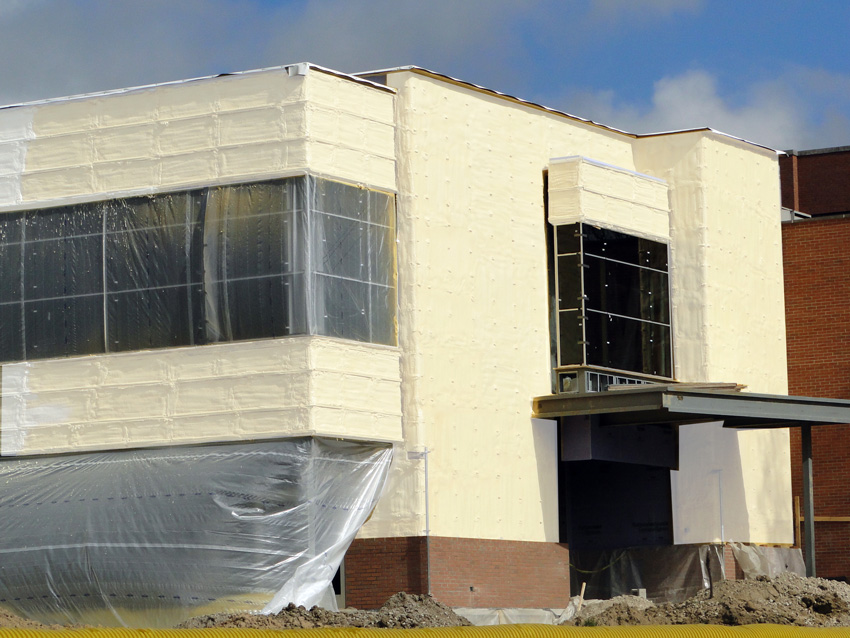 Continuous spray foam insulation in exterior walls not only addresses energy efficiency and construction durability, but also can help safeguard indoor environmental quality by reducing the possibility of mold.
Reducing Mold
There is another significant benefit from using spray foam insulation related to indoor environmental quality. As already noted, when used as exterior continuous wall insulation, closed-cell spray foam also prevents air, water, and moisture penetration. That produces a wall system and framing that should be drier and less likely to be subject to rot or deterioration. A drier condition also takes away one of the necessary ingredients for mold, namely moisture. For wood-framed wall systems in particular, this means a notably decreased chance of mold growth to occur in the wall. Mold remediation has become a significant concern in many buildings because it has been shown to have direct and serious links to things like asthma, allergies, and other health issues. Therefore, designing wall systems to reduce the possibility of mold is not only positive for human health, in many cases, it is necessary for risk management to ward off potential lawsuits for damages over improper design or construction.
Conclusion
When medium-density, closed-cell spray foam is applied as exterior continuous insulation, it also has the properties of a continuous water-resistive barrier, air barrier, and vapor retarder all in one product application. Further, a properly designed wall assembly, using this material will assure not only code compliance, but a better sealed installation that will keep out unwanted water and air in the assembly, while still allowing any trapped moisture to dry to the interior. These characteristics make it an attractive, easy to install, continuous barrier system that will improve energy efficiency, durability, indoor environmental quality, and overall sustainability in the buildings that it is used in.
Peter J. Arsenault, FAIA, NCARB, LEED AP, is a practicing architect, sustainable building consultant, continuing education presenter, and prolific author engaged nationwide in advancing better building performance through design.
www.linkedin.com/in/pjaarch
| | |
| --- | --- |
| | Icynene-Lapolla is a leader of high performance building material innovations aimed at optimizing the building envelope and maximizing energy efficiency. Available in more than 31 countries, Icynene-Lapolla is a global manufacturer and supplier of spray polyurethane foam for insulation and roofing applications, reflective roof coatings and equipment. Serving architects, builders, contractors and homeowners, Icynene-Lapolla's solutions enhance residential and commercial structures, in both new and retrofit construction. www.icynene.com |
Originally published in Architectural Record
Notice