High-Performing, Resilient, Wood-Framed Roofs
Designing for storm resistance to meet code requirements and reduce insurance costs
Sponsored by ZIP System sheathing and tape, by Huber Engineered Woods LLC
Learning Objectives:
Identify the natural, environmental forces that wood-framed roof systems need to be designed to withstand in order to protect public safety and welfare.
Assess the advantages and disadvantages of different types of wood-framed roof systems and common roof slopes as part of a durable building design.
Compare and contrast different types of wood roof sheathing in terms of their performance capabilities.
Analyze the importance, as noted in building codes, of roofing
Credits:
This test is no longer available for credit
Wood-framed construction is the predominant method of building homes in the United States and has gained steady acceptance in light commercial and industrial buildings. The inherent strength of wood framing, its cost effectiveness, and energy efficiency have all been borne out over hundreds of years of use. Building code changes, environmental sustainability, and homeowner interest in higher building performance are a few factors placing new demands on this popular approach to framing. Most recently, resiliency in buildings has become a priority, particularly in areas prone to severe weather. The not-for-profit Resilient Design Institute defines resiliency as "the capacity to adapt to changing conditions and to maintain or regain functionality and vitality in the face of stress or disturbance. It is the capacity to bounce back after a disturbance or interruption." In response to these changing needs, building professionals are adopting new products and practices to strengthen wood-framed buildings, with a particular focus on roofs. This course will focus on some of the changing considerations in the design, basic construction anatomy, and best practices that can lead to high-performance, resilient, wood-framed roof construction.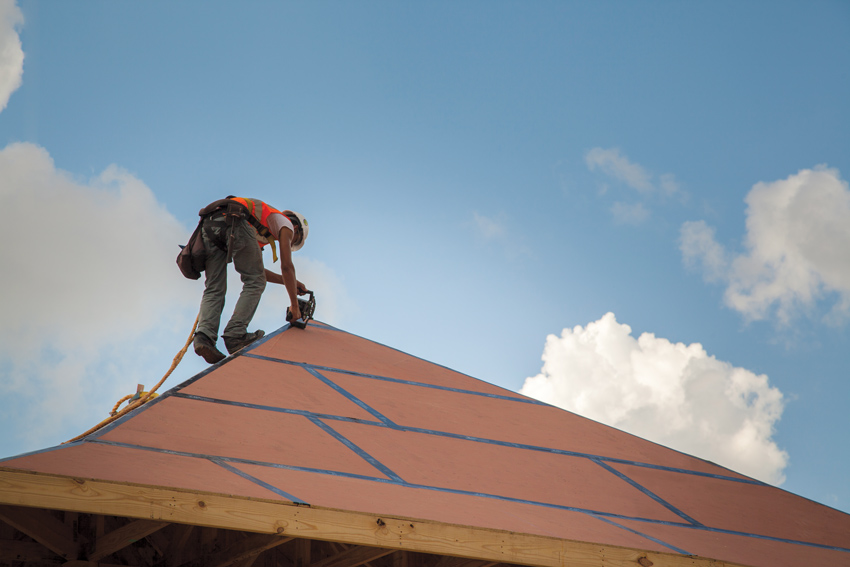 ©2016 Huber Engineered Woods LLC
Installing high-performance sheathing as part of a wood-framed roofing system can be an important factor in building resiliency and long-term water protection, especially in high-wind prone climate zones.
Design Considerations in Roof Systems
Designing high-performance roofs is a function of a complex interplay of key factors and special considerations. Understanding the basic environmental loads or stressors that a roof needs to endure in a particular project location is the first step. Then selecting the best combination of roof shape, framing technique, and materials all contribute to a design that will remain durable and last for its intended life cycle.
Environmental Loads
The list of things that a roof needs to contend with from the environment includes everything in the local weather forecast.
Water:Whether in the form of liquid rain, gaseous vapor, or solid snow or hail, water is usually the first thing a roof is designed to guard against. Historically, in fact, the biggest cause of design liability claims have come from water leaking through a roof system. Roofs that don't drain properly, aren't fully sealed where needed, or don't anticipate worst-case scenarios are the usual culprits for leaks. Condensing moisture in the roof system can also be a significant problem since it can degrade wood and other building products. Of course, any area that receives a lot of snow needs to address the weight of that snow to guard against not only collapse but sagging or other movement, too. Plus, the insidious nature of water that forms from melting snow and then freezes into ice can wreak some all too well-known havoc on the roof system.
The concerns about water in any form don't manifest themselves only after the building is occupied, but during construction, too, particularly with wood framing. Dusty Bitton, owner of Pinetop Custom Homes, is located in McCall, Idaho, which has the highest average snowfall in Idaho and only a five-month building season. "At times, we are unable to complete our buildings before the heavy snowfall hits so we must depend on moisture-resistant products to prevent any issues until we can continue the building process the next spring," stated Bitton.
Wind:Wind damage, too, is a common cause of roofing failures. The Federal Alliance for Safe Homes (FLASH®) reports that more than 39 million U.S. homes are at risk from winds that can exceed 110 miles per hour based on HUD and census data analysis from FLASH.1 (Designers can visit flash.org to see if their locations are at high risk for a number of different "peril" situations.) The design load for wind uplift of a roof is a complex formula that is determined by such factors as roof structure, slope, wind speed, building height, roof areas, building terrain, building type, and building openings. Calculators exist to determine the design wind loads for the roof area's field, perimeter and corner zones, and minimum recommended design wind-resistance loads based on the specific building and climate parameters.2 Once calculated, the force can be used to influence the materials selected for the roof so they cannot be torn from the building in strong winds. Of course, there is wind, and there is severe wind, as in tornadoes or hurricanes. Anticipating these severe conditions in locations where they are common requires extra attention to detail and diligence to help assure the roof system doesn't fail. FLASH has partnered with The American Institute of Architects (AIA) and other design organizations to create the Resilient Design Guide for High Wind Wood Frame Construction.3 This detailed, 48-page publication, which is free and available to the public, describes the effects of wind on wood-frame constructed buildings. It also clearly and succinctly identifies the differences between common wood-frame construction, high-wind construction, and resilient construction.
Originally published in Architectural Record
Notice