A New Option in Exterior Paving
New-to-U.S. structural porcelain pavers are naturals for elevated decks, rooftops and plazas
Sponsored by HandyDeck
Learning Objectives:
Discuss the characteristics of porcelain pavers as they contribute to design and durability objectives as well as sustainability and green building goals.
Compare various types of pavers in terms of aesthetics and application.
Discuss the applications suitable for elevated decks using adjustable pedestals as they affect the design parameters of a building and the safety for the building occupants.
Specify an elevated deck system, taking into account pertinent site and installation considerations.
Credits:
This test is no longer available for credit
Say the word porcelain and more often than not the first thing that comes to mind is a delicate teacup or an old-fashioned doll. Porcelain pavers, however, are anything but fragile. A dense and extremely hard material, porcelain has been used as a building material for centuries, with historic examples found in palaces throughout Europe. While porcelain tiles with a maximum thickness of about 3/8 inch have been around for a long time, modern manufacturing techniques have enabled the production of ¾-inch-thick porcelain pavers which have excellent structural strength, are hard wearing, dimensionally precise, and have exceptionally low water absorption. Introduced to the U.S. in the past three years, these pavers are being specified increasingly for elevated decks in commercial architectural projects, from rooftop deck and terraces to public plazas.
This article will introduce the characteristics of structural porcelain pavers and their benefits compared to more traditional paving products , and highlight their use in elevated decking systems using fixed and adjustable height pedestals. Site requirements and application considerations will be discussed as will installation procedures.
Porcelain, the Material
The basic manufacturing techniques of porcelain have remained essentially the same for several hundred years. Porcelain is a kiln-fired product in which special clays and other minerals are fired to temperatures of 1,200 to 1,400 degrees F in a process that results in a number of benefits, notably a hard, durable, wear-resistant product with an exceptionally low water absorption. In fact, a porcelain tile is defined as an impervious tile with a water absorption of 0.5 percent or less as measured by the ASTM C373 test method. Due to the low water absorption, porcelain tiles can be used for both interior and exterior applications especially in regions subject to freeze/thaw issues.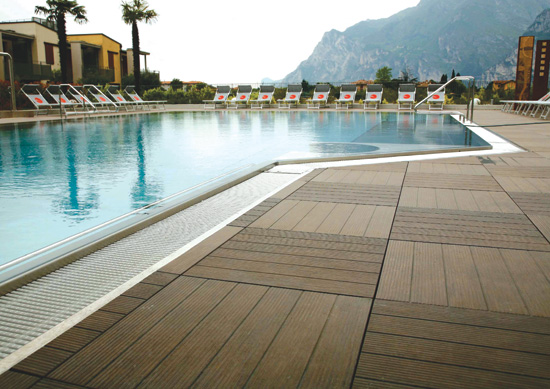 Photo courtesy of Kronos Ceramiche
Porcelain pavers are increasingly specified in the U.S. for cost-effective aesthetic alternatives to traditional paver systems.
Originally published in May 2015
Notice