The New Benefits of Designing with BIM
Improve productivity, safety, creativity, and collaboration with the new tools and enhanced functionality now available
Sponsored by GRAPHISOFT® NORTH AMERICA

1 AIA LU/Elective; 1 IDCEC CEU/HSW; 0.1 ICC CEU; 0.1 IACET CEU*; 1 AIBD P-CE; AAA 1 Structured Learning Hour; This course can be self-reported to the AANB, as per their CE Guidelines; AAPEI 1 Structured Learning Hour; This course can be self-reported to the AIBC, as per their CE Guidelines.; MAA 1 Structured Learning Hour; This course can be self-reported to the NLAA.; This course can be self-reported to the NSAA; NWTAA 1 Structured Learning Hour; OAA 1 Learning Hour; SAA 1 Hour of Core Learning
Learning Objectives:
Describe how the new stair tool helps to design stair solutions that are safe and easy to navigate and meet all applicable national and local codes.
Explain how the integrated collision detection feature can reveal potential flaws and weaknesses in the design before construction begins.
Explore how BIM automates documentation updates and eliminates potential errors or miscommunications that can occur when the documentation is not kept current.
Provide three examples of how BIM improves the collaboration between architects and the rest of the consulting and engineering team.
Use new presentation tools in BIM software to engage clients.
This course is part of the Business and Technology of Architecture Academy
Workflow Improvements
One of the greatest advantages of BIM is that it streamlines the design-to-production workflow for any project. In the past, it was normal for architects to use a lot of different tools throughout the process. There were unique tools for sketching during the conceptual design phase. Then the schematic design phase would begin, and architects would input the 2-D details into a CAD program to create a layout. During design development, architects chose from several tools that create parametric and algorithmic models. There were tools for exploring different materials or systems. There were tools for analyzing the model for compliance with applicable local codes, such as the Americans with Disabilities Act (ADA), and green building rating systems, such as LEED. There were also special tools for rendering 3-D models and completing the necessary project documentation, and the list goes on.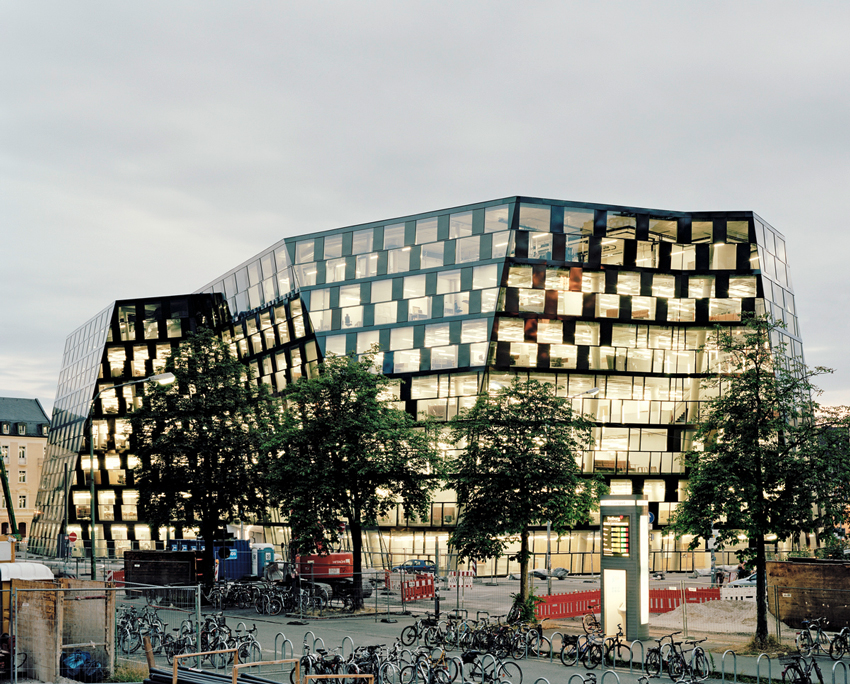 © Barbara Bühler
Project: University Library Freiburg
Location: Germany
Architect: DEGELO ARCHITEKTEN, www.degelo.net
As BIM has evolved, the scope of the BIM software has expanded to include many of the tools and functionalities previously found elsewhere, allowing architects to essentially use one tool as they transition from one design phase to the next. The streamlined process can deliver incredible gains in workflow efficiency for a firm.
"Ninety percent of what we are building now, we are working through within BIM software," explains Stefan Hampden, principal, CAST Architecture, Seattle. "We used to use a lot of other tools within our process, but now one program is capable of doing those explorations, and we don't feel like we need to go to another reference and then come back and figure out how to document it."
Some of the most recent advancements in BIM software allow the BIM process to start even earlier, eliminating the gap that existed between the initial conceptual design phase and when a project could begin in BIM. Now the BIM process can start when a project is initiated because the software includes sketching functionality. Architects can assemble the primitive elements used for massing a project and transform walls, roofs, slabs, doors, windows, beams, columns, curtain walls, stairs, and more. Then they can trace the preliminary design out for a real-world view with the software's early design modeling capabilities.
Beyond being able to start a project in BIM earlier, there is more flexibility on how that project can be started, allowing architects to continue sketching projects in their preferred formats. Some designers would rather sketch manually or have a favorite sketch program they always use for new projects. Architects who like to begin with manual sketches can take a picture of their drawing with their smartphone and drop it into the software or scan it and use it as the base for the 3-D model. If there is a preferred sketching program, designers can import the drawing file into the BIM software. In short, BIM software now allows architects to begin the BIM process sooner and enables them to continue designing in whichever manner they are the most comfortable.
Integrated Collision Detection
As the design process progresses, more disciplines are added to the team, such as consulting structural and MEP engineers. These team members provide constant, almost daily updates or tweaks to the model that must be reviewed to ensure that no issues between the various elements arise. This responsibility falls to the architect, who is considered the lead coordinator of the model. There are two important features now available in some BIM software that make this multidisciplinary, iterative process easier for an architect to manage. They are the ease with which International Foundation Class (IFC) data files from the consulting engineers can be imported into the BIM software as a reference model and the ability to detect collisions that may exist between the reference models.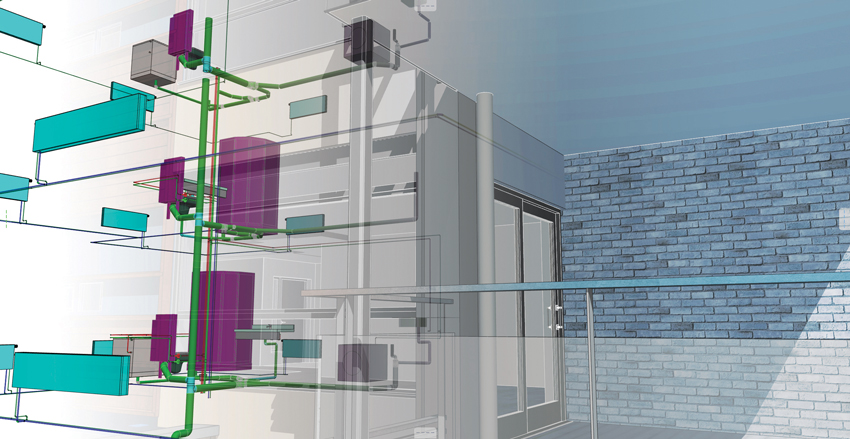 © Rift AS, Oslo, Norway, www.rift.no/
Project: Nordre Jarlsberg Brygge, Norway
In a typical workflow, architects receive a large number of updates to building models. As BIM has become the de facto workflow, architects increasingly receive consultant information in a BIM format referred to as an IFC file. IFC is the global standard for data exchange in the building industry. The ease with which a program can bring these new IFC models into the system is an important feature of project management. One of the most simple and straightforward solutions is to use hotlink modules. Architects can hotlink the external IFC model content created by the engineering consultants to the BIM model. This process enables an architect to work with a structural file, an MEP file, and a site model all from the very same interface.
Once the system updates have been included in the model, the next step is to review the IFC models to look for any issues or conflicts that may exist between the various elements and systems. Referred to as collision detection, this model-based analysis reveals potential flaws and weaknesses in the design, highlights clashing components, and ensures that the design complies with BIM requirements and best practices. In the past, collision detection functionality was not available within the BIM software, requiring architects to use add-on software or external applications to conduct the analysis. Today, BIM software that features integrated collision detection is available, further streamlining the workflow.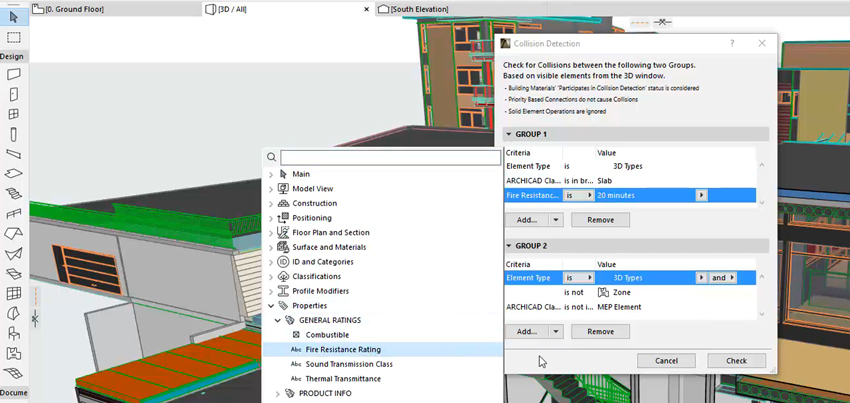 © Rift AS, Oslo, Norway, www.rift.no/
Project: Nordre Jarlsberg Brygge, Norway

Now architects use the collision detection interface within the BIM software to search for issues between different systems. Two systems or components can be compared through user-defined criteria sets, such as element types, classification values, property values, and attributes. This gives architects the ability to filter throughout the extensive model data to compare and contrast the interaction of specific systems in the design. A designer can review the layout of the foundation system in relation to the piping system and look for any instances where the mechanical components have penetrated the conduit, a water pipe collides with a footing, or other types of collisions that may exist between the systems, and then fix them before they cause issues during the construction phase.
Localized Versions Support Local Code Compliance
Some BIM software is available in a localized version that is designed to help architects navigate the way the objects are organized and meet local layout and documentation standards. In some versions of BIM software designed for North America, objects in the library are organized by the CSI standard, which is the method of organization with which architects in this country are most familiar. Measurement units are also provided in what is popular for that area.
In many instances, applicable building and energy codes are defined by the location of the project. These localized BIM versions also contain the local architectural standards and have tools to help architects ensure that their designs are compliant with local codes. For example, designers can use tools within BIM software to ensure that aspects of their layouts meet certain ADA requirements, like providing enough clearance at the pull side of a door or around a toilet.
While the capabilities of the local versions are impressive, there are a number of reasons that architects may want to export an IFC file or other type of design file to use a tool outside of the BIM software. It is increasingly easier for designers to produce the outputs necessary to use add-ons or external applications that will review designs for compliance with certain types of building and energy codes.
Originally published in Architectural Record
Originally published in June 2018
Notice