The New Benefits of Designing with BIM
Improve productivity, safety, creativity, and collaboration with the new tools and enhanced functionality now available
Sponsored by GRAPHISOFT® NORTH AMERICA

1 AIA LU/Elective; 1 IDCEC CEU/HSW; 0.1 ICC CEU; 0.1 IACET CEU*; 1 AIBD P-CE; AAA 1 Structured Learning Hour; This course can be self-reported to the AANB, as per their CE Guidelines; AAPEI 1 Structured Learning Hour; This course can be self-reported to the AIBC, as per their CE Guidelines.; MAA 1 Structured Learning Hour; This course can be self-reported to the NLAA.; This course can be self-reported to the NSAA; NWTAA 1 Structured Learning Hour; OAA 1 Learning Hour; SAA 1 Hour of Core Learning
Learning Objectives:
Describe how the new stair tool helps to design stair solutions that are safe and easy to navigate and meet all applicable national and local codes.
Explain how the integrated collision detection feature can reveal potential flaws and weaknesses in the design before construction begins.
Explore how BIM automates documentation updates and eliminates potential errors or miscommunications that can occur when the documentation is not kept current.
Provide three examples of how BIM improves the collaboration between architects and the rest of the consulting and engineering team.
Use new presentation tools in BIM software to engage clients.
This course is part of the Business and Technology of Architecture Academy
Building information modeling (BIM) is an intelligent, digital, model-based process of design, where a building is created using one system of computer models instead of separate sets of drawings. Although BIM is not a new concept or technology, its adoption has skyrocketed over the past decade, and continuous advancements have dramatically improved the productivity, safety, creativity, and collaboration that can be fostered and supported by the BIM-enabled process.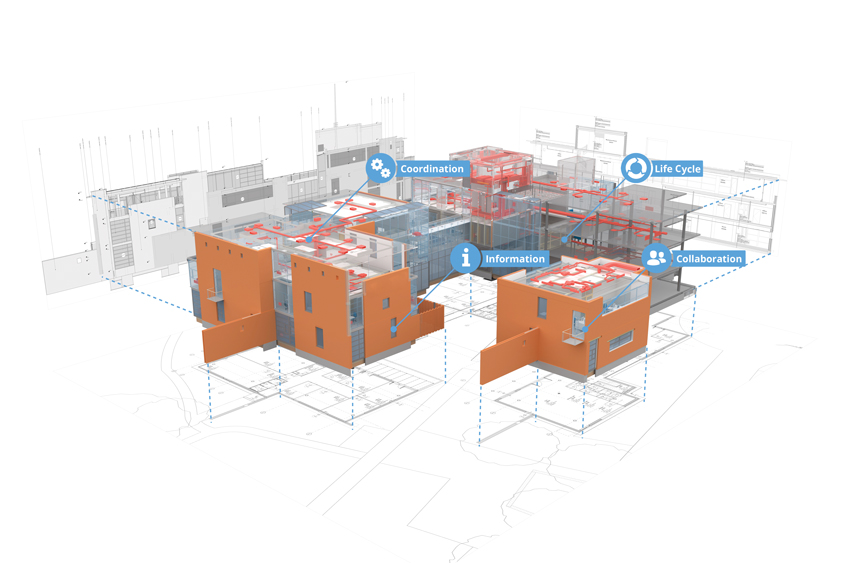 Modeled by GRAPHISOFT
Model: GRAPHISOFT HQ Building
Architect: Építész Stúdió Kft., www.epstudio.hu

BIM organizes the design process so that a building is created using one system of computer models and data instead of a multitude of separate sets of drawings, improving the information available to the team to coordinate and collaborate throughout the design and construction process.
According to the report titled The Business Value of BIM in North America: Multi-Year Trend Analysis and User Ratings (2007–2012) by McGraw-Hill Construction, industry-wide adoption of BIM throughout the architectural, engineering, and construction community in the United States surged from 28 percent in 2007 to 71 percent in 2012. In the past few years, worldwide use of this technology has continued to grow at an impressive rate. The United Kingdom is currently considered the most enthusiastic BIM adopter, with adoption rates estimated at nearly 80 percent. Many countries are requiring the use of BIM for government-funded projects. In South Korea, the Public Procurement Service requires BIM for all public sector projects of a certain size.
One explanation for this incredible increase in BIM adoption points toward the undeniable benefits that BIM now offers. Before BIM, the design process was rigid, sequential, and fragmented, allowing many opportunities for miscommunications, misinformation, and errors to occur. Architects were required to define the project in 2-D and communicate design intent across many separate drawings instead of consolidating the entire project into a single file driven from a 3-D model. Beyond the improved coordination of a project, it is often touted that BIM dramatically streamlines workflow and makes it easier to engage clients in the design process with improved project visualization capabilities, both in 3-D and virtual reality (VR) technologies.
Anthony Laney, Laney LA, describes the moment he knew his firm would make the investment in a BIM solution. "I was sitting at a conference, and a presenter brought out a giant roll of drawings and said, 'This is option A.' Then he held up an iPad and said, 'This is option B,' and he started spinning the 3-D model and flipping through plans, and I knew right then that this was where we needed to invest."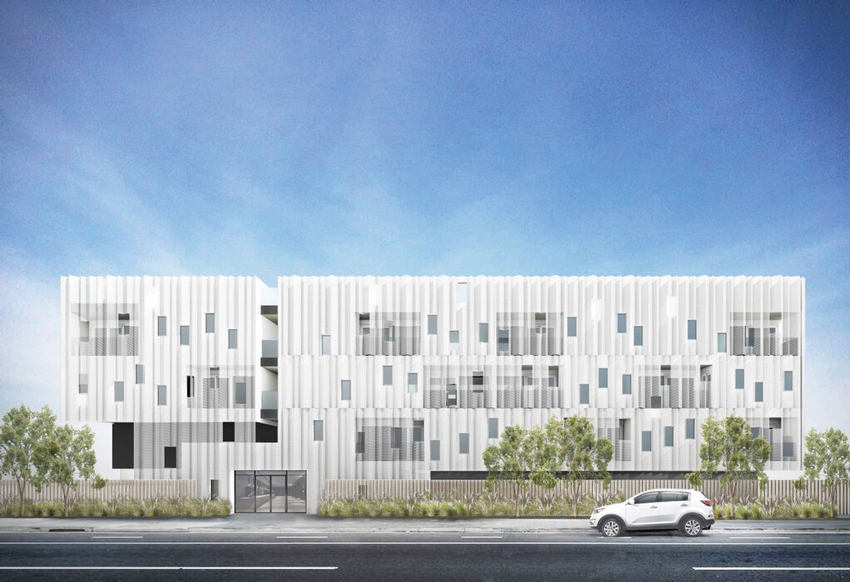 © Laney LA
Project: Carson Residences
Location: Carson, California

"BIM enables the team to engage with the design in a more visually rich way."
—Anthony Laney, Laney LA, @LaneyLAinc
Originally published in Architectural Record
Originally published in June 2018
Notice