Better engaging sophisticated clients in more complex residential design projects, BIM mobile viewing is a game changer
Sponsored by GRAPHISOFT®
Learning Objectives:
Describe how BIM viewing software better engages residential clients and promotes enhanced communication amongst project team members.
Identify how BIM streamlines and expedites the construction document phase.
Explain why BIM is gaining traction with residential architecture firms.
Illustrate how to properly use BIM to enhance creativity in design.
Utilize BIM to easily incorporate homeowner requests for sustainable and energy-efficient designs.
Credits:
This test is no longer available for credit
Architects embarking upon the design of a new or remodeled home are discovering a new kind of residential client.
More sophisticated and informed than ever, today's homeowners are tapping into popular social media sites, like Houzz and Pinterest, where design ideas and photos are searchable and available. With more than 30 million monthly unique users perusing the pages of Houzz and 130 million boards pinned in Pinterest's Home Décor category, consumers have access to literally millions of ideas when it comes to residential architecture and design.
Supplementing these resources are television and YouTube channels, such as HGTV—fully focused on residential designs and DYI projects—and more mobile, tablet-based design apps.
"The amount of media is stunning," observes Monte Chapin, business process leader, GRAPHISOFT North America, Coeur d'Alene, Idaho. "Today, clientele have much more to add and articulate throughout the residential design process."
In place of a couple of torn-out magazine pages, homeowners are now approaching architects with a plethora of designs and photos and a much better idea of what they want their new/renovated homes to look like.
Homeowners can "easily search these sites for design solutions, products, and finishes that they like, and are often coming into projects with dozens, sometimes hundreds of inspiration images," reports Ken Adler, AIA, principal, KA DesignWorks, Aspen, Colorado.
But beyond these photos of modern kitchens, home entertainment rooms, and outdoor patios with fire pits, sophisticated residential owners are requesting materials, detailing, and spatial characteristics they would like their architects to consider.
"Clients have been asking us for buildings that are dynamic, complex, and changeable," says Luke Ogrydziak, AIA, principal, Ogrydziak Prillinger Architects, San Francisco, California. "To successfully develop and build such complex projects, it is essential for us to have the proper tools to engage in a dialogue with our clients throughout the entire process."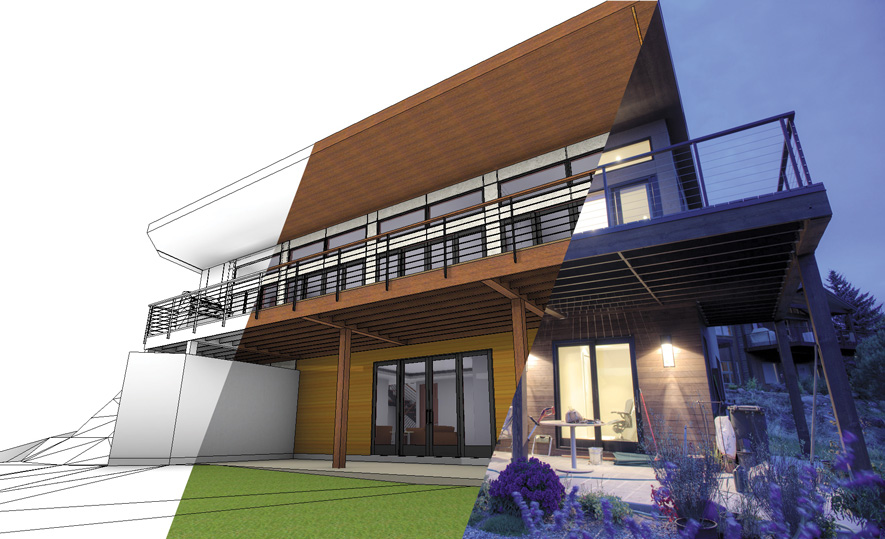 Image courtesy of KA DesignWorks
At the Sopris Drive Residence in Basalt, Colorado, BIM was utilized from schematics through construction to thoroughly vet the design and views of Mount Sopris. The software also allowed for accelerated project completion due to the integrated nature between architect, contractor, and structural engineer.
BIM FOR EVERYONE
This is where BIM's powerful visualization capabilities come into play, as architect and client collectively work to discover the vision and context with which the homeowner seeks.
Thanks to current virtual technology, designers can capitalize on interactive 3-D presentation tools, enabling anyone to view a model.
"This technology is an absolute game changer, not only for the way we previsualize projects, but more importantly, how we help our clients to previsualize their future built home," states David Hertz, FAIA, David Hertz Architects & Studio of Environmental Architecture (S.E.A.), Venice Beach, California. "Our clients, without exception, have been so impressed by the ability to visualize the project, from the ability to create layer sets for different texture mapping of finishes to the integration of being able to reference from 3-D to plan and sections."
"It truly engages the client early on like nothing else," adds S.E.A. Project Manager Ed Milan. "Renderings and plans alone are static. The BIM viewer enables a clearer understanding and deeper conversation of space planning and perception."
Helping clients to easily visualize lines of sight, adjacencies, massing, or volumes of space, designers and users can quickly pull up different view angles and perspectives, switch between the 3-D model and 2-D floor plan, and zoom in on details. As the clients go through these virtual walkthroughs, architects are able to test out various design options and materials in real time.
"This viewing software has allowed us to dial into the experiential qualities of the design in a new way, i.e. what it's like to walk from one space to another, lay in bed, watch TV, or look at the view from various points in the house," explains Meghan Beckmann, AIA, architect, KAA Design, Los Angeles, California. "This comes into play during the design phases and also during construction, when it is hard to visualize or remember what a space is going to look like when the project is in framing."
Along those same lines, Baton Rouge-based Kevin Harris, FAIA, sees BIM facilitating early buy-in, particularly for homeowners who see 2-D floor plans and orthographic projections as what he calls illegible hieroglyphics. "BIM allows me to assist my clients' ability to 'see' and question what they are commissioning while it is still on paper."
While the BIM presentation software is rather intuitive, today's homeowners are also much more tech-savvy and generally pick up the ins and outs of viewing BIM models within the context of what their potential home or remodel might look like.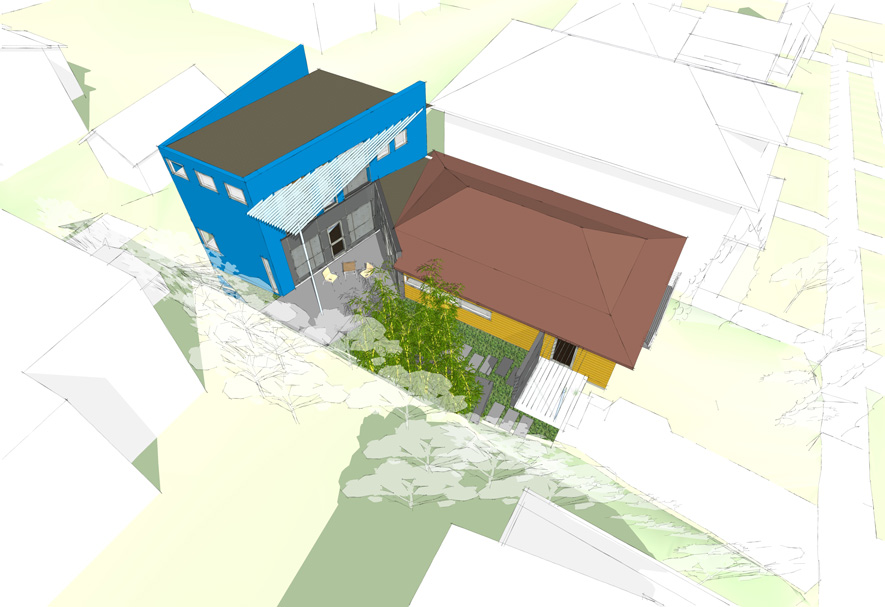 Image courtesy of CAST of Architecture
With the help of BIM presentation software, CAST Architecture helped the owners of this Ward Street Bungalow project in Seattle, Washington, feel more confident about a proposed wedge-shaped courtyard within the backdrop of the steep mountainside.
Notice