Functional Color and Design in Education Environments
Smart choices in color and design facilitate the learning process
This course is no longer active
Sponsored by PPG Paints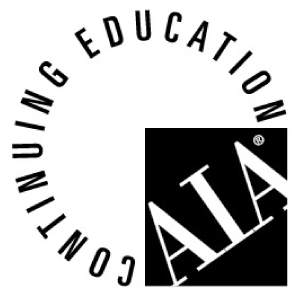 Continuing Education
Learning Objectives - After this course, you should be able to:
Explain the color and design choices that benefit the developmental stages of children in the school environment from grades K through 12.
Describe the philosophy of educational professionals, design authorities, and education researchers on the basic principles of school design and structure that promotes the health, safety, and well being of students.
Discuss each color palette combined with an understanding of light reflectance values in the design process to create effective school environments.
Identify appropriate color and design choices for major areas and rooms within the education environment.
Credits: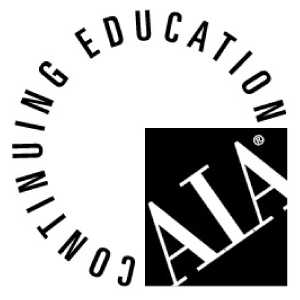 1 AIA LU/HSW
Color is a powerful communicator. It impacts us on many psychological and physiological levels. Color can enhance or impair learning, morale, and behaviors. Studies have shown that color affects a student's attention span and perception of time and can reduce absenteeism and vandalism. In addition to color, incorporating nature and the five senses into design scenarios for schools can have a positive impact on the learning process. While no one color or design scheme is infallible—and are heavily influenced by a host of factors—certain principles apply. This article will discuss the findings of extensive research and explore the role of the color palette, light, nature, and the five senses in the process of designing for preschool, elementary, middle, and high school. Optimum color and design scenarios for each room of the school will be highlighted.
Color Research—What the Experts Say
There is extensive research regarding design initiatives and their importance in the school environment. Study after study concludes that there is an explicit relationship between the physical characteristics of school buildings and educational outcomes. Four studies that evaluated the relationship between school buildings and student achievement reported higher test scores for students learning in better buildings and lower scores for students learning in substandard buildings. One of these studies showed a difference in student test scores ranging from 5 to 17 percent. Another report evaluating school facilities in Milwaukee, completed by the Council of Educational Facility Planners International, found that facility condition may have a stronger effect on student performance than the combined influences of family background, socioeconomic status, school attendance, and behavior. In his article "'Effects of School Lighting on Physical Development and School Performance," Warren E. Hathaway clearly shows that the visual environment is one of the most important factors in learning, affecting mental attitude, class attendance, and performance.1
Education experts agree that getting an education is more than just memorizing facts and figures. It involves a positive social climate within the school and a sense of caring and guiding. Both young children, who enter school for the first time and are away from home, and teenagers facing the pending responsibilities of adulthood, need the support that only a positive school environment provides.
Color helps create an unthreatening learning environment that improves visual processing, reduces stress, and challenges brain development through visual stimulation/relationships and pattern seeking. According to a study by Simmons in 1995, visual stimulation actually rewires the brain, making stronger connections while fostering visual thinking, problem solving, and creativity. The choice of color in schools can have a critical impact, either favorably or unfavorably, on students. Studies have shown that color affects a student's attention span and perception of time and can reduce absenteeism and vandalism. Yet using more than six colors in a learning environment strains the mind's cognitive abilities—a conclusion that underscores the need for a careful approach to color and design in the educational environment.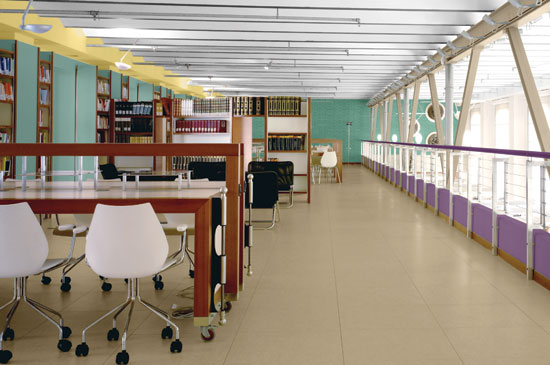 Study areas engender equilibrium, balance, and stillness and should be quiet in design and allow for concentration.
Photo courtesy of Shutterstock.com
Design Considerations—The Role of Nature and the Five Senses
Nature rises to an extraordinary level of importance in designing for education, particularly in terms of its bright colors, full-spectrum lighting, its view out into the world, and learning outdoors. In response to the question of where they would like to be to alleviate stress, 95 percent of individuals respond that they are most comforted and soothed by being outdoors. Many of the field's seminal thinkers have underscored the importance of nature in design. Erich Fromm understood humans' link to nature and created the term biophilia. Noted social critic Edward Wilson stated that we seek a "deep-rooted" connection to the natural world. Steve Kellert, professor at Yale University School of Forestry and Environmental Studies, feels that biophilia is an essential part of sustainable design. Harvey Berstein, vice president of industry insights and alliances for McGraw Hill Construction/Greenbuild 2012 panel discussion, claims that a 32 percent reduction in absenteeism and 68 percent improvement in test scores were recognized in schools with green features.
Another important design consideration is use of the five senses. Educational psychologist A. Jean Ayres notes that "Sensory integration is the ability to take in information through senses...to put it together with prior information, memories, and knowledge stored in the brain, and to make a meaningful response." In 2002, Susan Mazer, president and CEO of Healing Healthcare Systems, stated: "We need to look beyond the visual aesthetic and raise our awareness of sensory influences. Information we receive via all our senses evokes physiological and emotional responses of anxiety or serenity."
Originally published in Architectural Record
Notice