Selecting Rigid Cover Boards in Commercial Roofing Systems
Using a roof cover board on every project is the emerging norm—and the type matters
Sponsored by Georgia-Pacific Gypsum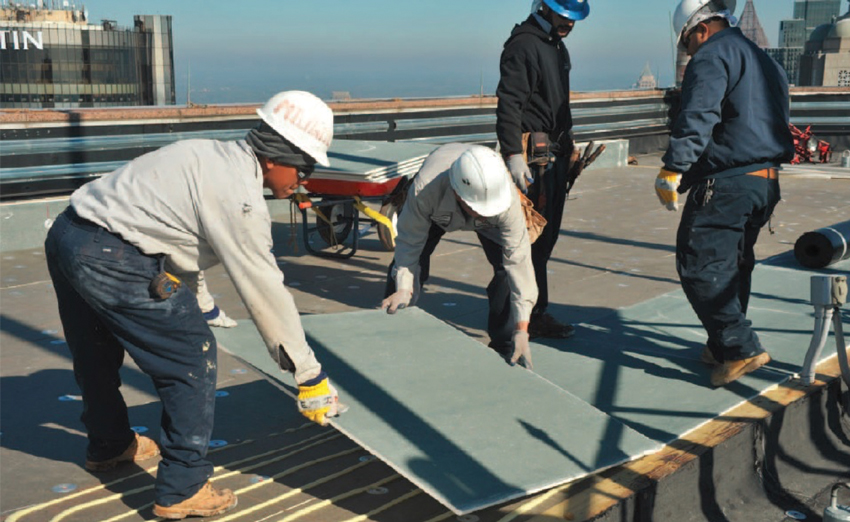 Glass mat gypsum cover boards are composed of a fiberglass mat with a gypsum core, combining the benefits of gypsum products with rigid, water-resistant fiberglass.
As the use of roof board products has grown over time, the choices available have also grown. Here are the most common products on the market today:
Glass-mat gypsum cover boards are composed of a fiberglass mat with a gypsum core. They can be used with all low-slope roofing systems as a cover board as well as a thermal fire barrier. There are several manufactures of glass mat gypsum boards, all with unique qualities. Comparing the published manufacturing specifications is the best way to match the board's performance with your design intent.
Gypsum fiber cover board, a blend of gypsum and cellulose fibers (recycled waste paper), is compatible with most low-slope roofing systems.
High-density polyisocyanurate (HD ISO) is made with closed-cell polyisocyanurate insulation with a high-density core. With the exception of hot asphalt and torch-applied systems, it can be used with all roofing assemblies as a cover board (not as a fire-resistant thermal barrier).
Mineral fiber board is made of semi-rigid rock wool or fiberglass board and is used with hot-mop, torch, and single-ply roofing systems.
Perlite boards comprise mineral aggregate board with particles of expanded perlite or vermiculite, selected cellulose binders, and sizing agents. They offer good fire performance and are used with modified bitumen (mod-bit), built-up-roofing (BUR), and some single-ply roofing systems.
Asphaltic board has an asphalt core with fiberglass faces on both sides. It is typically utilized as a substrate for a variety of systems, including BUR, torch-applied, cold mastic, and mod-bit assemblies.
Clearly it is important to understand the capabilities of any roof board and its compatibility with the type of roofing membrane being used on a building. We will next take a closer look at the performance criteria for all of these roof boards and how they interact with complete roofing assembly systems.
Performance Criteria for Roofing Systems
A typical roof system includes different layers of materials to assure different performance criteria are achieved. The structural roof deck layer can be metal or concrete and provides the supportive base of the roof. A vapor retarder and roof board are commonly the next layers set on top of the deck to prevent unwanted moisture and fire from penetrating into the roof assembly. Rigid roofing insulation comes next, typically in multiple layers and in varying thicknesses. A rigid cover board is placed on top of the insulation for protection and to improve the durability of the roofing membrane, which is installed last over the assembly. Within this makeup, the two most expensive layers are the roof membrane and the insulation. Using comparatively inexpensive rigid cover boards to protect the expensive layers from damage and help assure their long-term performance has become a common best practice. In fact, the National Roofing Contractors Association (NRCA) roofing manual states "…for mechanically attached, single-ply membrane roof systems, designers of newly installed roof systems are now recommended to include a noncombustible cover board that is consistent with an appropriate listing or approval from a code-approved testing agency."
In the following sections, we will look in more detail at the specific criteria for selecting an appropriate roof/cover board.
Fire Resistance
Fire resistance is very important when choosing a roof cover board and it is a critical element in effective roof design. Fire resistance in a roofing system comes from all of the roof components working together such that the choice of cover board can either enhance or detract from fire resistance. Where the decking, insulation, or membrane may be combustible, a noncombustible cover board can contribute to a better fire rating.
There are two predominate fire testing bodies in the United States that are widely accepted in regards to fire issues, including external and internal exposure, code compliance, life safety issues, and insurance premiums.
Underwriters Laboratories (UL): The well-known UL testing and labeling programs are mainly concerned with life-safety issues for the general public—i.e., people who occupy or visit buildings. For construction products, they provide both interior and exterior classification ratings. The three exterior classifications, applicable to roofing systems, in order from most to least stringent, include simply UL Class A, B, and C. These exterior classifications are determined by conducting three specific tests following designated criteria for 1) flame spread (all decks), 2) intermittent flame (combustible decks), and 3) burning brand (combustible decks). Note that for noncombustible decks, only the spread of flame test is required. UL also identifies an interior classification of "P" assemblies that test the resistance to fires that start within the building.
FM Approvals: Previously known as Factory Mutual, FM Approvals is the testing entity part of FM Global. Having grown out of the insurance industry, it focuses on loss-prevention issues and the damaging effects to buildings resulting from fire, wind uplift, foot traffic, and hail. The FM classifications in order from most stringent to least stringent are Class 1, 2, and 3. The sought after Class 1 rating includes a calorimeter test that measures the fuel contributed by the assembly from inside the building. Keep in mind, that lower-risk fire ratings can both ensure code compliance and help reduce insurance premiums. For example, roofing systems that qualify for a FM Class 1 rating will qualify for the lowest insurance rates from FM-affiliated insurance companies.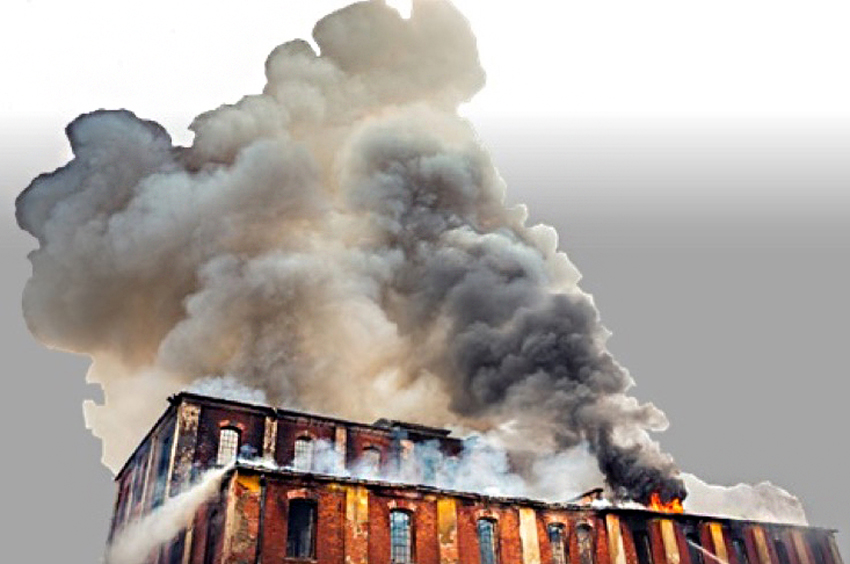 UL and FM testing of materials in roof assemblies helps to assure that both life safety and property protection are maintained in case of a fire.
When selecting roof boards from the available choices to improve the fire ratings of roofing systems, gypsum-based products offer the best known, tested, and proven fire- and heat-resistance characteristics That's because gypsum boards have a built-in fire resistance due to their chemical makeup. Pure gypsum naturally occurs in the form of crystals, known technically as calcium sulfate dihydrate (CaSO4•2H2O). That means it contains two particles of crystalized water per molecule of calcium sulfate. As a result, gypsum (including synthetic manufactured gypsum) is inherently fire resistant since, by volume, gypsum is made up of 21 percent chemically combined water and 79 percent inert calcium sulfate. Put another way, one board of 5⁄8-inch 4-by-8-foot glass mat gypsum cover board contains 2 gallons of crystalized water. During a fire, that chemically combined water is gradually released as water vapor while the remaining gypsum becomes calcined acting as an insulating layer.
Originally published in Architectural Record
Notice