Integral Sheathing Solutions for Multi-Family Projects
High-performance and code compliance come easy with integrated WRB/AB sheathing solutions
Sponsored by Georgia-Pacific Building Products
Learning Objectives:
Describe two types of integrated WRB/AB sheathing panels and appropriate applications for each.
Explain how integrated WRB/AB sheathing panels simplify construction of critical control layers.
Compare integrated WRB/AB sheathing panels to other solutions, such as fluid-applied, self-adhered, and building wrap.
Explain which standards and test methods are used to evaluate integrated WRB/AB sheathing panels.
List the advantages of integrated WRB/AB sheathing panels in multi-family construction and how it affects the health and well-being of the building occupants.
Credits:
This course can be self-reported to the AIBC, as per their CE Guidelines.
As an IACET Accredited Provider, BNP Media offers IACET CEUs for its learning events that comply with the ANSI/IACET Continuing Education and Training Standard.
This course is approved as a Structured Course
This course can be self-reported to the AANB, as per their CE Guidelines
Approved for structured learning
Approved for Core Learning
This course can be self-reported to the NLAA
Course may qualify for Learning Hours with NWTAA
Course eligible for OAA Learning Hours
This course is approved as a core course
This course can be self-reported for Learning Units to the Architectural Institute of British Columbia
Multifamily construction is more competitive than ever. Even as mixed-use projects are filling in desirable tracts in urban cores, developers are locating projects in the suburbs and "exurbs," as well In any case, key demographic groups, including millennials and baby boomers, are driving this demand, and their expectations are high: they want convenient transportation nearby, and they want to be close to restaurants, shopping, and work. Sustainability is important, too, but lowering energy use is no longer enough. Increasingly, the real estate market has embraced the language of low and zero-carbon.
In such a climate, architects and builders need every tool possible to keep their project competitive, starting with the building envelope. Building envelopes utilize four critical "control layers" to protect buildings; the air and thermal layers can also increase energy efficiency.
There are now on the market solutions which integrate a water-resistive and air barrier with either engineered wood or gypsum sheathing, thus simplifying construction and saving time and labor. The integrated panels install just like standard sheathing panels. Once installed and completed with approved system accessories such as seam tapes or liquid flashings, the systems create an integrated air and water barrier, eliminating the need for separate house wrap. For multifamily projects in particular, this technology allows for code compliance and high performance while facilitating speed in construction. And as design professionals know, speed to occupancy make for a satisfied client.
This course will introduce the reader to integrated WRB/AB sheathing solutions. Included will be a discussion of other common solutions, including housewraps, self-adhered membranes, and fluid-applied membranes, and the pros and cons of each, and how they compare with integrated sheathing products. The reader will learn about codes, standards and test methods used to evaluate these products, both separately and as part of the building envelope assembly. Finally, this course will use case studies to demonstrate how these products can be used in commercial projects to achieve high building performance on a tight construction schedule, with an emphasis on multi-family constructions.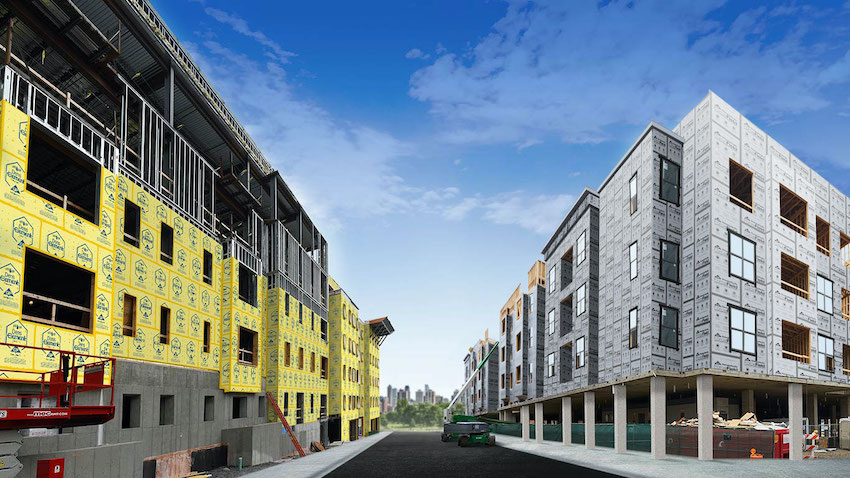 Georgia-Pacific Building Products has a legacy of creating strong, durable, sustainable building materials from exterior sheathing products to drywall in walls and ceilings to industry leading roof products and supporting products from lumber to subfloors to fire doors. We help members of the building community build quality commercial and residential construction projects all over the world. GP Building Products is the largest producer of structural wood panels (plywood and OSB) in North America and is a leading producer of gypsum building products, lumber and composite panels.

We support commercial and residential architects, designers, building material dealers, contractors and builders with tools, education and supporting resources that help the building community advance their knowledge, hone their craft, and make the best product decisions for their projects.
Originally published in January 2021
Notice