At the Roof Edge: Water, Air, Thermal, and Vapor Control
"Out on the edge you see all the kinds of things you can't see from the center." - Kurt Vonnegut
Sponsored by GAF
Enabling Success
Identifying and maintaining continuity of the four key control layers is important in the design phase. To get the design intent implemented in the field, detailing and identification of the control layer(s) in the drawings and specifications is critical. This can require the design to be pretty specific—more than just "or equal" or "by others." Specifying materials with known compatibility is important. And if the sequencing of components and members in the field impacts the intended continuity or performance of the control layer in the design—it should be addressed.
These challenges should be considered for every project. Standard details aren't able to capture project complexities such as high-to-low parapet transitions, terminations into a rising wall and curtain wall flybys. These conditions all require unique detailing that must include continuous and well-conceived transitions. It's important to remember that control layer discontinuities can lead to failures in the field. For instance, air leakage can lead to concealed condensation, which can be mistaken for roof leaks.
Complexity is Common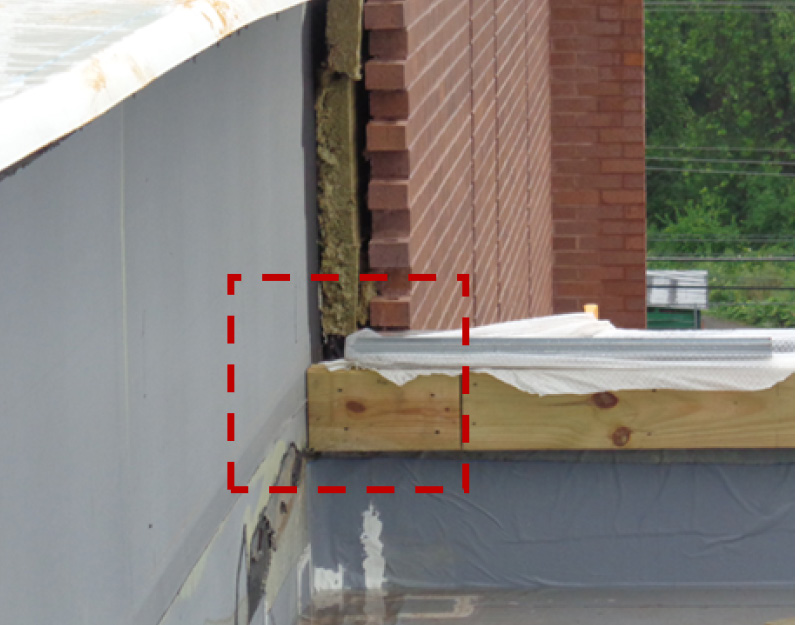 Common complexity at parapet-to-wall interface.
Parapet assemblies include numerous components and accessories. That often results in complicated interfaces even before reviewing design-specific conditions. Critical detail locations are often difficult to illustrate on 2D drawings alone and can require exploded diagrams and/or sequence information to communicate the design intent. Additional complexity is common for parapets at the following locations:
Parapet wall terminating into an adjacent building wall
Height or material changes of the parapet wall
Parapet with cladding on both sides of the wall system
Eave and soffit conditions extending past the exterior wall face
Curtain walls extending beyond the roofline
Inside/outside corners of parapet walls
Scuppers and other penetrations
Engaging a building enclosure professional and selecting products with details and field support to assist in maintaining the four key control layers (water, air, thermal and vapor) is critical to achieving the optimal performance of the building enclosure.
Coordination is Key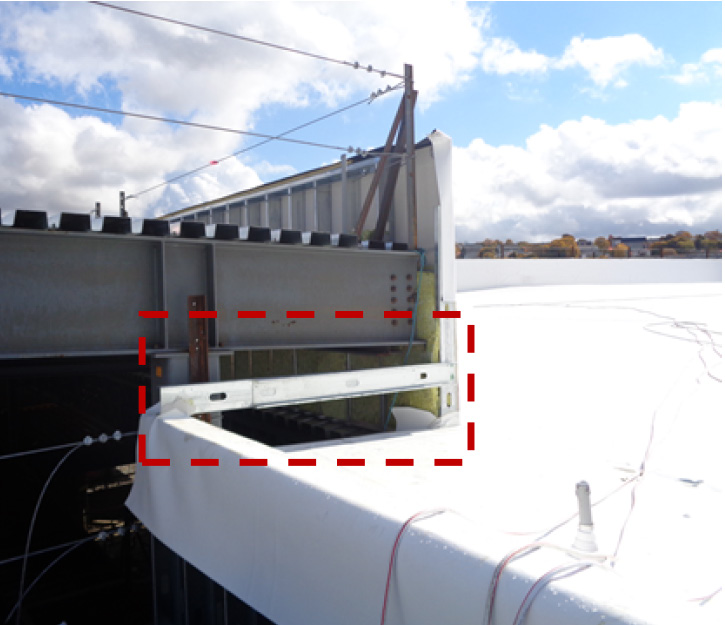 End wall not assembled at parapet termination.
The project design and details should consider construction sequencing, access and replacement across the expected life of the building. The framing contractor, for example, should be allowed to complete the construction of the primary framing before beginning the installation of the air barrier components. Sequencing the work of different trades makes it easier to coordinate air barrier installation. Sometimes it's necessary for one trade to pause one phase of work in order to pre-treat a critical interface before proceeding (e.g. "pre-stripping" the roof joint at a platform framed parapet wall.) Early, clear and frequent communication helps to keep everyone on the same page. The following are best practices for enabling communication between the owner, general contractor, trade contractor, architect, building enclosure professional and performance testing agency:
Prior to Construction
Meet with design team, contractor and affected sub-trades to discuss control layer continuity strategy and details.
Affirm the expected service life of the building and systems installed in conjunction with the control layers.
Make final material selections and confirm compatibility of substrates and accessories across roof and wall systems.
Confirm requirements for manufacturer warranties and/or guarantees across wall and roof systems.
Confirm sequencing and mobilization expectations across trades. Who goes first? Who has to come back?
Discuss the quality control and quality assurance procedures during installation.
Prepare mock-up(s) demonstrating the parapet details.
During Construction
Weather and overnight protection during on-site parapet assembly.
Consult product literature prior to use of all roof and wall products to ensure instructions are followed at parapets.
Install control layer pre-stripping, blocking, and accessories, as required, at penetrations, details, and interfaces to maintain continuity.
Minimize "blind" attachment through exterior finishes into the structure and sheathing.
Involve manufacturer or certified professionals, as required, to establish warranty and/or guarantee requirements.
Notify enclosure professional when air barrier details are ready for review, which may include the roof vapor retarder or roof membrane.
Perform qualitative and/or quantitative testing to verify water and air control performance and identify air leakage locations; document any resulting design changes.
After Occupancy
Document and communicate critical continuity details for maintenance and replacement in the future.

This includes methods for maintaining air barrier continuity upon replacement when the roof membrane is designed as part of the continuous air barrier, and/or conditions where "hidden" elements like closed-cell spray foam in the parapet assembly are integral to the performance of future replacements.

Perform, schedule and document regular inspections, maintenance, and repairs of the parapet conditions.
References
1How Air Barriers and Low-Slope Roofing Can Work Together
2, 5Air Barriers versus Vapor Retarders
3An Analysis of Wind Load Design—Load Side
4The Details Make the Difference in Wind Design
6Value Engineering—Optimizing Performance or Reducing Costs?
7R-Value Optimization: A Case Study
Benjamin Meyer, AIA, LEED AP is a Roofing & Building Science Architect with GAF. His previous experience includes: enclosure consultant principal, technical management for enclosure products, architecture, real-estate development and construction management. He serves as a Member of the LEED Technical Committee, Member of the ASHRAE 90.1 Envelope and Project Committees and a Director of ABAA. To connect with Ben, visit www.linkedin.com/in/benjamin-meyer-728740a.
| | |
| --- | --- |
| | GAF is North America's largest and most advanced roofing and waterproofing manufacturer. With customer-driven innovation, the company has protected homes, businesses, families and communities for over 130 years. With plants strategically located across the country, more homes and businesses in the U.S. are protected by a GAF roof than any other product. GAF protects what matters most. |
Originally published in May 2021
Notice