Health and Transparency in Product Declarations
Using emerging standards and resources to specify products that are consistent with environmental quality and human health
Sponsored by Forbo Flooring Systems
Learning Objectives:
Identify the process and international standards involved in creating a life cycle assessment (LCA) of interior and exterior building materials and products.
Investigate the nature of Environmental Product Declarations (EPDs) and their emerging role as part of green building certification programs for indoor environmental quality.
Evaluate specific emerging programs that define Health Product Declarations (HPDs) indicating both human and eco-toxicity of materials.
Explain the processes used to determine a product's EPD and how it differs from the requirements of the HPD.
Credits:
This test is no longer available for credit
When selecting and specifying building materials, architects and interior designers need to rely on data from manufacturers regarding the make-up and performance of those materials. In order to verify product claims, independent testing or certification is required so the building owner has some basis to feel comfortable and protected in the selections being made. This type of process has been routine for decades related to things like fire safety, structural integrity, and worker safety. Another category of information is becoming common and in some cases being demanded related to building products of all types, namely the environmental impact of products and materials. The emerging use of standardized Environmental Product Declarations (EPDs) is quickly becoming the tool that can inform those who specify products on a range of environmental issues. This is fundamentally viewed as a good thing since it makes the manufacturing process and the true make-up of the product more transparent to everyone involved. However, there are still some limitations in the data made available through the criteria behind the EPDs or disclosed by some product manufacturers. Recognizing this, a movement has begun that looks deeper into the impacts of building products not only on the natural environment, but also on human health as well. In order to get the whole truth about the environmental and human health impacts of the products being specified, complete transparency in reporting is needed by industries and individual product manufacturers.
Defining Environmental Product Transparency
Ever since 1987 when the UN-sanctioned Brundtland Commission convened, Sustainable Development or "Sustainability" has been defined as the kind of development that meets the needs of the present without compromising the ability of future generations to meet their own needs. Needs have been broadly and variously defined, but the intent is to allow all generations, all social classes, and all geographic locations around the world not only to sustain themselves, but in fact to thrive.
Working from this point, different industries and organizations have used this concept of sustainability as an overarching motivation to move their individual areas of expertise forward.  In terms of the design and construction industry, this focus took shape in the early versions of green building rating systems such as the USGBC LEED® program. As these programs have incrementally evolved, Life Cycle Assessment (LCA) has become an agreed upon basis for measurement of the total sustainability impact of a building or its component parts. As the development and usage of LCA tools and computer software has matured, even the smallest of start-up companies and product manufacturers can now accurately assess their environmental and sustainability footprint. The key variable, of course, is how detailed and how complete an analysis should be performed?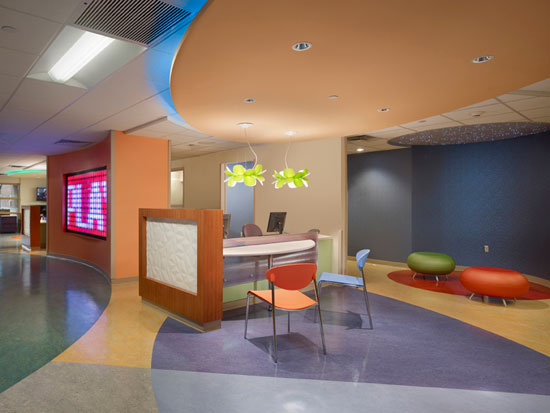 Products and materials used in buildings can either contribute to or detract from the health of the environment and human well-being.
Photo courtesy of Forbo Flooring Systems
Originally published in September 2014
Notice