Creating Healthy Learning Environments
Identifying and removing toxic hazards from educational buildings
Sponsored by Forbo Flooring Systems
Learning Objectives:
Identify and recognize the current state of educational facilities and the issues related to healthy indoor environments.
Investigate the human impacts of toxins found in common building products used in school and educational buildings.
Assess the available tools available to help design professionals and others gain transparency into the make-up and toxicity of building products.
Specify products for educational facilities that are healthier, more sustainable, and cost effective over the life cycle of the building.
Credits:
This test is no longer available for credit
Across the United States it has been documented that there are currently over 100,000 public and private K-12 schools plus over 5,000 colleges and universities that collectively define the education sector of our society and the built environment. These buildings and facilities are central forces in the lives of some 60 million K-12 students, 20 million college students, and 13-15 million faculty members and support staff. Altogether, that represents almost one-third of the U.S. population who spend a significant portion of their waking hours in an educational setting.
We take for granted that these facilities are safe, healthy, and productive environments in which children and adults can learn, grow, and develop. However, solid scientific evidence is increasingly linking the epidemic rise in serious health issues among our nation's youth to exposure to conditions and toxins emitted by what have been considered "standard" school building construction materials, cleaning products, and maintenance practices. The alarming reality is that educational settings may in fact be a hotbed of hazards that are compromising the health of their occupants and children's ability to learn.
The Current State of Schools
According to the National Center for Education Statistics, the typical American school was built in the 1950s to 1960s and is an average of 50 to 60 years old. They have determined that most have outdated building products and outmoded maintenance procedures. The United States Environmental Protection Agency (EPA) has recognized the potential for problems within an aging inventory of school buildings and conducted a study titled "Indoor Air Quality Tools for Schools: Actions to Improve Indoor Air Quality." They found that up to half of our nation's schools have problems associated with indoor air quality, most notably from the growth of mold and mildew created by damp indoor environments. In related work, other EPA studies confirm indoor levels of pollutants in buildings, including schools, may be over 1,000 times higher than outdoor levels.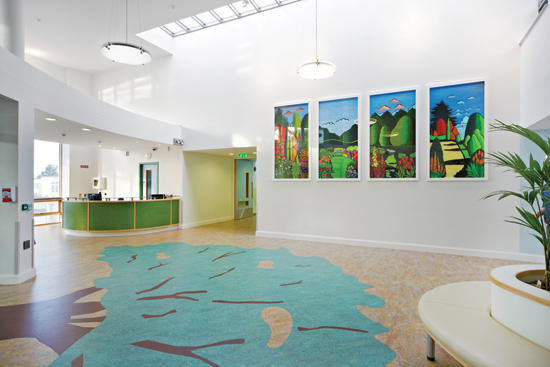 Photo courtesy of Forbo Flooring Systems
Selecting building products for education facilities that do not contain harmful chemical compounds or require extensive cleaning, helps create healthier indoor learning environments.
Originally published in Architectural Record
Originally published in March 2015
Notice