Creating Healthy Healthcare Environments
The choice of products can affect the health of staff and patients in healthcare facilities
Sponsored by Forbo Flooring Systems
This test is no longer available for credit
It is important to realize that natural products like linoleum can be used very effectively beyond flooring applications. Linoleum is commonly used as a furniture surface material on nurse's stations, desks, carts, and other permanent surfaces where naturally anti-microbial, anti-static, and easy to clean properties are desired. It can also be used as a cost-effective, highly durable and repairable wall covering or wainscoting for corridors and other areas needing protection. And linoleum bulletin board surfacing material has a multitude of applications. Made from the same natural ingredients as linoleum flooring, it is ideally suited for use as a wall mounted notice board or as a durable finish on furniture, door panels and cupboards.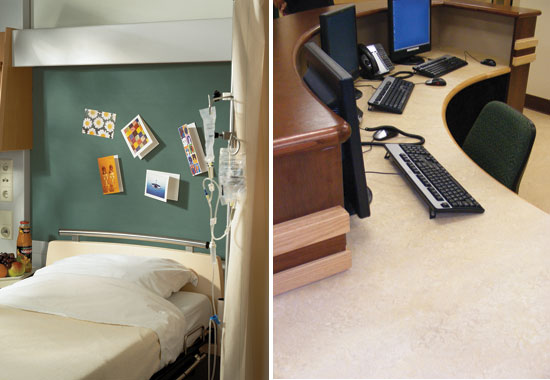 Photos courtesy of Forbo Flooring Systems
Linoleum is a versatile product suitable for use on wall and desk surfaces where natural antimicrobial qualities are needed or desired.
LEED® and Health
The LEED® rating system as developed by the U.S. Green Building Council (USGBC) has always included significant attention to indoor Environmental Quality (EQ). This system provides a standard for what constitutes a green building but it is important to point out that no single product obtains a LEED credit. Rather, it is the entire building design that is looked at and rated. Nonetheless, natural products like linoleum can readily contribute to a number of credits under the LEED rating system as part of an overall green building design. The LEED 2009 system is in place until the year 2015 which overlaps with LEED version 4 introduced late in 2013. Since buildings are currently being designed under both systems, credits available will vary based on the version used for a particular building.
The Materials and Resources category under LEED v. 4 takes a more holistic approach to defining the green nature of building products compared to LEED 2009. There are still credits for things like Building Re-use and Construction Waste Management, but the rest of the approach focuses on the full life cycle of those products. The key documentation needed to demonstrate performance under this approach is a life cycle assessment (LCA). The results of the LCA are then reported out in an Environmental Product Declaration (EPD). Individual manufacturers or a trade association can prepare specific or generic EPDs for products. The overall intent is to address an emphasis on transparency in the sourcing, ingredient make-up, and manufacturing processes. As called for in LEED v. 4. EPDs are intended to provide Life Cycle Assessment based information and details about the products' environmental aspects thus assisting purchasers and designers in making informed comparisons between products. Properly performed, environmental impacts are assessed throughout the product's life cycle, including raw material extraction, transportation, manufacturing packaging, use, and disposal at the end of a building's useful life.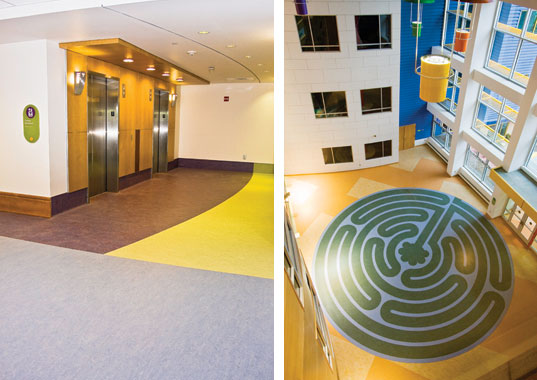 Photos courtesy of Forbo Flooring Systems
The Children's Hospital of Pittsburgh used linoleum flooring for an environmentally safe, clean, and attractive design solution that contributed to a sustainable building design.
Several LCA studies have been undertaken on commonly used flooring products. In 1993, Utrecht University's Department of Science, Technology and Society in The Netherlands found that, thanks to the use of natural raw materials, linoleum was clearly the most environmentally compatible floor covering compared to vinyl, wool carpets, and synthetic carpets. The researchers concluded "Comparison shows that linoleum is clearly the best." A further LCA in 1995 at Chalmers University of Technology in Gothenburg, Sweden was performed in collaboration with the vinyl, chemical and linoleum flooring industries and timber and wooden floor suppliers in Sweden. The conclusion of this LCA states: "Utilizing the most recent data, linoleum has impact values in two of the three assessments similar to those of traditional environmentally compatible pinewood flooring." In the year 2000, a linoleum only LCA carried out by the Center for Environmental Science, University of Leiden in The Netherlands, concluded that the environmental impact of linoleum was very small. "Potential areas of improvement were identified, and various actions carried through to ensure even more optimal environmental performance."
When pursuing LEED certification, the USGBC is not asking project design teams to conduct LCAs or to become LCA experts. Instead, a request should be made for an identified manufacture to provide an EPD that discloses the required LCA-based information. In essence, LEED® version 4 will ask product manufacturers to gather the life cycle information on their products and to disclose relevant portions of that information in the standard EPD format. This affects four out of the five MR credits beyond the prerequisites and can contribute towards up to 11 points in the process. In addition to earning points in this revamped MR section of LEED v. 4, an Innovation in Design credit remains available for use of products with SMaRT Certification. This is a separate, independent designation that manufacturers can earn for products that show superior qualities of sustainability. Linoleum is one of the products that has achieved that designation.
LEED v4 has also been updated for some particular building types such as healthcare and schools. LEED for Healthcare in particular recognizes the need to reduce the release of persistent, bio-accumulative, and toxic (PBTs) chemicals in building materials. There are specific credits and points in this version accordingly. LEED for schools also places a high emphasis on IEQ requirements for classroom settings that are focused on creating healthier, safer indoor environments. In both of these settings, the natural product make up of linoleum with its lack of added chemicals will help to insure a desirable outcome.
When selecting or specifying linoleum for any of these settings, there are a number of items to be aware of to assure a fully sustainable design. For example, if an adhesive is required for any installation, be sure it is based on using solvent-free products. Similarly, selecting a floor finish surface that allows for removing dust and loose dirt by dry dust wiping will have the most positive influence on the environmental performance of linoleum. Under normal conditions linoleum floors in healthcare applications do not need significant quantities of disinfectants to be applied. The limited use of water and chemicals contributes very positively to the economic life cycle of the product.
Originally published in Architectural Record
Notice