Creating Healthy Healthcare Environments
The choice of products can affect the health of staff and patients in healthcare facilities
Sponsored by Forbo Flooring Systems
This test is no longer available for credit
An Alternative Green Response: Natural Materials
While the larger problems of bacterial infestation and indoor environmental health may not lend themselves to quick, easy solutions, some steps can create an immediate improvement. Recognizing that there are alternatives to toxic or polluting solutions, the U.S. EPA has recommended that hospitals and other institutional or commercial facilities adopt an Integrated Pest Management (IPM) program to fight the super bug scourge. The IPM approach balances the need for effective control of hazards with a more global concern for the healthiness of everyone impacted, from patients and caregivers to beneficial microbes and bacteria. Three key steps are commonly part of an IPM program:
Prevention Rather than Poisoning
The EPA's approach focuses on investing time and effort to minimize risk, rather than reacting to preventable threats after they arise. The goal is to avoid surfaces that promote bacterial growth, to disinfect surfaces more frequently with milder cleaners, and to encourage activities (like hand washing and cough etiquette) that reduce the likelihood of transmitting infection.
Focus on Natural Alternatives
The EPA acknowledges that many products that tout themselves as antimicrobial are actually impregnated with chemical pesticides or biocides that can jeopardize the health of a vulnerable healthcare population. A good first move is to replace products that add to the problem with ones that reduce the risk naturally, without the need for toxic chemical additives or expensive installation or maintenance procedures. The use of natural materials which can naturally inhibit bacterial growth without additives can achieve the same result without exposing patients and healthcare givers to the risks of pesticides and their bio-accumulative toxicity.
Setting an Action Threshold
It is virtually impossible to totally eliminate bio-based risks, so the wiser strategy is to set an acceptable level of sanitation and maintain it consistently. This allows facility managers to sustain a healthful environment without expending vast resources to achieve a marginally negligible improvement.
When following this IPM approach and looking for alternatives, it is important that those alternatives are well understood. Recognizing that PVC has been identified as a material to avoid, many well-meaning design professionals consider substituting "rubber" alternatives for PVC-based products. While believing rubber to be a more natural product, the truth is that the vast majority are synthetic rubber products with little to no natural rubber content. While they do not emit phthalates, they contain other Chemicals of Concern in significant amounts. For example, studies done by the European Resilient Flooring Manufacturer's Institute (ERFMI) indicate the overall environmental impact of synthetic rubber flooring is substantially worse than that of PVC. If you want to avoid toxic chemicals, combat global warming, and save scarce resources, PVC is a poor choice. Synthetic rubber products can be an absolutely disastrous one. The Resilient Floor Covering Institute (RFCI) recently published product category EPDs indicating that all rubber products in the United States have a binder of only 0.6 percent natural rubber, with the balance being synthetic rubber (http://www.rfci.com/environmental-product-declaration/rubber-floor-tile/).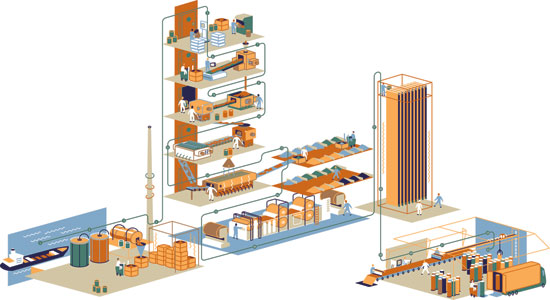 Photo courtesy of Forbo Flooring Systems
The manufacturing process of linoleum relies on natural ingredients and a concerted effort by manufacturers to reduce the amount of energy used in the process.
Linoleum: A Natural Alternative
When selecting or specifying materials and products in buildings, architects and designers have many other choices. Those choices can be beneficial to the indoor environment or not. We will use flooring as our primary example here to demonstrate that it is one of many products that can be selected using the principles discussed thus far to create safer, healthier, indoor environments.
There are a number of flooring choices besides PVC or synthetic rubber products. Among them is a sometimes overlooked choice in linoleum. First invented in 1860 linoleum has always been considered to be an excellent, inexpensive material for high use areas. In the late nineteenth and early twentieth centuries, it was favored in hallways and passages, and as a surround for carpet squares. However, many people may still associate linoleum with its common mid-twentieth century use on kitchen and bathroom floors. Its water resistance enabled easy maintenance with readily sanitary cleaning while its resilience made standing on it easier on the body. From an aesthetic standpoint, it offers a range of colors and artistic options. In fact, early in the twentieth century, a group of artists including Pablo Picasso and Henri Matisse created works of art out of linoleum by adapting the printmaking techniques for woodcut prints to linoleum, thus creating the linocut printmaking technique.
The linoleum production process has existed for more than a century. It is a craft which essentially consists of oxidation, mixing, calendaring and drying the various ingredients into a finished product. The ingredients used are in fact all natural and mostly bio-based including the following:
• Rosin, the key agent in the first steps of producing linoleum is tapped from pine trees, usually without affecting growth. Together with linseed oil, rosin gives the finished product its strength and flexibility.

• Linseed oil, the most important raw material used to make linoleum, is obtained by pressing the seeds of the flax plant. In the past linseed oil was used as cooking oil, as well as for lighting. Adding tall oil, a recycled post-industrial by-product of the kraft paper industry, optimizes the oxidation process in the production of linoleum.

• Wood flour is used to bind the pigments and to ensure colorfastness meaning that linoleum is able to keep its vibrant colors throughout its lifespan. Another reason for using wood flour is that it helps to give an especially smooth surface. Some manufacturers have chosen not to use tropical hardwood flour, instead using wood flour made from timber grown in controlled European forests, where every tree felled is replaced.

• Cork flour is made by grinding the bark of the cork oak, which is grown around the Mediterranean. The bark is peeled off every seven to ten years without affecting the tree's growth. Cork flour is used as a raw material in some linoleum products.

• Limestone, when very finely ground, is a valuable ingredient for the strength of linoleum products. It is found all over the world in enormous quantities.

• Pigments are selected to create a wide range of attractive colors. By using ecologically responsible pigments that do not contain heavy metals such as lead and cadmium, manufacturers keep linoleum free of harmful substances. The pigments are used so that the coloring extends all the way through the thickness of the finished product.

• Backing material, including webbing for the linoleum, can be made from a wide variety of materials. Natural jute is commonly preferred that is grown as a renewable material in places like India and Bangladesh.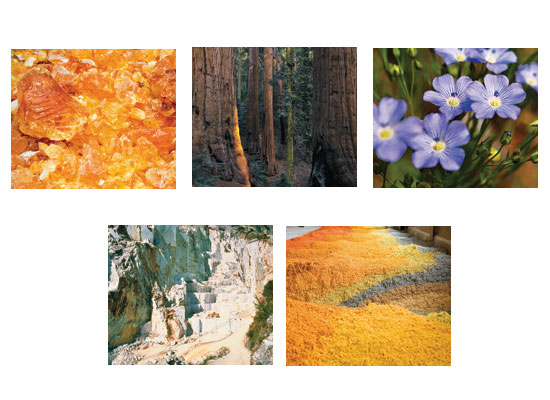 Some of the natural ingredients used in linoleum production include rosin, cork bark, linseed oil from flax, limestone, and environmentally friendly pigments.
Linoleum finished products using these natural ingredients commonly include sheet, tile, and specialty floor coverings that are very well suited to the needs and demands of a healthier, safer indoor environment. In part that is because it is easier to clean and care for than other alternatives. But another important characteristic is its ability to provide natural antimicrobial functions without using any pesticides or biocides. Linoleum is made of natural ingredients that resist microbial growth by their very nature. It has been shown to fight those mutated super bugs including the dreaded CRE bacterium which don't spread effectively on a linoleum surface. Nor will MRSA, C. dif and the other new super bugs. The garden variety bacteria that cause stains and odors won't grow on linoleum either—all due to the natural properties of the ingredients used.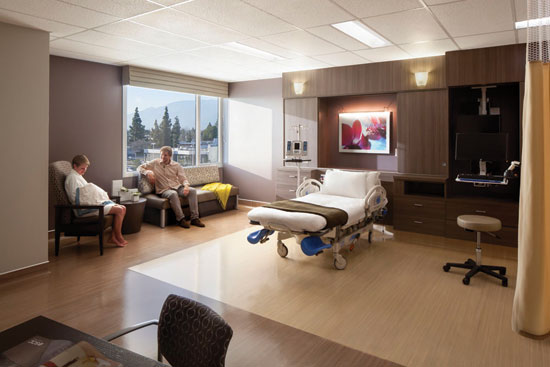 Photo by HMC Architects/Van Dyke Productions; courtesy of Forbo Flooring Systems
Kaiser Fontana Medical Center, Fontana, California
From a green building standpoint, linoleum is 100 percent bio-based and biodegradable.
Independent life-cycle assessments (LCA) have been performed that prove that linoleum is far less harmful to the environment than vinyl and synthetic rubber. Thanks to a formulation that is free of the environmental toxins emitted by vinyl and synthetic rubber flooring, linoleum minimizes threats to current human health and the genetic wellbeing of future generations.
There are some practical benefits from installing linoleum as well. The nature of the product is that pieces seal tightly together meaning that seam welding is not required. By eliminating the cracks between seams that serve as bacterial breeding grounds in vinyl floors, linoleum fights infections while saving time and cost in installation. Linoleum also outperforms vinyl and synthetic rubber in dimensional stability, hygienic protection (when properly installed with net fit seams), and resistance to topical moisture. Linoleum is occupancy-ready at installation and half as expensive to maintain, freeing maintenance staff to create a cleaner, more hospitable healthcare environment. In terms of durability, the 25- to 40-year service life of linoleum far outperforms vinyl or synthetic rubber.
Originally published in Architectural Record
Notice