Efficient offsite construction that leads to onsite benefits and challenges
Provided by Engineering News-Record
Learning Objectives:
Describe how Salt Lake City's modular standards address offsite construction.
Explain the role of BIM in modular design.
Discuss the elements of SpeedCore and its modular construction benefits.
List some of the challenges in terms of attitudes toward modular construction.
Credits:
BNP Media has met the standards and requirements of the Registered Continuing Education Program. Credit earned on completion of this program will be reported to
RCEP.net
. Certificates of Completion will be issued to all participants via the
RCEP.net
online system. As such, it does not include content that may be deemed or construed to be an approval or endorsement by the RCEP.
This course may qualify for continuing education through the FBPE.
This course may qualify for continuing education through the NYSED. For further information, please visit the NYSED website at
http://www.op.nysed.gov/prof/pels/peceques.htm
.
Below are a set of links to articles. Click on each link below to read the articles and then complete the quiz to earn your credit and certificate of completion.
Modular construction has become a hot method for buildings, saving time and money and allowing for flexible design. This course looks at the latest trends and most recent standards in modular construction, its challenges and benefits and the way in which BIM planning enables modular designs.
First Modular Standards Aim at Consistency in Design, Construction, Regulation
Salt Lake City adopted the nation's first two consensus standards, in advance of their publication by the International Code Council and the Modular Building Institute, that address offsite construction. The aim is to bring consistency to offsite projects—for manufacturers, building teams and regulators. This article looks at the standards, which are complementary and part of an effort to lower barriers to trade for offsite products, which often involve navigating a patchwork of regional regulations.
Nadine M. Post
SmartMarket Report Highlights How BIM Planning Enables Prefabrication and Modular Construction
According to Dodge Data & Analytics's new SmartMarket report, "Prefabrication and Modular Construction 2020," 90% of contractors, specialty contractors and modular builders using prefabrication or modular construction who were surveyed said they improved productivity, achieved better quality and increased schedule certainty when using prefabrication and modular construction methods, compared to traditional construction methods. This article explains the survey, including the attitudes around owners versus contractors and the role of BIM in modular design.
Jeff Yoders
Rainier Square Erector Says SpeedCore Could Rise Even Faster
Seattle's 40-story Rainier Square Tower features a composite steel frame that, thanks to its novel Lego-like, plate-steel sandwich core, sprang up in only 10 months—twice as fast as a steel frame trailing a concrete core. This article looks at the high-rise construction system known as SpeedCore and explores the vital module prefabrication phase that is critical to its success.
Nadine M. Post
Creating Offsite Prefab Sites Is a Complex Process
Evidence of offsite prefabrication can be found in the number of contractors investing in off-site facilities where many field-based construction tasks can be consolidated and performed in safer production-line environments. This article looks at the challenges and critical components of this construction trend.
Jim Parsons
Flying High Over SpeedCore's Second Generation
A SpeedCore job is considered safer and better, proponents say. With prefabrication, there is easier dimensional control. Much of the work is done at waist height in the fabrication plant. This article features a high-rise in San Jose, Calif., that used the modular steel-plate shear-wall sandwich system to its advantage.
Nadine M. Post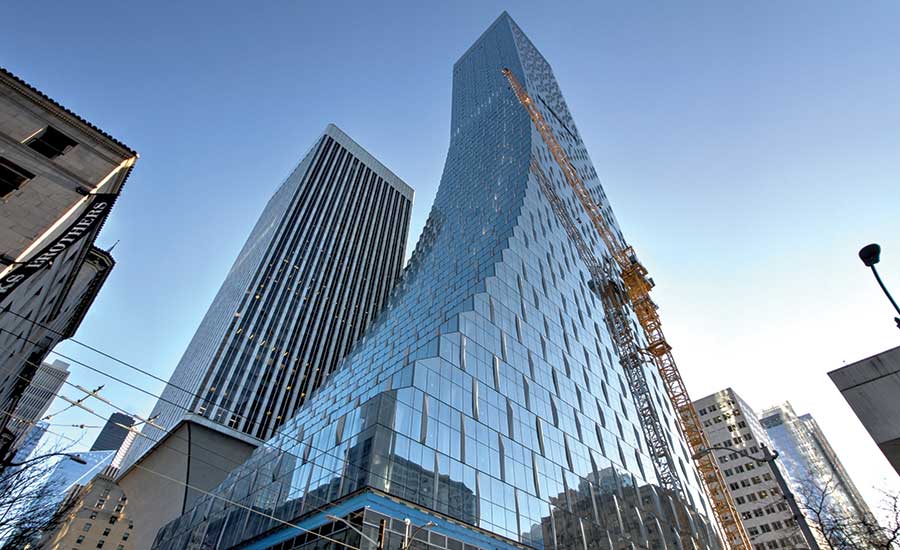 Photo courtesy of Michael Dickter/MKA
Rainier Square Tower's shape was inspired by the 12-story pedestal of its neighbor Rainier Tower, which houses MKA's offices.
Originally published in December 2022
Notice