The Characteristics of a High-Quality LED Luminaire
Achieve performance, efficiency, and aesthetic goals by specifying superior lighting fixtures
Sponsored by ELP Lighting
This test is no longer available for credit
Assembled with Good Quality
There are also characteristics of the fixture that expose the quality of the manufacturing process and directly contribute toward the overall durability of the fixture itself. Lighting fixtures assembled by weld construction and painted post construction offer unmatched durability and indicate the highest-quality manufacturing.
Assembled by Weld Construction
Lighting fixtures are constructed in three different manners. They can be held together by tabs, by screws, or welded together. Fixtures assembled with tabs are notoriously flimsy and generally considered the bane of a lighting project by contractors everywhere. One reason for their frustration is that tab construction relies on gravitational pressure to maintain the integrity of the structure. This system is readily disrupted when the fixture is lifted out of the box on the job site, causing it to fall apart in the hands of an exasperated contractor. Fixtures that are assembled with screws offer more stability than tab construction, but a fixture that has been welded together is the strongest.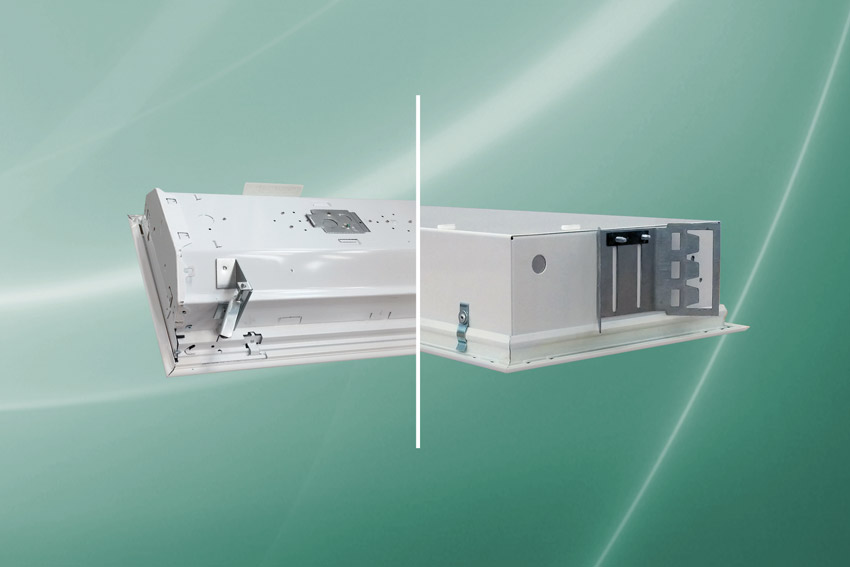 Image courtesy of ELP Lighting
The weld construction, post painted housing on the right maintains its structural integrity, whereas the tab construction housing on the left has pre-painted pieces that can contort and come apart while being handled and installed.
The construction method of a lighting fixture may not be something that is readily promoted in the marketing literature, especially if the fixture is held together by tabs, so the best way to ensure that a quality fixture is being specified is to request a sample. Look at how the joints of the fixture are joined to determine whether or not it is assembled by tabs, screws, or welding. If there is no tab or screw visible at the joint, then the fixture must be welded.
Painted After Construction
The painted steel used in a lighting fixture is either painted before the fixture is constructed or after. It is easier to use steel that has been prepainted, but there are some aesthetic and durability concessions made when this material is used. Any cuts made in a prepainted metal will leave a raw and exposed edge. Not only does this look less finished, but it leaves an opening for rust to begin forming, which can lead to the deterioration of the fixture over time. Fixtures that are weld constructed are always painted after they are assembled. Post-construction painting provides a finished and fully protective coating over the entire fixture, regardless of any cuts or abuse the material may have endured during the construction process.
Safety Tested and Certified by NRTL
OSHA's Nationally Recognized Testing Laboratory (NRTL) Program, which includes organizations such as UL, CSA, and ETL, ensures that products are electrically safe per approved testing standards. After demonstrating a product's compliance, the manufacturer is authorized to apply a registered certification mark to the product. Requiring that lighting fixtures be NRTL certified is an important step in protecting the safety of the construction team and ensuring that the product is rated for safe use in the intended environment.
Easy to Install
Another important differentiator in the world of lighting fixtures is the ease of installation. There are three items that are extremely helpful in securing a smooth and hiccup-free installation: good, clear instructions; all of the mounting brackets necessary to install the fixture arriving with the fixture; and the ability to accommodate different installation applications.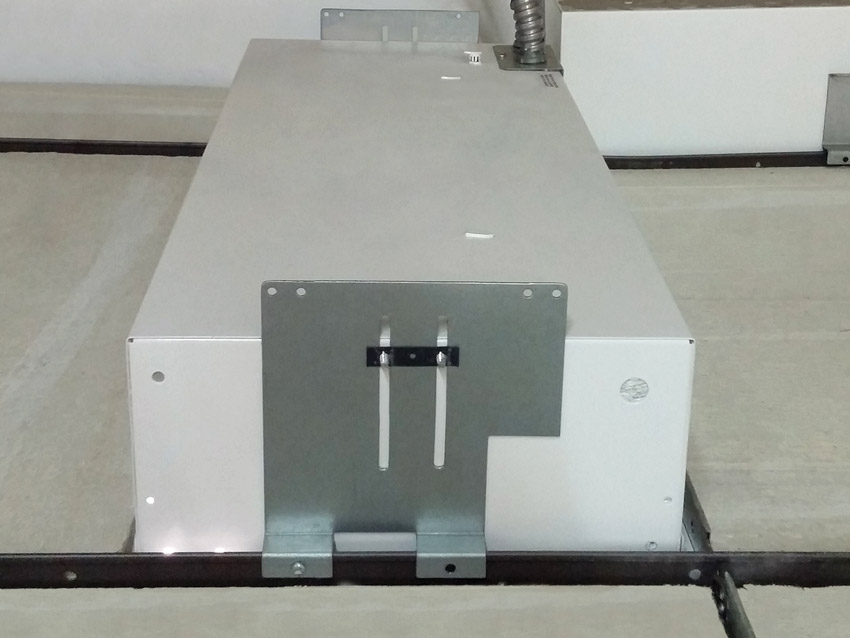 Photo courtesy of ELP Lighting
Whether the fixture is mounting to a T-bar or securing to a structure with butterfly brackets, selecting a fixture that arrives with the necessary brackets included can avoid headaches and additional expense in the field.
Clear Installation Instructions
It may sound strange, but good, clear instructions with diagrams that can be easily understood and written directions that make sense are not commonplace. Specifying fixtures that include usable instructions can be extremely helpful in the field and avoid costly mistakes that may delay the installation or damage the lighting fixture.
Mounting Brackets Included
Another issue that can arise during installation is missing the appropriate mounting brackets. Whether the fixture is mounting to a T-bar or securing to a structure with butterfly brackets, selecting a fixture that arrives with the necessary brackets included can avoid headaches and additional expense in the field.
In-Field T-Bar Accommodation
There are two widths of T-bar that are regularly found on a job site. One is 9/16-inch wide and the other is 1-inch wide. Unfortunately, the mounting systems of some fixtures must be ordered to match the specific width of T-bar used on the project. This can create a problem during fixture installation if the fixture mounting system and the T-bar width don't match. To avoid this potential pitfall, some manufacturers have developed mounting systems that will accommodate both widths of T-bar. This saves time, money, and frustration in the field.
Easy to Maintain
With LED technology still it its infancy, the regulating standards still being established, and an enthusiastic rush to bring these products to market as quickly as possible, LED fixtures are part of the proverbial Wild West of product development. Designers are left to navigate this new frontier somewhat blindly, meeting a crazy cast of characters along the way. This is one of the reasons why selecting quality LED fixtures from an established and well-respected manufacturer is so important. The quality of the fixture and its manufacturer play an important role in the ease of maintenance over the life of the LED lighting system.
LED Fixtures: Replaceable or Disposable
As a general rule, companies with a demonstrated dedication to quality and customer support and a concern for the longevity of their product solutions will not create subpar, short-term products that provide substandard performance, fail prematurely, and leave clients in a lurch, without components available to replace or upgrade the installed fixture. In the market today, there are companies launching these short-term, unreplaceable LED products. And, while it is not written on any of the marketing collateral, a fixture designed so that the components cannot be accessed to be fixed or replaced when it fails must be disposed of and replaced in its entirety.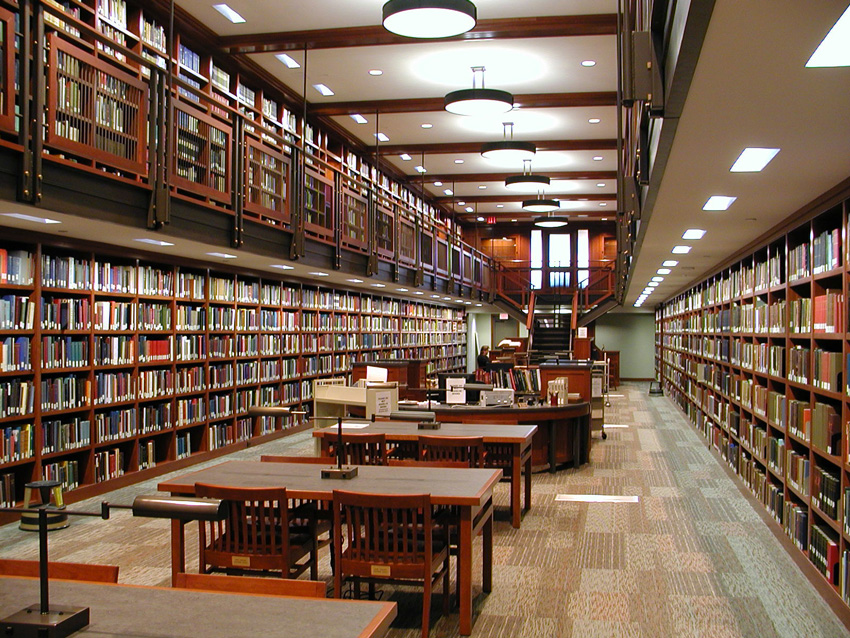 © Gregg Weaver
The lighting in the Genealogy Library at the National Society of the Sons of the American Revolution is designed to provide illumination exactly where it is required, on the book stacks and library tables.
This unfixable, designed-to-be disposed-of LED fixture can create a lot of unanticipated maintenance headaches and does not support some of the basic tenets of sustainable design. The typical life of lighting products in commercial spaces can be up to 20 years. LED sources and drivers are reported to have a life of 10 to 12 years. If the LED sources and drivers cannot be replaced, the fixture must be disposed of when it fails. Practically speaking, the time and expense of overhauling the entire lighting system every 10 years may be prohibitive. Not to mention, the inconvenience and expense that disposable fixtures present if the LEDs fail prematurely and need to be swapped out before the scheduled overhaul. As it relates to sustainable design and the goals of green buildings, the idea of filling landfills with a massive quantity of defunct LED products is downright cringe worthy.
When specifying LED lighting fixtures, partner with an established and reputable lighting company, and ensure that the LEDs are accessible and that the fixture is designed to be fixed so that the maintenance team isn't forced to replace the entire fixture if and when the LEDs or other components need to be swapped out.
Maintained Color Consistency
One of the challenges that maintenance teams will face with maintaining LED lighting systems that is unique to the LED source is the issue of providing consistency and continuity over time with a product that is changing and developing as quickly as LEDs. The materials, technology, and manufacturing processes are being tweaked as manufacturers continue to advance the LED product in terms of efficacy, price point, capabilities, etc. One of the changes readily seen when comparing today's LED boards with the boards of the past is that they continue to get brighter and brighter. This variability presents a challenge to maintenance teams working to maintain aging systems. Replacing an LED source in a fixture that was installed five years ago with today's technology may result in a fixture that doesn't match the rest of the older fixtures in brightness or color. Partner with an established and reputable manufacturer to hedge the potential exposure as LEDs continue to evolve.
In summary, a quality LED fixture is designed to distribute energy-efficient, consistently colored white light where it is needed in the interior space. It is manufactured to be durable and safe and provided to customers in a way that is easy to install and maintain over the life of the system by a manufacturer that will help its customers to navigate through the inherent challenges of using a new and rapidly evolving technology. The advantages provided by quality LED fixtures benefit specifiers, owners, contractors, and maintenance personnel, just as the headaches created by subpar LED fixtures are equally shared across this diverse group. Specify quality LED fixtures to achieve performance, efficiency, and aesthetic goals on a project.
Jeanette Fitzgerald Pitts has written dozens of continuing education articles for Architectural Record covering a wide range of building products and practices.
| | |
| --- | --- |
| | ELP manufactures the unique, GRG "Hole in the Wall" and "Hole in the Ceiling" fixtures and high performance LED and fluorescent luminaires to provide glare free lighting for walls, coves, indirect, down lighting, video conferencing and indoor and outdoor pathways and steps. http://www.elplighting.com/ |
Notice