No Rain In the Plane: Detailing Manufactured Stone
With careful detailing, durable, lightweight manufactured stone adds value to sustainable projects for architects who employ modern as well as traditional design aesthetics
Sponsored by Eldorado Stone
Learning Objectives:
Discuss the advantages of using manufactured stone versus natural stone in buildings that reduce their impact on the environment.
Specify details and building sections that prevent water damage at building transitions.
Describe the difference between a rainscreen and a weep screed, and the principles of drainage planes.
Review building safety codes, height restrictions, and mortar selections that lead to aesthetically and economically successful projects using manufactured stone.
Credits:
This test is no longer available for credit
When the phone rings, the call from the client to the architect for a new building often begins with a list of contradictory requirements. The client wants to own a building that conveys quality, permanence, and strength. This particular client likes the look of natural stone, but the architect knows that it does not meet the company's ROI and is not in its budget. Natural stone is mined and sourced from specific quarries and has unique markings. However, this client needs a stone that can be reproducible for the 80 or more stores they plan to brand and build across the country. In addition, the client wants a building that meets green standards, one that is energy efficient, uses recycled materials, is economic to build, and easy to maintain. Given this list of criteria, some designers are choosing high-quality manufactured stone veneer as a successful alternative to natural stone. They are specifying manufactured stone veneer whether the design is rustic, traditional, contemporary, or modern.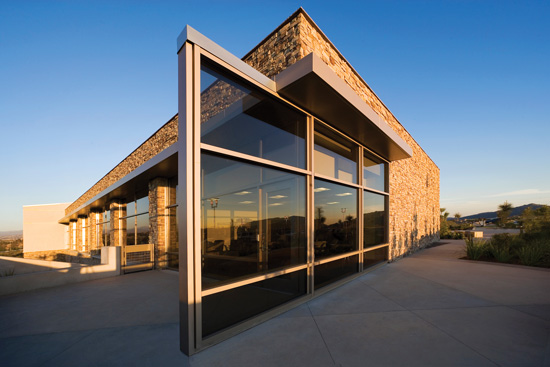 Photo courtesy of Eldorado Stone
The application of manufactured stone provides a sleek, modern exterior for the Temecula Library in Temecula, California.
Twenty-first century manufactured stone can mimic the permanence and beauty of natural stone while providing economic and green design benefits. With careful attention to details, the illusion of natural stone can be maintained using this handcrafted and hand-placed material. By understanding successful building transitions, quality moisture protection and construction specifications, design professionals can successfully meet client expectations for quality buildings with a natural finish.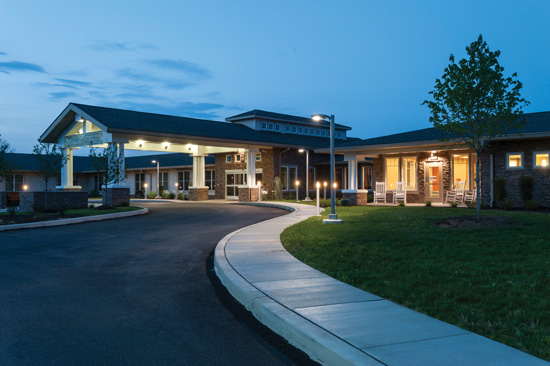 Photo courtesy of Crabtree, Rohrbaugh & Associates
VibraLife is an all-new, 48-bed, state-of-the-art facility designed by Crabtree, Rohrbaugh & Associates that incorporated manufactured stone veneer as an exterior as well as an interior finish.
For many years, this product has been used primarily to replicate rustic or historic designs. A recent trend includes the use of manufactured stone in contemporary buildings. Modernists are choosing monochromatic stone finishes in palettes of primarily grey, white, cream, and black. They are choosing stones that replicate split-face and saw-cut limestone and ledgestone, tightly stacked with minimal or no grout lines to create a sleek, modern appearance.
Quality manufactured stone veneers are created using concrete in a molding process that reconstructs the actual finishes of natural stone. Some manufacturers are carefully researching natural stone palettes to replicate both the colors and textures of a true natural stone product. Unlike the natural stone, these finishes can be replicated for use in buildings that are multiplied in many regions and climate zones. This means that a designer can control the material aesthetics while maintaining the consistency of the finishes to reinforce a client "brand."
Manufactured stones are molded into individual stone units and installed using traditional masonry construction. They can be specified with recycled content to meet green standards. They are available locally and provide the aesthetics of permanence and nature that is found by using natural stone with the benefit of one-half the weight of natural stone. This material allows you to "lightweight" the building structure, cutting transportation and labor costs. Using manufactured stone as an alternative to natural stone can provide great benefits. However, in order to successfully provide the illusion of natural stone, careful attention to details and the construction process is necessary.
Whether manufactured stone is used on the interior or exterior of a building, this product can create the appearance and the dimension of natural stone with the advantages of several economic and environmental benefits.
Originally published in Architectural Record
Notice