Enhancing healthy living and green building construction through sustainable and renewable materials
This course is no longer active
Sponsored by Cavawood Architectural Products, Columbia Green Technologies, Eldorado Stone, and Tournesol Siteworks
Learning Objectives:
Describe the benefits that may be obtained through the use of materials derived from renewable resources.
Identify renewable woods that can be used as alternatives to non-renewable South American Hardwoods, which are harvested from rainforests.
Discuss the benefits of green roof systems.
Identify the sustainable aspects of using manufactured stone veneers.
Credits:
Green buildings are sustainable through a multifaceted approach that reduces environmental impacts and enhances healthy living. Green buildings use materials and components that are readily available, environmentally friendly, and that do not burden the environment by draining natural resources. Green buildings are energy efficient and minimize their carbon footprint by using locally available materials as much as possible.
Historically, buildings were constructed from locally and readily available materials. In the Southwest, the Anasazi sited their villages and built their homes into the local rock cliffs and oriented villages so that all of the dwellings received the benefit of naturally available solar heat. Early New England settlers used locally available stone and wood to construct dwellings and barns, and the local stone was used in the construction of the many stone walls that penned farm animals—walls that still crisscross the New England countryside.
The 20th century's green building movement arose out of the need for more energy-efficient buildings and a desire for more environmentally focused construction practices. Oil price increases in the 1970s spurred improvements in energy-efficient design and construction and the use of renewable material resources as well as renewable energy resources.
Green buildings use a number of approaches towards achieving sustainability including:
• Using sustainable and renewable resources and materials in their construction

• Using landscaping to reduce energy consumption and manage stormwater effectively

• Creating healthy living environments by minimizing the use of toxic materials and chemicals
The U.S. Environmental Protection Agency
The U.S. Environmental Protection Agency provides basic information on Green Building at their website www.epa.gov/greenbuilding/pubs/about.htm. The EPA website states that:
"Green buildings are designed to reduce the overall impact of the built environment on human health and the natural environment by:
• Efficiently using energy, water, and other resources,
• Protecting occupant health and improving employee productivity,
• Reducing waste, pollution and environmental degradation."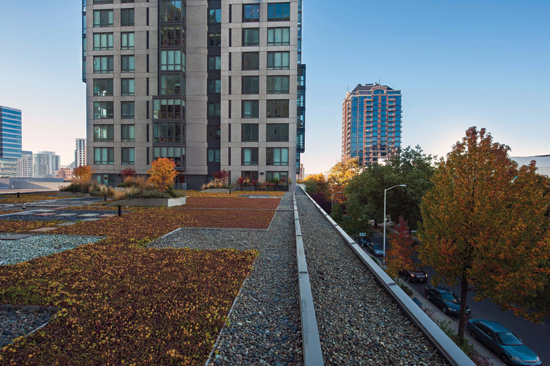 The green roof at Horizon House Retirement Community
Photo courtesy of The Berger Partnership, Landscape Architects
Originally published in Architectural Record
Originally published in February 2014
Notice