Secondhand Noise: Can Flooring Solve the Problem?
Unwanted sound is a public health hazard that can be minimized by savvy flooring specification
Sponsored by Ecore
This test is no longer available for credit
Measuring Flooring's Impact on Sound
To compare the effect of different flooring materials on flooring-impact sound in health care, two senior acoustical engineering students in the University of Hartford's Acoustical Engineering and Music program conducted an independent research study titled "Contribution of Floor Treatment Characteristics to Noise Levels in Healthcare Facilities." The project aimed to quantify the influence that different flooring materials can have on hospital corridor noise.
While there are many noise sources within a hospital, one potentially significant source can come from the hallways and corridors, where regular traffic can include both footfall from staff and visitors and rolling noises from medical carts and gurneys. The University of Hartford recognized that addressing these noise sources could positively affect the acoustic environment in patient rooms.
As such, the students conducted three different tests on each surface material:
An absorption test (ASTM C423);
A tapping machine test; and
A rolling cart test.
The materials tested included:
Carpet tiles with a vulcanized composition rubber (VCR) backing;
Sheet vinyl;
Sheet vinyl with a VCR backing;
Virgin rubber sheet; and
Virgin rubber sheet with a VCR backing.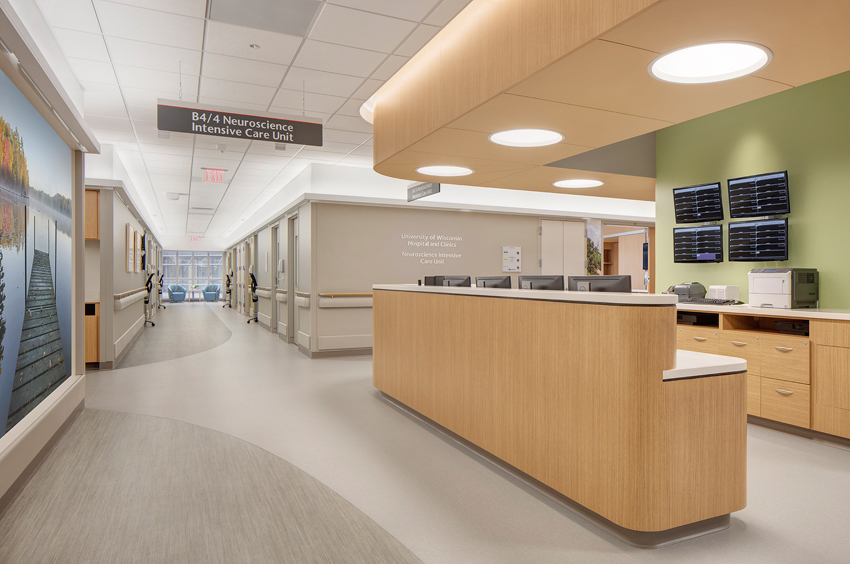 A research study at the University of Hartford's Acoustical Engineering and Music program tested flooring's impact on sound.
Three of these surfaces were engineered and featured patented technology, whereby a wear layer was fusion bonded to a VCR backing. The goal was to determine how effective this technology is in reducing noise when added to vinyl and rubber surfaces, and comparing these results to standard commercial floors, such as carpet and other traditional resilient sheet products.
The study found that when a VCR backing was fusion bonded to a vinyl surface layer, it was as quiet as commercial carpet when rolling a medical cart across a room or with standard footfall, yet more conducive to meeting the sanitary maintenance requirements of the healing environment with a hard, resilient surface. This solves a multitude of problems in health-care settings.
Acoustic Flooring in New Trauma Center Promotes Healing
Balancing performance criteria was certainly front and center when plans were made for the new trauma center at Pennsylvania Presbyterian Medical Center. Each year, the trauma program treats more than 2,200 patients with life-threatening injuries.
To serve all stakeholders, including both staff and patients, much would be asked of the flooring in the new center. Among the priorities were:
Superior acoustic properties to assure a quiet, healing environment;
Patient safety; and
Enhanced ergonomic benefits for the staff.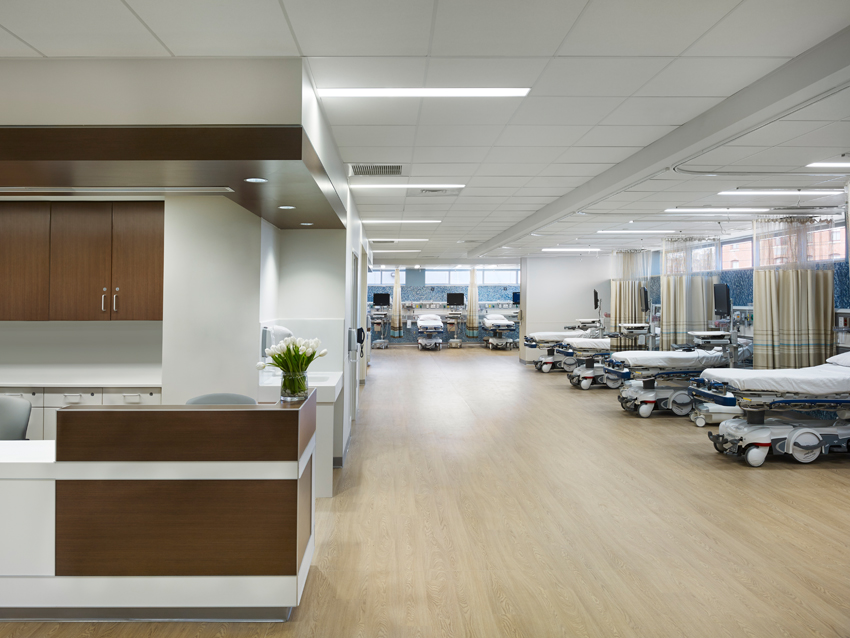 Among the top priorities of the new trauma center was creating a quiet, healing environment. The flooring specification played a big role in achieving that objective.
"Noise was a critical concern," says project designer Colleen Harrington with Ewing Cole, the architectural firm involved with the project. "We focused on footfall and corridor-activity-generated noise."
The hospital selected 45,000 square feet of an engineered surface that features a vinyl wear layer fusion bonded to a VCR backing and provides ergonomic, safety, and acoustic benefits in the patient bays, treatment areas, corridors, and nurses' stations. This product also reduces the risk of injury associated with falls.
With regard to the acoustic benefits, the vinyl wear layer fusion bonded to a VCR backing produces a flooring-radiated impact sound level of 77 dBA (per ASTM E3133). For comparison, typical VCT and LVT are tested at 90 dBA, or 2.5 times louder than the vinyl with the VCR backing.
Balancing Quiet and Resiliency in a Library
What could test the acoustic properties of a floor more thoroughly than a library setting? There is nothing like grabbing a warm cup of coffee and cozying up on a couch with a good book. At least that was the idea behind the Paseo Verde Library in Henderson, Nevada.
The problem was that the library planners had to take into account the commercial space of the library, the noise of its cafe, and the food and drink that would be traveling throughout the space. This unique library needed a flooring solution that created a cozy, inviting space that was easy to clean and, most importantly, was as quiet as a library is expected to be.
Prior to the installation, the front entrance of the library had 12-year-old carpeting that was shredding and discolored; it was not the type of first impression that the library was looking to create. Beyond aesthetics, the library needed flooring that was quiet and could withstand the daily wear and tear of foot traffic, coffee spills, food crumbs, and heavy book carts rolling back and forth.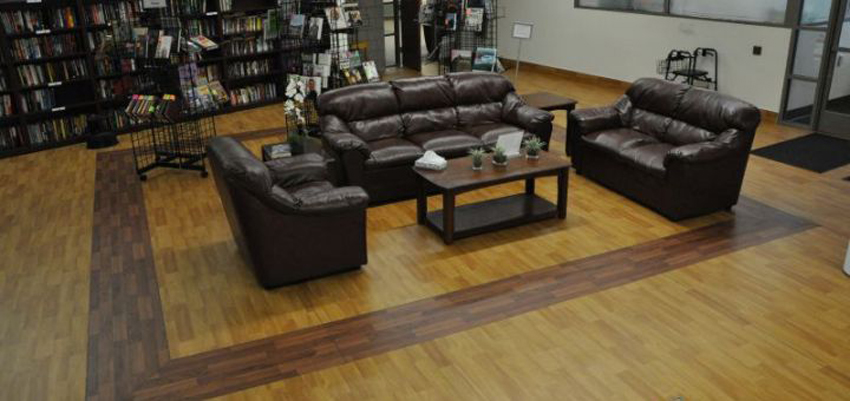 This library flooring needed to be durable, easy to clean, and quiet. An advanced flooring with acoustical properties fit the bill.
"We wanted something that was easier to clean and would last longer than carpet. We were willing to sacrifice a bit of the noise to have this," says Joan Dalusung, manager of the Paseo Verde Library. Fortunately, the library did not have to sacrifice any of its needs with the selection of 3,300 square feet of an engineered surface that features a vinyl wear layer fusion-bonded to a rubber backing.
"It is just as quiet as carpet, and we have been very happily surprised about this. It is not just people walking across it; we are constantly rolling book carts and small furniture over it, and it has not only held up wonderfully, but the space has also remained quiet. It has surpassed our expectations on an acoustic level," Dalusung says.
Conclusion
As we have seen, noise is more than just an annoyance—it is a public health hazard. Despite all the expertise and strategies to reduce noise in housing, health-care, fitness, and other settings, the problem persists.
New standards developed and in development consider the different factors of noise and not just the level of noise. As perception of noise becomes clearer, designers must be educated on how noise is generated and how it moves in buildings and adjacencies to prevent it from occurring. While impact noise in a building can be mitigated along the transmission path or at the point of the receiver, often the simplest and most cost-effective strategy is to mitigate noise at the source with the use of impact- and sound-reducing flooring.
When the impact or noise is contained at the source, those inhabiting the surrounding environment experience quieter spaces, and thus more well-being. Building owners and operators also experience stronger bottom lines. When it comes to eliminating noise, learning to serve both building users and owners should be the most important goal of the design community.
End Notes
1Kim, Dr. Rokho. "Burden of Disease from Environmental Noise." World Health Organization (WHO) Regional Office for Europe. European Centre for Environment and Health. 25 May 2011. Web. 4 January 2021.
2Hänninen, Otto et. al. "Environmental Burden of Disease in Europe: Assessing Nine Risk Factors in Six Countries." Environmental Health Perspectives. May 2014. Web. 4 January 2021.
3Maschke, Christian and Niemann, Hildegard. "Health effects of annoyance induced by neighbour noise." Noise Control Engineering Journal. May 2007. Web. 4 January 2021.
4Abbaszadeh, S.; Zagreus, Leah; Lehrer, D.; and Huizenga, C. "Occupant satisfaction with indoor environmental quality in green buildings." Center for the Built Environment. University of California, Berkeley. 2006. Web. 28 December 2020.
5Maschke, Christian and Niemann, Hildegard. "Health effects of annoyance induced by neighbour noise." Noise Control Engineering Journal. May 2007. Web. 4 January 2021.
6Lovsted, Anders et al. "Sound quality in dwellings in Norway – a socio-acoustic investigation." Proceedings of Baltic-Nordic Acoustics Meeting. Stockholm, Sweden. 2016. Web. 4 January 2020.
Kathy Price-Robinson writes about building and design. Her remodeling series "Pardon Our Dust" ran 12 years in the Los Angeles Times. She specializes in buildings that are durable and resilient to climate disruptions, as well as products and designs that provide shade in hot climates. www.kathyprice.com
| | |
| --- | --- |
| | At Ecore, we are driven by this question: Can a floor do more? We believe the answer is YES! We are building our company and the products we offer based on the simple notion that floors should elevate beyond current expectations. We engineer performance well beyond industry standards related to acoustics, ergonomics, and safety. |
Originally published in February 2021
Notice