High-Performance Flooring for Sports, Recreation, and Fitness Applications
Sponsored by Ecore
Terms, Concepts, and Considerations for Selecting Performance Flooring
When specifying performance flooring for sports, fitness, and recreation applications, the designer or architect should understand the various technologies, concepts, and tests related to performance flooring.
Key Terminology
Types of Surfaces
Heterogeneous: Flooring comprised of two or more different materials.
Homogeneous: Flooring composed of only one material (e.g., a solid rubber floor with similar color and pattern throughout the product).
Engineered performance surface: Heterogeneous flooring consisting of a wear layer fusion bonded to a composition rubber base layer, created with specific performance characteristics.
Vulcanized composition rubber (VCR): Vulcanized composition rubber is unique among rubber surfaces because it is cured in a cylinder and peeled into a sheet or cut into tiles, which results in energy being driven into the floor. Vulcanize means to harden rubber by treating it with sulfur or other curatives at a high temperature. The result is excellent stability and durability.
Components of Performance Sports Flooring
Performance flooring should enhance safety, ergonomics, and acoustics, and also be durable and cleanable. To achieve these attributes, an engineered floor is required that features a sophisticated blend of advanced materials and sometimes proprietary processes. Here are some key components that should be considered when selecting a performance surface:
How the engineered performance surface is made:
A heterogeneous floor consisting of a top wear layer fusion bonded to a vulcanized composition rubber base layer, created to achieve specific performance characteristics.

What the surface is made out of:

Composition rubber: This is a manufactured material comprised of recycled and/or virgin synthetic rubber previously vulcanized. The composition is pressurized and peeled to desired thickness.
Calendered rubber: This is virgin or solid rubber. It is processed by passing rubber through a series of rollers to flatten, smooth, and/or commingle two or more materials rolled into sheet or cut into tiles.
Vulcanized composition rubber (VCR): Made from upcycled rubber, vulcanized composition rubber provides a base that balances force reduction and energy restitution to deliver a measurable amount of usable energy back to the body.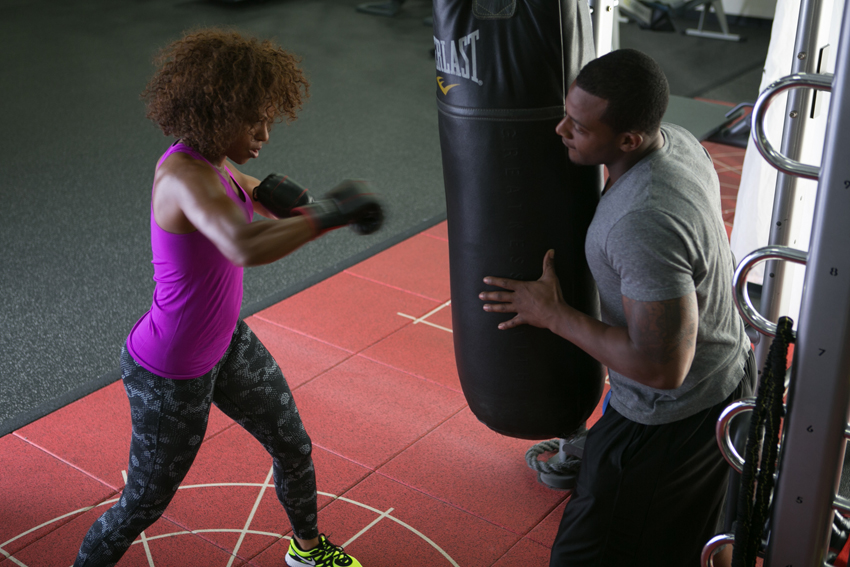 Different performance surfacing should be used in an athletic facility based upon space and the activities being performed there.
Recommended Performance Surfaces for the Most Common Sports, Fitness, and Recreation Applications
To determine the best performance floor to specify for a sports, fitness or recreation application, these issues should be considered:
How the space will be used;
Priorities for each space;
Versatility needed;
Design: color, texture, pattern, logos, and graphics;
Durability; and
Cleanability.
The following eight applications are the most popular among sports, fitness, and recreation facilities. In addition to identifying the recommended flooring characteristics for each application, we will also recommend the best flooring options.
Cardio/Sectorized Strength
In cardio and strength areas, noise and impacts from cardio machines and dropping of weight stacks can have a negative impact on those in adjacent areas. These areas need noise mitigating flooring. Energy restitution to mitigate indentations is also necessary.
Recommended flooring characteristics:
Durable
Cleanable
Scuff and indent resistant
Flooring options:
Good: LVT/vinyl
Better: engineered vinyl or engineered vulcanized calendered rubber
Best: engineered VCR
Functional Training Applications/Training Centers
Training centers are spaces dedicated to everything from strength and conditioning to martial arts, aerobics, and gymnastics. These spaces require safe and durable surfaces. The floor should be able to absorb the shock of running and jumping to protect athletes' joints; falls also may be a concern. VCR offers one of the safest flooring options available for these conditions.
Recommended flooring characteristics:
Durable (free weights and accessories are prevalent)
High coefficient of friction (wet and dry)
Flooring options:
Good: 8-millimeter/1⁄4 -inch composition rubber
Better: composition rubber with Class 1 in force reduction
Best: 14-millimeter or more composition rubber with Class II in force reduction
Originally published in Architectural Record
Originally published in May 2021
Notice