Concrete Masonry in Green Buildings
Specifying CMU as part of a naturally sustainable design
This course is no longer active
Sponsored by Oldcastle® Architectural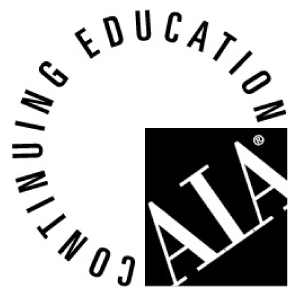 Continuing Education
Learning Objectives - After this course, you should be able to:
Identify and recognize the traditional attributes and features of concrete masonry unit (CMU) construction.
Assess the strengths and limitations of CMUs for use in green building design including inherent green building characteristics.
Investigate and compare different strategies to increase green building performance using CMU construction.
Explore the types of innovative design applications and positive life-cycle attributes of CMU construction.
Credits:
Concrete masonry units (CMUs) are well known by architects, contractors, and owners because of their enduring history over thousands of years, demonstrating proven performance in many building types around the world. From a design standpoint, they provide flexibility, variety, and code compliance within a range of standardized and modularized shapes and sizes. From a construction standpoint, they are commonly available and installed by local masons using established construction techniques. From an owner's perspective, they provide affordable, durable, and safe facilities with comparatively low maintenance. But beyond all of this, their inherent characteristics and properties also contribute substantially to green and sustainable design. As we will explore further, they do this in multiple ways due to their inherently green nature.
CMU Overview
Architects have commonly specified CMUs for a variety of specific, traditional reasons recognizing that they can provide both structure and aesthetics in a single manufactured product. As a building material, modular manufactured CMUs provide construction assemblies that are durable and readily resistant to abuse, making it an ideal choice for commercial, institutional, and industrial applications. In designing a building requiring versatility, the variety of finishes, styles, and textures of CMUs offers a considerable design palette of choices to create successfully designed interior and exterior spaces. Conversely, while different units may appear to look the same on the outside, inside they can vary in weight, detailing, and reinforcing to suit a load bearing structural condition or be simply designed for lightweight non-load bearing partitions. The modular sizes of any of these hollow or solid units contribute to their overall economy and efficiency in design and construction. Since these sizes are typically larger than clay masonry units, they can be installed in less time and with less labor than smaller units and prove to be generally very cost effective overall. In applications where fire codes are a prevailing design priority, CMU walls provide a readily documentable level of fire resistance for extended time periods. In fact, in many cases, actual results of fires have shown that interior furnishings and materials may have burned completely while CMU-enclosed areas remain standing and in many cases can be readily cleaned and re-used. As a result, they have demonstrated their ongoing structural integrity even under the duress of fires, storms, floods, and other disasters.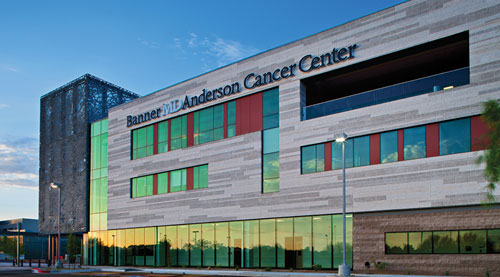 At the Banner MD Anderson Cancer Center in Gilbert, Arizona, CMU construction combined strong aesthetic appearance, structural support, and green building attributes.
Photo courtesy of Oldcastle® Architectural
Originally published in Architectural Record
Notice