Advances in Manufactured Masonry Thin Veneers
New products look, adhere, and weather better
Sponsored by Oldcastle® Architectural
This test is no longer available for credit
Another popular option is a monument white exterior look, achieved by a mixture of white Portland cement combined with fine aggregates that can result in a highly dense product with clean lines, or a bold chiseled finish. For those who prefer a stacked stone look, manufacturers offer multi-length units that can be used on the entire façade or as accents on architectural elements such as wall sections or skirting. A product that has a single height but differing lengths makes for a stacked stone appearance with an easy installation process. Innovative manufacturing processes even enable units that possess the look of natural slate, or large stonework highly sought after in urban settings.
The manufacturing process is engineered to create in random fashion, a number of distinct textures with marked edges. Using color ranges and blends, as well as varying types of joints—concave, half recessed, recessed, and flush—and various ratios of large to smaller stones make for a façade or interior application with depth and intricacy.
Specification Considerations
When choosing a manufactured masonry thin veneer, several factors should be considered.
Depending on manufacturing process, many concrete masonry thin veneers integrate the color throughout the unit. As opposed to surface finishes, aggregate coloring creates a product that is more visually appealing and durable. Units that were surface colored, as was the case almost universally in earlier times, were subject to chips and scratches, often rendering them unusable. Specifiers should also look for products with an increased freeze thaw resistance and a low water absorption rate. Naturally, a product that is designed to fit the adherence system will quicken time and lessen the difficulty of the installation process, making for a more pleasing aesthetic effect; equally important is selecting a product that is dimensionally tolerant and does not have unwanted flanges on the back of the stone. Other desirable attributes of manufactured thin veneers are resistance to salt damage and ease of cleaning, with those that can be easily wiped without the color rubbing off being the preferable choice. In addition, some products are manufactured with an integral water repellent limiting moisture penetration and increasing the service life of the structure.
Photo courtesy of Oldcastle® Architectural Products and Artisan Masonry Stone Veneers®
Varying types of joints and ratios of larger to smaller stone create façades with depth and intricacy.
Manufactured thin veneer is sold by the square foot. Estimating the quantity of material needed involves calculating the total area to be covered minus any openings for windows, doors, fireplaces, etc. It should be noted that thin veneer does not require special corner pieces—corners are constructed by overlapping standard pieces in a woven pattern.
Installation Options
While the most common installation method used today is to anchor veneers to wood stud, metal stud, or concrete masonry backup systems, thin veneers have allowed for new, innovative methods and systems. Several of these are discussed below.
Adhered Veneers
Over the past decade and a half, adhered veneers have become quite popular. Adhered veneer is veneer set in a bed of mortar, that is "secured to and supported by the backing through adhesion." According to the Masonry Advisory Council, the backing system of the exterior veneer must withstand water intrusion, with the flashing properly detailed.3 The council offers the following model for an adhered exterior veneer in order to provide adequate moisture control, maintaining that the general design requires the veneer's backing system must resist water penetration and that flashing must be properly detailed complete with weep holes to redirect water to the outside of the structure. Oriented Strand Board (OSB) is installed as sheathing on the outer face of the studs, followed by two layers of building paper, and then a drainage mat is installed to drain any water that has penetrated to the flashing which in turn sends it to the building exterior via the weepholes. Atop the drainage mat, a galvanized expanded metal lath, or diamond mesh, should be attached as it will hold the veneer to the studs. A parging backing, which is a thin coat of mortar that provides a smooth surface for masonry and seals it against moisture, should be applied onto the mesh. Mortar is applied to the back of the thin veneer and pressed on to the parged surface. The council cautions that drainage is often the key missing element in adhered veneer systems, and that it is the designer's responsibility to assure that an adequate drainage system with proper flashing and correct spacing of nails is included.
For design and construction requirements for adhered veneer, designers can consult the 2012 International Building Code and the TMS 402 Code. Residential application requirements are contained in the International Residential Code and applicable local building codes.
Mounting Systems
Another option for affixing masonry veneers is a lightweight system that works in conjunction with traditional mortar to secure the veneer, while reducing footing and lintel requirements, and labor and installation costs. This type of system offers a mechanical support and spacing panel in which each unit is supported by ties that mechanically interlock the masonry veneer to the panel which is anchored to the wall. Multiple support tie face heights are available, and the support tie configuration is placed at an acute angle, allowing the mortar to surround the support tie, which results in a positive masonry lock between the brick mortar and panel. Systems made of galvanized steel with a thermal set coating will prevent rust and, due to a light color, will help to evenly distribute heat. An embossed texture effectively provides a built-in weep system on both sides of the panel for moisture control, while creating greater surface area for maximum adhesion between veneer and panel. Systems made of high-grade architectural steel are of lightweight design, while still providing a similar coefficient of thermal expansion as thin veneer and mortar, and having the strength for panel support and bracing the wall so as to minimize wall racking. For more complicated applications, manufacturers also offer an enhanced version of this system that incorporates rainscreen technology for superior drainage, ventilation, pressure equalization, and bond strength.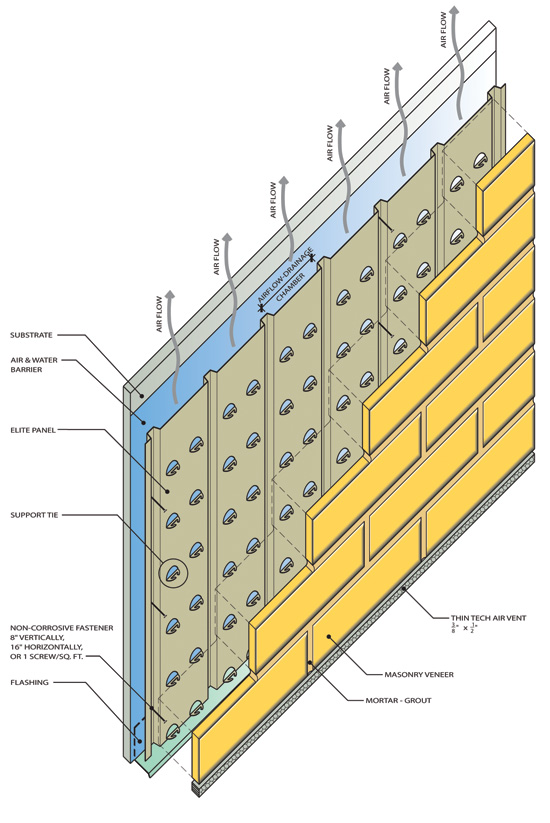 Image courtesy of Glen-Gery Brick
This system offers a mechanical support and spacing panel in which each unit is supported by ties that mechanically interlock the masonry veneer to the panel.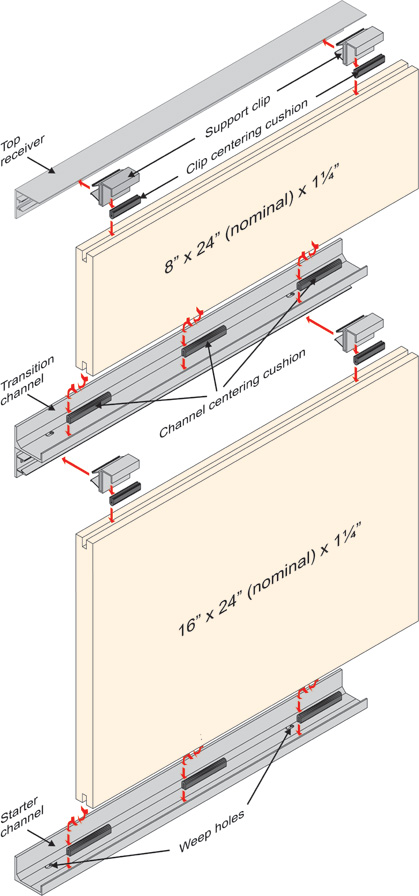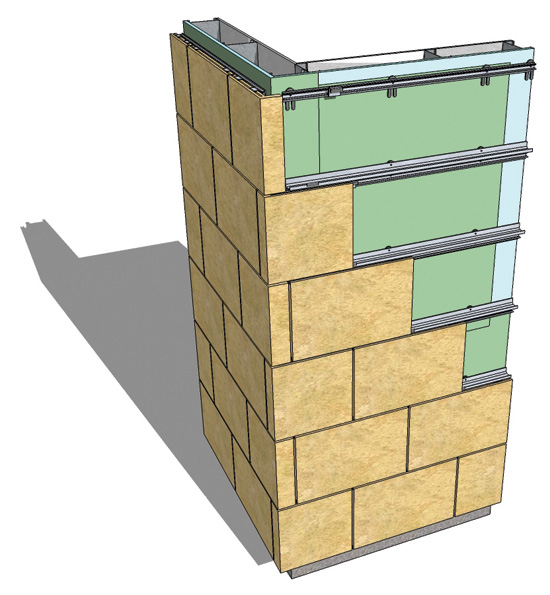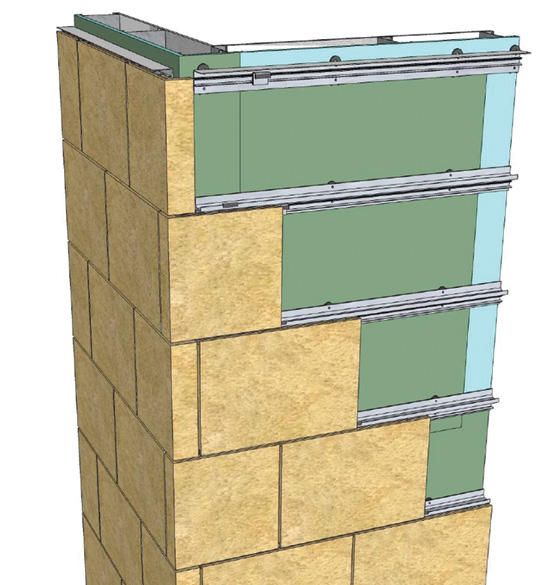 Images courtesy of Acme Brick Company
Track systems are used to hang thin veneer in either vertical or horizontal applications.
Originally published in Architectural Record
Originally published in May 2015
Notice